Housing
Villages help residents stay independent (Baltimore Edition)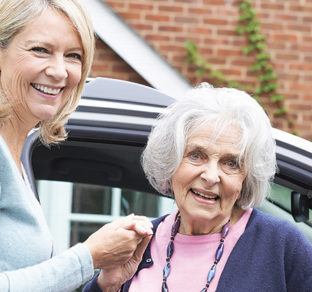 Getting free rides from volunteer drivers is just one of the perks to joining a "village," generally a nonprofit organization that helps neighborhood residents remain in their homes as they age.
©Ian Allenden/Dreamstime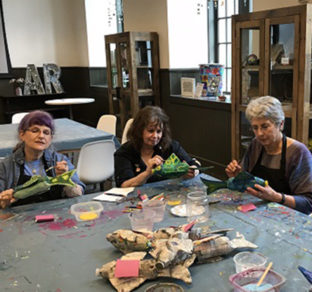 Members of Chai Baltimore volunteered at an event called Art with a Heart.
As the saying goes, there's no place like home. Three out of four adults over 50 want to remain in their homes as they age, according to AARP's 2018 Home and Community Preferences Survey.
Furthermore, a majority of adults surveyed said they would be interested in joining a so-called "village" — a nonprofit supported by volunteers who provide services that help residents "age in place" rather than having to move from a familiar neighborhood.
Free rides for seniors are the most requested service provided by villages. In the village model, volunteer drivers provide door-to-door service or arrange rides through referrals to county-subsidized transportation.
Volunteers may also perform a variety of tasks, from decluttering, to technology assistance, to grocery shopping, to friendly calls and visits to isolated seniors.
Villages may be structured as concierges (providing referrals to vetted service providers), membership organizations with annual dues and paid staff, or as non-fee, all volunteer organizations.
Beacon Hill, a neighborhood in Boston, is credited with creating the country's first such village 20 years ago. The idea sprang from a conversation among neighbors in 1999 about their desire "to stay engaged in our own neighborhood in this vibrant city."
The nonprofit Beacon Hill Village enrolled its first members in 2002. Today, the group has more than 400 members and is a model for many others.
Nationwide, there are nearly 300 villages in 45 states and the District of Columbia, plus an estimated 150 additional ones in development, according to the Village to Village Network (VtV), founded in 2010 to foster collaboration among the nation's villages.
Two villages in Baltimore
The city of Baltimore currently has two village groups, Village at Home and Northwest Neighbors Connecting.
Founded in 2011, Village at Home is located in north central Baltimore City and helps people in 22 neighborhoods. About 40 volunteers serve its 40 members.
According to Caroline McKeldin Wayner, its executive director, services are not limited to older adults. "We don't have any age restrictions at all. You have to just live in our service area," she said.
Village at Home provides personal assistance to its members ranging from home repair to transportation as well as social activities. Wayner said it also acts as a support system for neighbors who are aging in place until they may need more help.
"We do have people who age out of our village because either they move to assisted living or…get a personal aide in their house," Wayner said. But "I call us 'the first line of defense.'"
Village at Home can also provide information to members about local home healthcare services.
The group charges membership fees for its services:  $400 a year for an individual, and $600 for two or more people living at the same address. "For that, you get a lot of service. We say we're the best bargain in town," Wayner said.
Northwest Neighbors Connecting
Baltimore's other village is Northwest Neighbors Connecting (NNC), focused primarily on the Park Heights neighborhood of north Baltimore. The program is supported by Comprehensive Housing Assistance, Inc. (CHAI), an arm of the Associated Jewish Federation of Baltimore.
"While most village models operate independently, [we] work as a partnership," Aging in Community Program Manager Anne Shimanovich said in an email. "NNC helps CHAI fulfill their mission to support aging in community. CHAI supports NNC by providing a place for members to hold organized activities and by offering administrative support."
The more than 120 members of Northwest Neighbors Connecting, many of whom are on fixed incomes, pay just $10 a month in membership fees as a result of the financial support NNC receives from CHAI.
"[Our] model is a great one," Shimanovich said. "It's difficult for villages to operate on dues alone…and it's wonderful when villages can find sponsors," she said in an email.
Social ties and more
NNC members can use CHAI's Northwest Senior Shuttle, which provides members with transportation to malls and shopping centers.
In addition, according to Reverend Arnold Howard, president of the group's board of directors, enabling social connections is a key part of his group's work.
"We're primarily focused on the relational side of people working together, living together and continuing to maintain the relatively higher standard of living by being in connection with their neighbors," Howard said.
The group aims to provide social interaction for village residents, who are primarily elderly. "In doing so, we make them feel much more at home in their home or in their neighborhood," Howard said. "Our primary role is to be a conduit for them to have services that they may need," Howard said.
Growing slowly in Baltimore
Although interest in the villages concept is growing nationwide, it has not yet caught on in the Baltimore area.
One of the reasons Baltimore has been slow to create more villages may be because it already has many community organizations that assist residents.
Cost may also be a factor: some residents can't afford to pay high membership to a village organization.
Wayner suggests another theory: "Baltimore is just a little bit slower to embrace things. We're a little more provincial. That's just the way we are. We're not D.C.," Wayner said.
The Greater Washington metro area currently has nearly 75 villages, probably the largest concentration of villages in the country.
It's only a matter of time before more people embrace the villages model, Wayner believes. The village concept is a great option that more Baltimore residents should consider when they think about aging in place, she added. "It is definitely a fantastic option for the majority of people."
Local villages
 District of Columbia
Maryland
 Virginia
Umbrella Groups
Source: Washington Area Village Exchange