Travel
Visit little-known conservation museum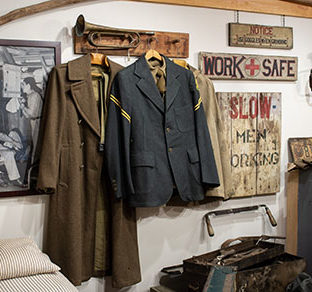 At the Civilian Conservation Corps Museum in Chesterfield, visitors can explore the history of this New Deal-era federal work program for young men. Millions of workers earned a living planting three billion trees and building 800 state parks throughout the country.
Photo by Virginia Parks
As Congress considers a bill to create a Civilian Climate Corps, legislators might visit a little-known Richmond-area museum to study a much-lauded 1930s model.
Nestled in the woods in Pocahontas State Park, 20 miles from downtown Richmond, is a museum dedicated to the Civilian Conservation Corps (CCC), a New Deal initiative that employed Americans from 1933 to 1942. The one-story, one-room wooden building was constructed by the CCC in 1939.
In 1933, in the depths of the Great Depression, 13.6 million people were unemployed, reflecting an unemployment rate of nearly 25%. And few had any hope of finding a job.
Shortly after his March 4 inauguration, President Franklin D. Roosevelt created a federal employment agency that would soon be called the Civilian Conservation Corps.
Roosevelt had two goals: to employ young men so they could support their struggling families, and to protect and restore the nation's natural resources. Called "Roosevelt's Tree Army," the CCC left its mark in every state.
Over the course of nine years, enrollees built more than 40,000 bridges, planted two billion trees, restored nearly 4,000 historic sites and structures, improved thousands of beaches, roads and shorelines and created 800 state parks.
The agency employed nearly 3.5 million men, 100,000 from Virginia, most of whom were between ages 18 and 25.
Virginia's prominent role
The first enrollee in the CCC was a Virginian: Henry Rich from Alexandria. In May 1933, he and his fellow first recruits met in Virginia's Shenandoah County, near what would become Camp Roosevelt, establishing their home base there.
By 1934, the CCC had 60 camps in the state, each with 200 men. Because most of public life in Virginia was racially segregated at that time, there were 48 "white camps" and 12 "colored camps" in the state.
The CCC also worked in several recreation areas that became Virginia state parks — the Shenandoah National Park and the Blue Ridge Parkway.
"In no state did the CCC make a greater or more lasting contribution to the well-being of its citizens than it did in Virginia," wrote Mack H. Sturgill, author of the book Hungry Mother History and Legends. (Located in southwest Virginia, Hungry Mother is one of the original CCC parks.)
Exhibits describe daily life
Today's museum is housed in a former CCC camp: Camp SP24. Museum-goers learn how most enrollees lived — with 30 or 40 people in no-frills, military-style barracks heated by wood stoves.
They were issued two sets of clothes, and ate meals in mess halls. The museum displays daily menus with dishes like oatmeal, roast beef, mashed potatoes and chocolate pudding.
In 1933, President Roosevelt visited the Big Meadows Camp in today's Shenandoah National Park.
"I wish I could spend a couple of months here myself," he told them. "The only difference between us is that I am told you men have put on an average of 12 pounds each. I am trying to lose 12 pounds."
The CCCers' typical day involved a 6 a.m. rollcall or muster, breakfast, barracks inspection, and then work on projects like woodworking, ham (amateur) radio, ditch-digging, timbering and surveying.
At 5 p.m., they returned to the barracks. They lowered the flag at 5:30 p.m., ate dinner at 6 p.m., and then had recreation or classes, where they learned subjects like first aid, math, biology and English. The recruits had a ninth-grade education, on average.
A newspaper article at the museum relates the shame some may have felt in joining the CCC. Milton Cooper said that his father had opposed his son's "enlistment" because it was widely seen then as "relief" or welfare.
Enrollees were required to send $25 of their monthly $30 stipend home to their families. The remaining $5 seemed like a fortune, some said.
Exhibits feature tools, CCC patches, a dress uniform and a replica of a denim work outfit. Visitors can read discharge letters and daily work records showing, for example, how much concrete was poured for building a dam.
Created the first state parks
One display relates that before 1936, Virginia had no state parks. Thanks to CCC workers, the state opened six, all on the same day: Douthat, Westmoreland, Hungry Mother, Fairy Stone, Staunton River and First Landing.
"You have provided here in Virginia as fine a system of state parks as can be found anywhere," CCC Director Robert Fechner said to the workers at the opening.
First Landing State Park in Virginia Beach was built by the all-Black company in 1936. In 2008, the state unveiled a historic marker recognizing the men who labored mostly with picks and shovels to build more than 20 miles of trails, bathhouses and cabins, and planted trees and shrubs.
At the ceremony, then 87-year-old Norman Claiborne told the group, "All up and down the roads in Virginia, there were signs for the white CCC camps. I thought it was a shame that we didn't have a sign."
At today's Prince William Forest Park, 77 miles north of Richmond, are trails, bridges and a number of surviving buildings constructed by the CCC, including five camp clusters with cabins built so that inner-city children can enjoy the outdoors.
Millions of motorists today on the Blue Ridge Parkway can credit the CCC for the rustic stone walls at the overlooks.
While having a meaningful job helped put bread on the table, importantly, it restored hope for a better day for almost 3.4 million young men during one of America's darkest times, the Great Depression.
After visiting the CCC camp at Big Meadows, President Roosevelt commented, "I have seen the boys themselves, and all you have to do is look at them to see that the camps are a success."
The CCC Museum is located in Pocahontas State Park, 10301 State Park Rd., in Chesterfield, Virginia. There is an admission/parking fee to enter the park of $10 on weekends through October.
 The museum is open to the public on Saturdays and Sundays from 10 a.m. to 4 p.m. without additional charge. Coming soon is a new exhibit on the segregated Group Camp 7, an area that the CCC developed as a space for Blacks to recreate and experience nature. For more information, call (804) 796-4255.