Travel
Visiting European capitals via the Danube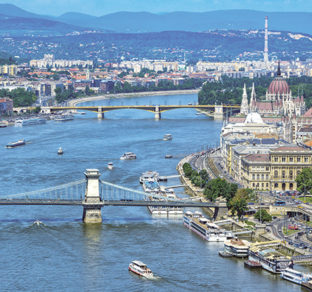 Riverboats travel the blue Danube River, which divides the Hungarian cities of Buda and Pest. Floating past historic cities and villages on a modest-sized cruise ship that includes land tours as well can be a relaxing and informative way to see Europe.
Photo by Olena Korol/Dreamstime.com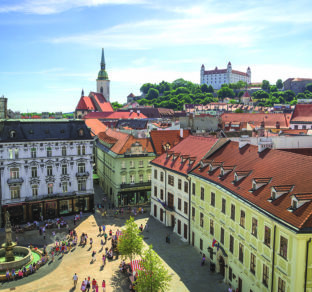 Tourists explore Old Town Bratislava, Slovakia, a city that resembles an outdoor art museum. From the four towers of Bratislava Castle (top right), visitors can get a view of Austria and Hungary.
Photo by Rob Hurson
"Now we're heading toward Durnstein, one of the loveliest towns in Austria," the voice over the ship's loudspeaker intoned. "So many artists have gathered at one spot to portray the magnificent surrounding landscape that it became known as the Painters' Corner."
As our vessel continued its journey on the Danube River, my wife and I joined other passengers in oohing and aahing at the beauty of other towns and villages along the way. We passed churches, castles and other historic landmarks, and marveled over scenery that made us wish we had the time, and talent, to capture what we were seeing on canvas.
Our tour led us by bus and boat through the Czech Republic, Austria, Slovakia and Hungary, past Prague, Vienna and Budapest, three of the grandest capital cities in all of Europe; little Bratislava, the miniscule capital of Slovakia, which replicates much of the splendor in a more compact setting; and smaller towns with their own charms.
We were traveling with Grand Circle Cruise Line, one of several companies that offer voyages along the fabled and fabulous Danube River. We chose the company because of its focus on "Learning and Discovery."
Palaces and gardens
Throughout the cruise, each city we explored was an architectural showcase spanning centuries and styles. We saw so many frescoes, sculptures and mosaics that it seemed we were wandering through outdoor art museums.
Some treasures stood out, particularly the Schönbrunn Palace in Vienna, built between 1696 and 1712 at the direction of Emperor Leopold I for his son, Joseph I. The emperor's goal was to replicate the splendor of Versailles in the 1,441-room castle. We agreed that he accomplished that, albeit on a smaller scale.
Another emperor, Franz Joseph, ordered construction of Vienna's 2.5-mile long grand main boulevard, the Ringstrasse, which is lined by monumental buildings constructed during the last half of the 19th century. Many of them are ostentatious palaces built by noblemen anxious to display their wealth.
Even more impressive are much larger public structures, like the Parliament, Vienna State Opera and Museum of Fine Arts, which are as well known for their external architecture as for what takes place inside.
There's so much to experience in Prague that we welcomed the three-night hotel stay there, which our itinerary included. That provided ample time to stroll along its maze of narrow cobbled walkways, find off-the-beaten-track chapels and lovely gardens, and explore quiet neighborhoods that few visitors seek out and find.
Prague Castle, built more than 1,000 years ago, is the largest in Europe. The Castle complex stretches over 18 acres, and encompasses chapels, residential quarters, galleries and gardens. The site served in the distant past as the seat of power for kings of Bohemia. We were told that the Crown Jewels from that time are kept hidden in a secret room.
When we reached Slovakia, we got a glimpse of the massive Bratislava Castle, perched on a rocky hill overlooking the Danube. Erected in 1430, its exterior walls and inside corridors contain fragments from Gothic and Renaissance times.
The white fortress-like structure, with a stocky tower at each corner, houses a museum that traces the history of the area from the Middle Ages to the present, as well as collections documenting the story of Slovak people throughout the world, and coins from the earliest times to today.
Art of all types
All four capital cities on the itinerary have major museums with world-class art collections certain to attract discerning aficionados. But even those not drawn to classic art will find a number of other intriguing exhibits, like those in Bratislava Castle.
In the charming Czech Republic town of ČCeský Krumlov, museums deal with topics as disparate as the history of torture and marionettes. A museum in Krems, Austria, displays caricatures and cartoon drawings, and among the more than 100 galleries in Budapest, Hungary, we found some devoted to pinball machines, miniature bottles, and Asian art and curiosities.
A sobering historical awareness
In Mauthausen, Austria, we visited a very different kind of place, a former Nazi concentration camp. Once known as "The Killing Facilities," the site includes exhibits with titles like "Murder by Poison Gas" and "Disposal of the corpses."
Located outside of the Austrian city of Linz, Mauthausen was one of the first large concentration camps built by the Nazis, and the last one to be liberated by American troops. It was populated largely by Jewish prisoners and captured Russian soldiers, along with convicted criminals, "gypsies" and others who were considered to be enemies of the Nazi regime or unfit to represent the ideal Aryan stereotype.
Prisoners toiled in a granite quarry, many literally working to death. They had to carry heavy stones up narrow, steep steps carved out of a hillside that became known as "the stairs of death." Many who managed to survive that ordeal were shot, gassed or forced outside in winter, doused with cold water and left to freeze to death.
While this very somber experience was far different from introductions to the countries we visited, we agreed with our fellow passengers that these stories must be remembered so they aren't repeated.
One positive sign of the impact the camp tour has on people were hand-written messages left by visitors in a number of languages. Among those I spotted in English were "Never Again," "You won't be forgotten" and simply "Rest in peace."
Also hopeful was the number of schoolchildren visiting the complex. Their quiet demeanor and solemn expressions, not the norm among teenagers, offered hope that the "Never again" message will be borne out.
Dinner with local families
The setting changed completely during a home-hosted dinner in Bratislava, during which we had a basic education in many things Slovakian, and the family members with whom we dined heard about our lives.
During the ride to our destination, before splitting into small groups assigned to different families, our program director encouraged us not to be shy about asking questions. Taking him at his word, we engaged our hosts in a discussion of politics in their country and ours, compared the education systems, and asked and answered questions about our respective situations regarding immigrants.
At their invitation we strolled through the lavish garden in the back yard, picked and sampled some of the vegetables, and then enjoyed a dinner entrée of chickens which, we learned to our dismay, had been scampering around the fenced yard earlier that day. The lucky rabbits that shared the compound had escaped that fate — at least for the time being.
Grand Circle offers five Danube River cruises, among other destinations. Prices begin at $2,195, including international air fare, all onboard meals with beverages, guided tours with headsets in every port, the use of e-bikes, and gratuities for local guides and drivers. For more information, call 1-800-221-2610 or visit gct.com.