Housing
Volunteers perform needed home repairs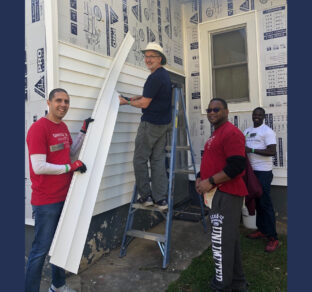 Volunteers from Rebuilding Together's Montgomery County affiliate re-sided the home of an 82-year-old Takoma Park resident last spring. The nationwide organization has 120 affiliated chapters that provide free repairs to local homeowners in need.
Photo by Maury Peterson
Awad Tanios, a double amputee, did not have an accessible bathroom or shower and could not get to the second floor of his townhouse in Montgomery Village, Maryland, so he slept in his living room.
Now, thanks to a nonprofit, Tanios has a customized chair lift to bring him to his second-floor bathroom, where he can access a new shower with his wheelchair.
A Maryland retiree was living alone in an unheated house without a functional kitchen. He had to prepare meals with a toaster oven or microwave and walk to the second floor for water. Now he has heat as well as a full kitchen with new flooring, drywall and appliances.
These men and many other homeowners can live more self-sufficiently in their houses thanks to Rebuilding Together, a nonprofit organization with 120 affiliates in 38 states, including Virginia, Maryland and Washington, D.C. The organization provides free repairs for homeowners who meet income eligibility requirements.
Maury Peterson, executive director of Rebuilding Together Montgomery County, loves to share success stories like these. She describes how she has marshaled her staff and organized contractors and volunteers to make home improvements that "help preserve the current affordable housing stock, prevent displacement and homelessness, and stabilize entire communities," she said.
Nationally, the group's nearly 100,000 volunteers complete about 10,000 projects each year. The organization has pledged to make over a million repairs in more than 120 communities by 2030. Just over 200,000 have been completed to date.
Rebuilding Together's services are free to eligible low-income homeowners, including people with disabilities, veterans and people over age 63 with limited incomes. In Montgomery County, 63% of its clients are older adults, and more than half are women.
Maggi Klefstad, director of development for Rebuilding Together's D.C.-Alexandria affiliate, explains the organization's philosophy: "We believe housing is a human right, that everyone deserves access to healthy housing," she said.
"Our organization changes lives and creates homes for those who do not have the financial resources to do it themselves." Her affiliate undertakes around 300 projects every year.
How it works
First, only homeowners can qualify. Financial eligibility depends on one's annual median income (AMI), typically at or below 80% of the local AMI.
Each affiliate has different income requirements. The D.C.-Alexandria affiliate requires that a client's income be 80% or less of the AMI of Alexandria and Washington, D.C. Montgomery County's affiliate requires 50% or less of the county's AMI, which is $120,000. Their average client has an income of around $22,000 a year.
Professionals first assess a home's condition, generally following guidelines from the National Center for Healthy Housing. Using the center's 25-item healthy homes checklist, they look for warning signs like peeling paint, musty odors and tripping hazards. Then they recommend repairs or retrofits.
Rebuilding Together assigns low- and high-skilled volunteers, many over the age of 50, to tasks like painting, yard work and basic carpentry. Common requests include installing smoke detectors, adding insulation, repairing windows and doing plumbing repairs. Volunteers can also install accessibility modifications like higher toilets, walk-in tubs, hand rails and grab bars.
For more complicated projects, the organizations fundraise and hire professional contractors. They typically complete jobs involving electrical wiring as well as roof, furnace and air conditioning repairs.
Rebuilding affiliates often partner with home products companies like Bed, Bath and Beyond and Lowe's. Some partners donate supplies.
Founded in Texas
In 1973, a group in Midland, Texas, noticed that some houses in the community were in disrepair, so they volunteered to help their neighbors who could not afford repairs. Calling their effort "Christmas in April," they intended to do repair and rehabilitation projects in their community every April.
As news of their work spread, more and more people became interested, and they formed partnerships. In 1988, the project took on the name Rebuilding Together and opened a national office to "repair homes, revitalize communities and rebuild lives," according to Rebuilding Together's website.
Today, its corporate partners include the American Red Cross, HGTV and DIY Network, Lockheed Martin, the National Basketball Association, Sherwin Williams and Wells Fargo.
In Maryland, in addition to Montgomery County, the group has affiliates in Anne Arundel, Baltimore, Charles, Frederick, Howard, Kent and Queen Anne's counties.
In addition to the Washington, D.C.-Alexandria affiliate, Virginia affiliates are in Arlington and Fairfax Counties, Falls Church and Richmond.
Rebuilding Together's 2021 survey found that after receiving home repairs, clients feel more included and have more pride in their homes, better health and less stress. In fact, the survey found, 89% of homeowners reported an increase in happiness after repairs.
That was certainly true for 76-year-old Ellen Reed, who was grateful after Rebuilding Together Saratoga County installed wheelchair ramps in her house in upstate New York.
"It's unreal what they did," Ellen told Rebuilding Together. "This has brought the word 'life' back into the picture for me," she said. "I'm crying happy tears because I feel like I'm alive."
This April 29 is National Rebuilding Day, when all Rebuilding Together affiliates will undertake home rehabilitation projects all over the United States.
For more information on how to volunteer or obtain services, or to make a donation, visit rebuildingtogether.org, through which you can locate the affiliate for your area.