Travel
"Voluntouring" for mind, body and spirit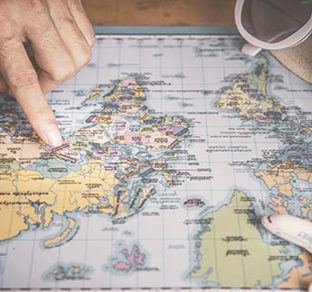 Photo by mizkit on Vecteezy
At nighttime in Botswana's pitch-black Okavango Delta, I sat astride a 1,000-pound Nile crocodile while a scientist probed the croc's posterior. A hippopotamus snorted within earshot.
Years later, while visiting California's Catalina Island, I searched the sand on hands and knees for nurdles, plastic orbs the size of a pencil eraser.
On both trips, I was helping scientists with their field work on a so-called volunteer vacation. In the past decade, I've volunteered for eight projects with Earthwatch, a nonprofit that pairs volunteers with researchers all over the world.
There's a range of opportunities all over the globe that combine travel and volunteering (nicknamed "voluntouring"), from repairing hurricane-damaged roofs to teaching English. For many, these mind-expanding adventures beat golfing or sipping margaritas poolside.
Whether it's building homes or counting birds, volunteer vacations can be a way to make the world a better place. You can help with medical care, work with youngsters, or save endangered turtles. Most volunteers come home feeling that they've made a difference.
Mentally and physically challenging
Since volunteer projects are led by experts, they're usually a learning experience. For "citizen science" projects, volunteers help professionals answer questions, analyze trends and advance scientific knowledge.
In the Andorran Pyrenees, for instance, I measured the girth of trees so scientists could analyze how climate change is affecting alpine habitat. In Andorra, checking traps and tagging small mammals in mountain pastures tells scientists if climate change is affecting the animals' range and movement.
In the Galapagos Islands, I learned about Charles Darwin's natural laboratory and threats to these precious islands as I macheted invasive vines to save native plants.
Volunteering enhances physical health as well. A 2017 Purdue University study found that people ages 70 to 85 who volunteer regularly are healthier than those ages 58 to 69 who volunteer infrequently.
These trips often require physical activity; for instance, in Andorra, my group hiked three to six miles a day to research sites. In the Galapagos Islands, we navigated over sharp-edged, volcanic, vine-covered rocks.
Helping on a Colorado archaeological excavation, I had to squirm around in a one-square-meter hole and haul buckets of dirt to the sifter.
However, most projects also offer more passive activities. Archaeology volunteers can either dig in the sun or help organize and label artifacts instead.
Some projects require volunteers to mark checklists and enter data. Typing numbers into boxes on a computer screen can be mind-numbing, but not in a Galapagos laboratory amid inquisitive scientists.
Other programs, especially surveys, strengthen observation skills. In Greece's Amvrakikos Gulf, observing dolphins as they arced out of the water, I had to look for distinguishing marks or nips on the fins to identify dolphins individually.
In the French Alps, I studied marmot behavior, videoing their antics when they popped out of underground dens. There's hardly anything more enchanting than two marmots frolicking against the backdrop of an alpine wildflower meadow.
Unique experiences await
Many projects take place off the usual tourist tracks. In Botswana, we camped three hours from the capital city, Gaborone.
We visited a village in the bush of thatch-roofed rondavels, some made of cement reinforced with bottles and cans. People cooked outdoors, and many sat on grass mats on the ground when socializing.
In Vonitsa, Greece, I could eat like a local at many traditional outdoor restaurants, where managers and patrons were very welcoming. In the French Alps, I got spoiled on fine cheese fondues, area specialties.
For a Louisiana loon-counting project, we eschewed busy New Orleans, and were stationed 63 miles south in watery Venice, a fascinating area where many Vietnamese refugees settled and now fish as they did in their home country.
Experiences like these can get you out of your usual bubble, promote cross-cultural understanding and friendship, and build respect for other cultures.
Some people do not have compatible travel partners. For singles, volunteer vacations are a way to travel without a companion and be with like-minded people. Lifelong friendships and even romantic matches have been made on some voluntouring projects.
Volunteer travel requires the resources to travel, but equally important, it requires a willing spirit and an open mind. A volunteer vacation can be a once-in-a-lifetime, transformational experience.
What to expect
Thoroughly researching the project ahead of time can enhance the experience. A few tips:
Understand the physical requirements and be realistic about your capabilities. Projects may require strenuous walking, standing for extended periods, or lifting heavy equipment, for example.
Understand weather conditions and your tolerance for hot, cold, wet or windy days.
Determine if the sleeping arrangements are compatible with your needs. You may sleep on cots, in single beds or tents, for example, or you may have a roommate.
Determine if meals can accommodate special needs.
Understand the costs and what your payments cover. Transportation to and from the site? Insurance? Some expenses may be tax deductible.
Make sure the insurance provided by the sponsoring organization is comprehensive. Buying travel insurance and extra health insurance can give you some peace of mind.
Plan for emergencies. Health care facilities, medicines and medical personnel abroad might not be comparable to what you have near home.
Take all supplies recommended, especially footwear and outerwear. Some projects require specialized gear like headlamps for night work. But don't overpack, since you'll likely be lugging your luggage yourself.
Expect to be with others and busy. You may not have much privacy or down time.
If traveling abroad, study beforehand the country, its governance, culture and possible expectations based on your age, gender, gender identity, race, ethnicity, sexual orientation and religion.
To search for a trip, go to volunteerinternational.org, voluntourism.com, or earthwatch.org. Road Scholar offers some "service learning" vacations at roadscholar.org.
Also consider cross-cultural trips at volunteerforever.com/program/cross-cultural-solutions.