Cover Stories
We all can give voice to history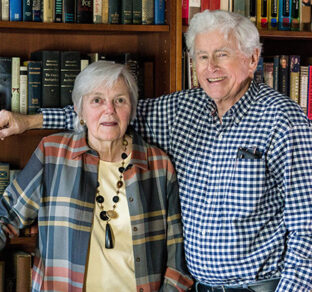 Janice and Neal Gregory, longtime residents of Capitol Hill, shared their tales of D.C.'s earlier days with the Ruth Ann Overbeck Capitol Hill History Project, which collects interviews for posterity. Several groups throughout the region seek out older adults to interview for oral history projects, preserving their stories for future generations.
Photo by John Shore
Oral history can bring the past to life in ways history books can't — from a first-person account of seeing a plane smash into the Pentagon on 9/11, to more pleasant recollections of Hot Shoppes restaurants, where waiters sprinted to cars with trays of milkshakes and burgers.
And in the Washington area, opportunities abound for people to both share their stories and read or listen to those of others.
Oral history is a form of storytelling that has been around for centuries and continues to be a powerful way to preserve culture and share experiences. It offers a unique perspective on the past, helping gain insight into people's lived experiences.
"When people tell their story, it gives a better sense of belonging and ownership of the facts. Oral history can be important to the whole picture of our country's story," said Esther McCullough, chair of the Ethnic and Oral History Committee of the Fairfax County History Commission.
Often historians seek out older adults with a lifetime of unique memories.
"Interviewing our elders is a powerful way to preserve the most complete information — and the fullest connection to our community history," said Anne Fisher, chair of the Oral History Committee of the Citizen's Association of Georgetown, which has recorded oral histories from dozens of older residents since 2007.
In addition to Georgetown and Fairfax County, many local jurisdictions and civic associations collect oral histories.
For example, the D.C. Oral History Collaborative offers grants to organizations throughout the District to conduct oral history interviews. These have ranged from interviews with alumni from the 1970s and '80s of the School Without Walls, to interviews with Ward 7 and 8 mothers who have lost children to gun violence.
Preserving a story for posterity
Oral histories can take several different forms, although most incorporate an interview with a person about their history. The final product can be a written transcript, or an audio or video recording of the interview.
For Julieanna Richardson, founder and president of the History Makers — a nonprofit that has recorded more than 3,000 personal stories of both well-known and unsung African Americans — a video is the best way to capture a full picture.
"Taping these histories is vital because without that you can't see the twinkling in someone's eye or hear the intonation of their voice, or see the way they use their hands to express themselves," she said.
Richardson said she started the History Makers to "create a record of the African American experience because that record doesn't [always] exist in history books. So many people are ignorant of the contributions African Americans have made."
The History Makers content can be viewed through a paid subscription online as well as at the Moving Image Research Center of the Library of Congress. Around 500 of the interviewees have ties to the Washington area, such as Smithsonian Secretary Lonnie Bunch and Washington DJ Bobby Bennet, who created the Soul Street channel for XM Radio.
How history interviews work
When Janice Gregory sat down with her husband, Neal, to offer their stories as part of the Ruth Ann Overbeck Capitol Hill History Project, she recalled far more than the frightening day in September 2001, when she saw black smoke billowing from the Pentagon. They told their personal story as well.
Janice, now 77, and Neal, 86, met on the Hill more than 50 years ago, when she worked for a member of Congress, and Neal, a reporter, came to interview him.
They lived on Capitol Hill for decades, raising three children, who roamed the neighborhood, even sometimes hopping aboard the subways that run in underground tunnels beneath congressional office buildings.
Janice also remembers being in the forefront of maternity leave policy for congressional staffers after telling her boss what she wanted.
"I don't know if I was the first, but I was certainly a test case," she recalled in the written transcript of her oral history interview.
Janice, a lifelong Democrat, also talked about living across the street from then-Speaker of the House John Boehner, a Republican, exchanging chitchat while in their yards.
What motivated them to tell their stories? Neal was inspired by fellow Capitol Hill resident Margaret Hollister, whom he succeeded as president of the Southeast Library's Friends of the Library group.
He was fascinated by the history she shared, including her account of attending the 1963 March on Washington. Before Hollister died at age 101 in 2019, she shared her experience as part of an Overbeck Project group recording an oral history of the civil rights movement.
"There was a little uneasiness in the air, in fact a lot," Hollister told the interviewer. "And as you walked toward the Lincoln Memorial, you were waiting for something to happen, just plain happen. Because you were there under some risk."
But then the mood shifted, she recalled. "I still remember walking into the sort of circle near Martin Luther King. Things changed…It was as if the tension was gone, and you were completely absorbed in the occasion, with this man standing here," Hollister said.
A gift to children or grandchildren
Even if you never experienced a historic event, your description of the past could be important. For instance, Lynn Nicholas, 83, recorded her story about growing up and living in Georgetown since the 1950s for the Citizens Association of Georgetown.
"Anyone who lived in Washington or moves here would be quite interested in how people used to live," she said. She also noted that oral histories can be a kind of gift to your children or grandchildren so they can delve into a record of what everyday life was like.
But Nicholas has a few qualms about oral history as well. As the author of books exploring the theft of artworks by Nazis and the treatment of children during World War II, Nicholas said her own research reminded her of how faulty memories can be, and that first-person accounts can be embellished or sanitized.
"I used a lot of oral histories and found some incredibly unreliable. Families all have myths they cling to," she said.
"When it comes to [depicting] atmosphere, they may not remember details exactly right, but they remember how they felt, and that's important to capture in oral history."
Pandemic stories
Oral histories don't have to just focus on a neighborhood or specific event. Covid provided an opportunity to preserve the voices of people living through a pandemic.
For example, a project titled, "Living and Dying with Covid-19: The Maryland Stories," provided recording equipment to several public libraries throughout the state (including Davis and Aspen Hill libraries in Montgomery County) so that residents could offer their perspectives.
The project wrapped up recording recently, and the oral histories will be part of the Digital Maryland and Maryland State Archive collections.
The recordings are filled with personal struggles and loss, as well as the impact the pandemic had on everything from small businesses to the arts, said William Lord, founder and executive director of the Global Z Recording Project, which oversaw the effort.
"The stories describe tragic personal loss, system-wide failures…and inabilities to serve those in need. But also some perhaps unexpected positive changes that came about as well, people who were able to step up and make a difference," he said.
While that project is no longer making recordings, groups around the Washington area continue to collect oral histories. Fairfax County, for example, has recorded retired county leaders, and will soon move on to recording "the most elderly seniors who have helped make Fairfax County rich in resources," McCullough said.
"We want to promote the idea that history is currently happening, rather than something only in the past. We are all making history each day, and we should be proud to share our life stories."