Cover Stories
Welcoming today's refugees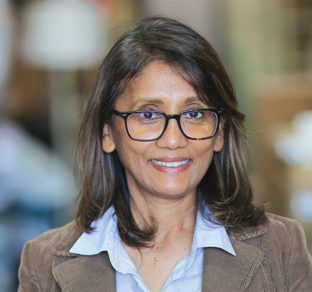 Local volunteers like Hannah Koilpillai, above, welcome refugees to the D.C. area by helping to furnish their new apartments, find doctors and enroll children in schools. After Koilpillai retired from the World Bank, she began volunteering for Homes Not Borders, one of several area nonprofits that help resettle refugees. She was drawn to the work because her family immigrated from India in the 1960s.
Photo courtesy of Hannah Koilpillai
In the last four years, Hannah Koilpillai, 65, has rounded up used furniture, beds, dishes and more to set up apartments for more than 500 people from other countries who resettle in the Washington area. She even convinced Colgate-Palmolive Company to donate 400 toothbrushes to the Maryland-based nonprofit where she volunteers, Homes Not Borders.
Koilpillai, a Silver Spring resident, is one of many older volunteers helping the area's refuge-seeking immigrants, who often arrive only with what they can carry. At other local nonprofits, retirees put in long hours to make refugees feel welcome in our area.
Koilpillai herself came to the U.S. from India at age 10, and fondly remembers her family's host — a woman who helped her family find health insurance and buy groceries.
Many refugees have fled horrendous experiences, she noted, and felt forced to leave their home countries to escape political persecution, gang violence or natural disasters.
By making their new apartments homey, Koilpillai hopes to make people feel safe and to send a message: "There are people here who care. I am here for you if you need anything."
Recreating the American story
Terms for people who leave their home country include immigrants, refugees, evacuees, asylees, aliens and migrants.  These terms have specific legal meanings, and official immigration status can affect the services people receive and their path to citizenship.
According to the United Nations, "the number of people forcibly displaced around the world has doubled in the past decade and is estimated to have passed 80 million in mid-2020." The U.S. accepted 15,000 refugees in 2021; that number is expected to jump to 125,000 in fiscal year 2022.
In our area, since August 1, Lutheran Social Services of the National Capital Area has resettled 150 families — almost 1,000 individuals — from Afghanistan. The social services organization expects to resettle 2,400 more people, mostly Afghans, over the next year, said spokesman Jacob Barclay.
"We owe our Afghan partners the best possible chance to form a new life and, as Americans, it's part of the fabric of who we are," Barclay said.
Our region is attractive to people from other countries, he believes, because of its ethnic diversity, large military presence and job opportunities.
"There's a great understanding in our region and empathy for what refugees go through," Barclay said. "People step up and support their new neighbors."
Some volunteers have experienced the same disorientation as the people they help. As Hekmatullah Latifi, who left Afghanistan in 2016, put it in a podcast, "You're on a journey and don't know where you're going or where you will end up…It's the American story being recreated every day."
Today, Latifi works for Catholic Charities of the Diocese of Arlington, which helps people in 21 local jurisdictions from Fredericksburg to Warren County, Virginia.
Ninety percent of their clients are from Afghanistan, but they also help Central American minors reunite with adult relatives, and have assisted people from the Democratic Republic of Congo and Syria.
Extending a hand
Help often starts with a friendly face at the airport. Then Catholic Charities staff and volunteers help find housing, enroll adults in English classes and children in school, and connect people to medical care. They provide food, furnishings and basic supplies, like diapers, blankets, pots and pans.
They prioritize helping newcomers get a Social Security number because it's key to accessing many safety net services, such as food assistance and Medicaid.
Resettlement workers help them set up appointments, connect with employers, complete applications and learn interviewing skills.
"We try to set them up for success," said Emily Wood, site supervisor.
Catholic Charities also focuses on the special needs of elderly refugees. Because many are reluctant to leave their homes, case managers check in frequently to combat isolation, direct them to classes, and teach them how use a computer, for example.
Wood loves her job. "It's a great comfort to say, 'I'm here, I can help. You are safe now,'" Wood said. "It's so much more than work."
Houses of worship join forces
An immigrant herself, Wendy Chan co-founded a grassroots refugee assistance group in 2016 based at her Arlington church.
Today, NOVA Friends of Refugees is a coalition of more than 1,500 Washington-area residents representing 175 faiths. They work to help recent arrivals get established in our area.
One, Mohammed, a civil engineer who left Afghanistan in August, came to Northern Virginia with only the clothes on his back. Chan found him warm clothing and free housing for a few months and hopes to connect him with employers.
Chan's group also helped a university student from Sudan whose work permit was in a bureaucratic snarl that prevented her from working a summer job. To help fund her education, church volunteers raised $8,000 for her tuition.
At another congregation in Fairfax County, Temple Rodef Shalom, temple members decided to help immigrants because they wanted a "real experience with people going through it, to develop a relationship," explained Rabbi Jeffrey Saxe.
They are sponsoring a woman and her two daughters from El Salvador who are seeking asylum. Temple members provide financial resources, English lessons and guidance on the legal system.
The temple also partners with Muslim congregations. Rabbi Saxe cites a memorable interfaith dinner during the Syrian civil war that welcomed Syrian refugees, and a Maryland rally where some were moved to see that "Jews were allies to them. Standing with each other was a positive experience," he recalled.
Humble homes, jobs
Because of the Washington area's high cost of living, the greatest challenge is finding affordable housing, which means persuading landlords to rent to families who don't have a credit history.
The average rent for a three-bedroom apartment in the D.C. region is $2,260, according to rentdata.org. As a result, multiple family members often must share small apartments, as was typically the case with earlier waves of immigrants to the U.S.
Many new arrivals had stable careers in their home country, but the American work culture is unfamiliar. They may have to start by stocking store shelves, washing dishes or driving taxis. A first job could be entry level, part-time or temporary.
For instance, one Pakistani musician and father of four, who spoke no English, emigrated in 2015 because he faced death threats. Here he's been an Uber driver, motel employee and Metrobus driver. His wife tried to start a catering business but eventually took a job at Red Lobster.
Volunteers and donations needed
Nonprofits helping new arrivals need donations, including gift cards, and many have "wish lists" of needed items.
Most resettlement groups welcome volunteers who can help complete paperwork, drive immigrants to medical appointments or tutor students. Some, like Lutheran Social Services, recruit mentors who must commit to helping a client for six months.
That months-long, one-on-one bond can benefit both refugees and volunteers.
"What motivates me," Koilpillai stressed, "is doing something kind for someone who is in need. It gives me great joy to prepare them a place where they can feel safe."
To find volunteer opportunities near you, go to rescue.org/volunteer and enter your ZIP code.
For a list of official resettlement agencies to volunteer for or donate to, the U.S. Refugee Processing Center lists nonprofit organizations on its website, wrapsnet.org/resources.
Correction: The print version of this story stated that Ms. Koilpillai had set up 500 apartments for refugees. In fact, she settled 500 refugees in apartments. We regret the error.