Travel
What happens aboard a cruise ship?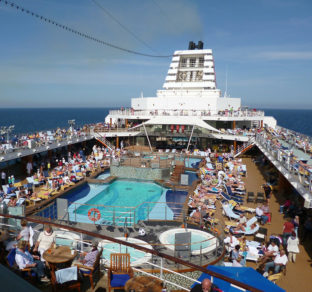 Image by KarinKarin from Pixabay
One evening during our cruise on the Danube River, my wife and I listened to a fascinating discussion about the cultures and customs in four Eastern European countries. Another presentation dealt with the present-day refugee situations in Austria, the Czech Republic, Hungary and Slovakia.
During our cruise, time spent aboard the ship turned out to be more — much more — than just a way of getting to our next destination.
Nightly "port talks" described the next day's adventures along with historic, sightseeing and other information about ports of call in four European countries.
As passengers relaxed on the spacious open-air deck, watching magnificent scenery pass by, a voice over the loudspeaker described the picturesque villages, identified grapes growing in terraced vineyards, and offered mini-history lessons about castles and abbeys that we spotted on hillsides.
Meals are a centerpiece
Each meal included popular specialties of the region. One day passengers were handed hazelnut cream wafers, a Viennese specialty. On another, we were given apricots from Krems, a town in Austria famous for growing that fruit. Yet another treat consisted of tasty Eastern European chocolates.
In addition to offering samplings of local fare, meals quickly became a greatly anticipated part of our experience. In terms of creativity, presentation, service and, of course, taste, they were among the high points of each day. My wife Fyllis and I concluded that the floating dining room aboard the Grand Circle Cruise ship well deserved a Michelin star.
We weren't the only ones to make that decision. A sign-up sheet for passengers requesting copies of recipes of dishes they had just enjoyed was quickly filled after each meal.
The modest-sized offering of souvenirs available on board for purchase were, not surprisingly, representative of whichever country the ship was visiting. Many of them were more attractive, upscale — and therefore more pricey — than the usual tourist trinkets offered at many shops on land.
Onboard humor
Adding to the appeal of the cruise experience was the fact that in addition to being very efficient, attentive and accommodating, members of the staff — kitchen, cabin attendants, tour leaders and the ship's crew — took delight in doubling as strand-up comedians.
Come evenings, they became the ship-board entertainment. This turned out be a far cry from the slick, at times homogenized, song-and-dance routines usually associated with mega-ocean cruise ships. Instead, it was casual theater that gave new meaning to the term down-home humor.
For example, karaoke night, rather than serving as a contest to judge the best singers, became an exercise — intended or not — in which group sounded the most hilariously awful. A crew talent show quickly devolved to resemble a bunch of 10-year-olds taking part in their first school production.
The highlight — or, more aptly, hysterical lowlight — for many audience members was a mock performance, and assassination, of the ballet "Swan Lake."
Suffice it to say that upon its completion, to the extended applause and even lengthier laughter of the audience, the ship's captain seized the microphone and, in a voice that conveyed both a directive and a plea, announced: "What happens on board, stays on board."
Our Grand Circle Cruise vessel had a library, whirlpool, sauna, bar and lounge. The staterooms were surprisingly efficient. The storage space provided plenty of room for our clothes, each stateroom has its own temperature controls, and choices on the color TV included ship-front views from a bow camera.
One afternoon Fyllis and I accepted an invitation to join other passengers for a tour of the ship's kitchen. We entered a gleaming stainless-steel, compact environment in which the marvelous meals were prepared.
It had not taken long for Fyllis and me, after first walking up the gangplank, to check out all of the shipboard amenities and activities. During the days that followed, we took advantage of most of them.
As our cruise neared its end, we agreed that Emerson was right when he wrote, "It's not the destination; it's the journey." Even without the fascinating stops along the way, the boat trip itself was a marvelous and memorable experience.
Several cruise lines offer European tours via the Danube. A 10-day Danube River cruise on Viking River Cruises starts at $4,500; an 11-day Danube cruise starts at $4,000 on Avalon Waterways. To find out more about Viking River Cruises, visit Vikingcruises.com; check Avalon Waterways at avalonwaterways.com. For more about Grand Circle Cruises, visit gcl.com.