Technology
What is 'social media,' and is it for you?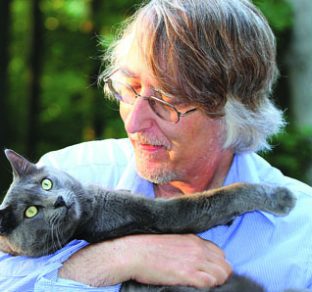 Eric Bergerson is a frequent Facebook user.
There's a notion common among many young people that older American's don't "get" social media. But actually, older adults are now the fastest-growing group of new users of social media in the United States.
The growth has been spectacular: In 2013, 43 percent of Americans over 65 used at least one social networking site, compared with 26 percent in 2010 and one percent in 2008.
The term "social media" refers to websites and mobile applications (or the more inclusive term: platforms) that enable people around the world to interact and communicate with others who have similar interests. There is generally no charge to use these sites, once you have Internet access and a computer or web-connected mobile device (smartphone or tablet).
When it comes to using social media, older Americans tend to be more private and cautious about what they share than are younger generations. But once they see the potential benefits of different types of social media, older adults do participate to the extent they are comfortable doing so.
We present below an overview of the most popular social media platforms, describing some of their features and benefits that may be of interest to you.
Facebook (www.facebook.com)
Facebook is a platform designed to rekindle and preserve existing social connections using on online "forum" for sharing personal messages, written updates, photos and videos. The site is the most popular social media site in the world, with 1.23 billion people using it monthly.
Users sign up for a Facebook page at no charge, and then may invite other users to connect with them as "friends." In return, users can accept or reject invitations to connect with other individuals.
Based on the information you supply about yourself, and the Facebook pages you chose to connect with, the site recommends other users or groups you might know or want to know.
While users "friend" other individuals, they can "like" their favorite brands, groups, charities, TV shows and more — and receive updates from those designated Facebook accounts.
Facebook provides millions of older adults with the ability to keep in touch with family members, as well as learn of each other's day-to-day activities, through messages and photos posted to their pages.
Laura Dorn Foxworth, who is 52 and lives in Woodmoor in Baltimore County, has been a Facebook user since 2008. "I started originally [in order] to keep track of what my daughter was doing on it," she said. "But now I enjoy reconnecting with old friends that I have not heard from in years, and have gotten together with some who are still in town but with whom I had long since lost touch."
Foxworth's high school class uses Facebook to inform members of reunions. Foxworth has also "friended" current friends, family members and church members, and "likes" a weight loss surgery support group.
"I go on Facebook once or twice a day," said Foxworth. "With the new messenger feature, I can get instant messages from people even if we do not have each other's phone number."
One social media site is "all I can handle," said Foxworth, explaining why she's not a fan of some of the other popular sites discussed below. Her only complaint about Facebook? "Sometimes I learn more about people than I care to know!"
For "semi-retired attorney, dad, older hipster and pseudo-hippie" Eric Bergerson, who is 63 and lives in Potomac, Md., Facebook is an opportunity to connect with a "remarkable amalgam of folks," such as a swami whom he recently met on a lonely country road in Illinois as he was driving along Historic Rt. 66.
"[The swami] was walking across the country on a peace mission, and I felt compelled to stop for the man in his orange robes as he gave a beaming smile and enthusiastic wave in my direction as I passed by," said Bergerson, a Baltimore native. The two are now Facebook friends.
"For me, Facebook acts as a podium to post compelling articles that may have some connection to the lives of family or friends who will see them," he added.
Bergerson, who uses Facebook daily, also participates in various forums on the site, including several related to growing up along Liberty Road in Baltimore County.
And, like most Facebook users, Bergerson uses the site to store and post photographs, many of which document various areas within and around Baltimore.
"Of course, I also post [photo] albums of many other events and other places to which I have travelled, and I am not shy about posting photographs of my daughters."
LinkedIn (www.LinkedIn.com)
LinkedIn is a social media platform intended primarily for business connections. It currently has more than 277 million users.
The site is frequently used by workers and businesses to network, in an effort to gain new business or find jobs. Many employers have begun posting job openings on LinkedIn. Once your profile is complete, the site will even match you to potential job openings according to your skills and previous job experience.
But retired and semi-retired people also use LinkedIn. It's a way to keep in touch with former business contacts who may not necessarily be considered friends you would connect with on Facebook. According toSocial Media Today, 70.6 percent of LinkedIn users utilize it to reconnect with past business connections.
LinkedIn users may also join various groups with some sort of business connection. There are groups devoted to certain professions, associations, interests, geographic regions, and even current and former employees of certain companies (e.g., a Current and Ex IBM Employees Group).
In addition to networking with individuals, LinkedIn users can also "follow" particular companies, and keep abreast of the latest news from those organizations.
Pinterest (www.pinterest.com)
Pinterest is a website that allows users to share, collect and organize a variety of different items of interest represented by photos or graphics. Think of it as a very large online personal bulletin board. Pinterest has more than 70 million users, the majority of whom are women.
The most popular shared images or "pins" contain recipes, home décor, arts and crafts, fashion, fitness tips and do-it-yourself (DIY) ideas. But there are also categories that tend to be of more interest to men, including cars, photography, design, architecture and film.
Many consumer brands also have Pinterest pages and share their content in little images that can in turn be re-pinned to a user's own Pinterest "board."
"Pinterest is easy to use, easy to share, and it tells me whenever my Facebook friends join, so I can decide whether or not to follow," said Cheryl Snyder Taragin, who lives in Baltimore.
"I have gotten the best recipes off of Pinterest. It is also a great way to bookmark URLs (website addresses) I think are interesting," she said.
Twitter (twitter.com)
Twitter is known as a micro-blogging site. On a blog, people write regularly, often at length, to share their thoughts and opinions and invite comment from other readers.
As a micro-blog, Twitter allows messages limited to no more than 140 characters (letters, numbers and spaces). Each message is called a "tweet," and can be replied to or forwarded (retweeted) to others.
People who want to read other people's tweets are said to "follow" that tweeter, and in turn may be followed by others who are interested in what they have to say.
Users can also share links, photos and videos via Twitter. Local businesses often tweet their daily specials or special deals to their followers. Today there are more than 645 million Twitter accounts.
Many feel that the real value of Twitter is when it is used as a means of instant communication. News organizations and even police departments "tweet" important messages to the public that can be viewed on their computer or mobile device.
During the manhunt after the Boston Marathon, the Boston PD regularly tweeted updates to its followers. Twitter has also been widely used by protesters involved in various political uprisings around the world.
Twitter has popularized the use of "hashtags" (descriptive terms preceded by the "#" symbol). Hashtags are a shortcut way of explaining what the tweet is about. By monitoring certain hashtags, users can view online conversations about particular topics. Facebook has now adopted hashtags as well.
Depending on their needs, interests and comfort level with technology, potential users can easily test out these and other social media platforms, and explore them before deciding whether or not they are worth signing up for. Also, many community colleges and continuing education centers offer seminars on social media.
Social media sites will never completely replace face-to-face interactions, but they can provide other ways to stay connected to friends, family and former colleagues, as well as a means to learn more about what's happening in the world today.
Morgan Lamphere is director of marketing for SearStone, a North Carolina continuing care retirement community. Carol Sorgen is contributing editor of the Baltimore Beacon. You can find Sorgen on Facebook, Twitter (@BaltimoreWriter), LinkedIn and Pinterest.