Travel
What to expect traveling to Europe now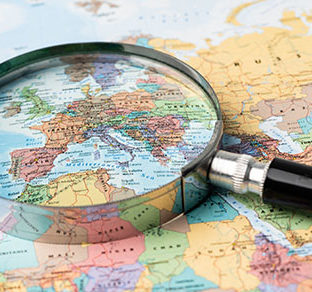 If you're planning a trip to Europe this year, you're not alone: Industry mavens are projecting a big year for transatlantic travel. For the most part, traveling to and within Europe is easy, but you need to know a bit before you leave.
Paperwork: Western Europe does not require any advance paperwork for visitors who aren't looking for a job and plan to stay less than three months.
But that's going to change before the end of the year, when a new requirement for an ETIAS Visa Waiver Application kicks in. Applying is easy: You can do it online and get an approval by email.
Although nominally a security measure, the more cynical suspect that the main objective is either to collect the fee you have to pay or to retaliate for a similar U.S. requirement.
ETIAS applies to the entire Schengen region (27 countries, most in the EU and Scandinavia). Your main worry is possible denial if you have an unpaid bill in Europe from a prior visit.
Currently, the requirement is scheduled to go into effect in November, but postponement is possible. Check etias.us/application for details. The UK is cooking up a similar scheme, with details yet to come.
Destinations: Although the travel press and blogosphere are fond of touting new "hot" destinations, most of you will head for the traditional big four: UK, France, Germany and Italy.
If you're an old Europe hand, you know what you want. My primary recommendation to first-timers is simple: Don't try to do it all on a single trip; leave something for your next trips.
Inflation hasn't spared Europe. As a simple comparison, a year ago a reservation I made in Italy for $849 now goes for $1,047.
The euro, currently at $1.09, is up a bit since my April visit, but it is still below the general pre-Covid rate, as is the pound, though both have been increasing lately. Still, unless there's an economic disaster somewhere, exchange rates usually don't change very fast.
You can expect sticker shock, especially at restaurants in Switzerland, but it's because of prices, not exchange rates.
Airfares: The consensus in the industry is that airfares will be high, although I've seen a few contrarian views lately. Two low-fare airlines will be flying from the U.S. to Europe:
—Norse Atlantic links Ft. Lauderdale, Los Angeles, New York/JFK and Orlando with various combinations of Berlin, London/Gatwick and Oslo, with Paris/De Gaulle and Rome coming later this year.
—French Bee from Los Angeles, Miami, Newark and San Francisco to Paris/Orly, with service from Rome starting later this year.
In addition, Icelandair and Play will be flying a bunch of routes via Reykjavik. And, of course, the legacy lines and JetBlue will be competitive from dozens of U.S. gateways.
As I've been saying, grab a good deal when you see it, figure to cancel and rebook if fares go down, but buy the first ticket on an airline you will fly again.
Although the blogosphere has been predicting that slow business travel recovery will lead to low business-class fares, I haven't seen any evidence yet.
Getting around: Unless you plan some really long hops, figure on taking trains rather than flying to travel inside Europe:
—Eurail Pass is more attractive than ever. The primary gotcha is stiff copays disguised as seat reservation fees for some cross-border high-speed trains.
—For lots of shorter trips, look for discount cards — some for everybody, some just for seniors and youth, most notably in France, Italy, Spain, Switzerland and the UK.
You will see a lot more "open access" train services, with one country's national system or independent operator running trains on foreign networks. Eurail Pass covers some but not all such operations; check its booking site.
Rental cars and gasoline see inflation, just like everything else, but these days you pay only a small premium for air conditioning and automatic transmission. You can also rent electric vehicles. Here's a good reference: bit.ly/europeev.
Regardless of cost differences, touring the countryside and staying at country inns is a great alternative to city-centric visits. Consider a driving trip as one of your options.
Email Ed Perkins at eperkins@mind.net. Also, check out Ed's rail travel website at rail-guru.com.
© 2023 Ed Perkins. Distributed by Tribune Content Agency, LLC.