Housing
What's in a name? Ask these communities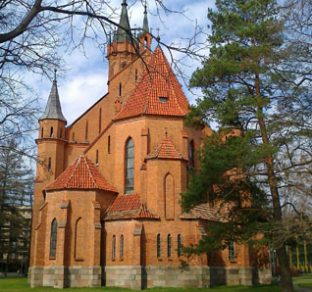 A number of long-standing senior living communities in the area were originally established with religious roots, and their church affiliation was reflected in their original names.
For decades, being such a faith-based nonprofit attracted both residents of that faith as well as others who associated both trustworthiness and goodwill with religious organizations. Even today, for many people, such organizations are closely associated with altruism and morality, which attract certain prospective residents regardless of their beliefs.
Times change, however. And today, both because of a rising tendency toward secularity in society and an appreciation for diversity in living arrangements, some potential customers can be put off or alienated by a community's official or historical religious affiliation.
For these and other reasons, several local communities have moved to change their names to more accurately reflect both who they serve today and what they do.
The Beacon spoke with representatives from these communities to get a better understanding of what was behind their name changes. Here are their stories.
The Village at Rockville
The community known for more than 100 years as the National Lutheran Home changed its name to the Village at Rockville in 2010. The impetus for the change was a major expansion of services. But in truth, the community's mission had begun to expand many years before that.
Like many facilities called a "home" in the past, National Lutheran Home long offered skilled nursing and rehabilitation as well as long-term care to its residents.
But more recently it began to offer independent living cottages, on-site restaurants and a variety of classes to its many active and assisted living residents.
"People who have known us forever really equated skilled nursing as our forte. And that's been a wonderful trait to have. But we do so much more than skilled nursing," explained Courtney Malengo, director of community relations at the Village at Rockville.
"We wanted a terminology that showcased the village as a whole [and] represented the multiple disciplines and types of services we were offering," she said.
"We're not a nursing home. We also wanted to get away from any imagery or naming that would negatively associate that," Malengo added.
In addition, National Lutheran Communities, its parent company, has begun to develop and open several new communities around the mid-Atlantic region, all using "The Village" as part of their name.
"Going from one community to now a family of communities, we really wanted to have a consistent nomenclature for how each of the communities would be named coming forward," Malengo said.
Malengo pointed out that this is a trend seen in housing and healthcare services throughout the country. "Within the senior-care industry, you have had a huge shift from what was a very institutional mindset to very much resident-directed care, neighborhood, home-feel," she said.
And yet, despite the name change and new marketing approach, the Village at Rockville continues to be affiliated with its Lutheran roots. Its new logo features a Lutheran Church cross and the tagline "A National Lutheran Community." This eliminated the word "home," while keeping the connection to the church.
It also helps link the growing number of Lutheran communities together and to remind people of their older, well-respected reputation. It helps people realize, "'Oh, it's still the National Lutheran Home; they've just changed their name,'" explained Lawren Selby, director of sales and marketing.
"Our history and heritage is extremely important, and we still are a faith-based, not-for-profit. We wanted to make sure we kept true to that tradition, but also positioned us for future growth and future residents that may come to utilize our services," said Malengo.
Though the response from current residents was largely positive, "acceptance of it is going to take time because we have such a long, rich history," said Selby.
Forest Hills of DC
The Methodist Home of DC opened as an affiliate of the Methodist church in 1889. It originally offered services exclusively to those of the Methodist faith.
While that changed many years ago, and like all current nonprofits, the assisted living, memory and nursing care residence is open to people of all faiths, there remained a perception among some that the community was still all or mostly composed of Methodists.
CEO Sandy Douglas noted, "we're no longer exclusively for Methodists. We're moving forward and being inclusive of residents of all families, faiths, and all religious beliefs, as well of those with no religious beliefs."
But when contemplating a name change, like the National Lutheran Home, the Methodist Home also had concerns about retaining the charged word "Home" from their original name.
"Mom doesn't want to go to 'the home,'" explained Jennifer Brown, director of admissions and marketing at the community, which is now known as Forest Hills of DC.
Brown wasn't talking about her own mom. Rather, she was giving voice to what her residents' adult children would frequently say, and the negativity that is associated with the word.
Forest Hills of DC officially adopted its new name last July. With the name change, the board of trustees opted for a total rebranding of the community, which Douglas described as a "necessity."
The board hired a brand consultant who met with several constituencies, including the residents and their families, to get a better grasp of the community and what kind of a change would be appropriate.
They decided to adopted the tagline "inclusive senior living" and change their logo and color scheme. The term "inclusion" is significant for Forest Hills, since not only are residents of all faiths welcome, but the community's vision is to provide seniors "with all the resources they might need for a safe and comfortable life."
The tagline "pretty amazingly captures what we do and who we do it for," said Douglas, and she is pleased that the name change has been "warmly and enthusiastically embraced."
Seabury Resources for Aging
In 2010, Episcopal Senior Ministries changed its name to Seabury Resources for Aging.
The nonprofit organization not only operates three affordable housing communities, but also provides senior transportation, home-delivered meals, care management and other services for certain D.C. residents on behalf of the D.C. Office on Aging.
There was a concern that some seniors may have felt the communities' Episcopal origins excluded non-Episcopal participants.
"The name change and new visual identity are intended to reflect the organization's growth, while ensuring that everyone feels welcomed to our homes and services," explained Kate Lewis, chief advancement officer.
However, they also wanted to pay a subtle tribute to their founding values, naming the organization after Samuel Seabury, the first Episcopal Bishop consecrated in the United States. The name Seabury Resources for Aging is "perfect" because it will appeal to Episcopalians who will recognize the reference, as well as to others who don't.
At the time of the name change, Seabury Resources had been working with the Taproot Foundation, a group of pro bono consultants who suggested the name change and total rebranding.
"Seabury had grown so much, in terms of the programs we offered and the people we served, that we realized we needed to build a very strong brand for our organization as a whole. It helps with external visibility, as well as bringing staff, volunteers, clients and residents together," said Lewis.
The organization has seen even more growth since the name change and rebranding of its communities, which are now known as Seabury at Friendship Terrace (independent), Seabury at Springvale Terrace (assisted living), and Seabury at Home First (group home living).
"Rebranding an organization — even if it doesn't include the complications of a name change — can serve to draw attention to the good works provided to our community by so many nonprofit organizations," said Lewis.
The name-change trend
The market for senior housing and services has greatly changed, and these communities felt it was important to reflect that change, with an emphasis on inclusion.
"There has been a really drastic shift within the industry and so a lot of organizations have gone through, and are going through, name changes because they want to reflect that," said Malengo.
In another example, the Presbyterian Home of DC changed its name to Ingleside at Rock Creek. Though the community no longer refers to itself as Presbyterian, it still calls itself a "faith-based nonprofit."
The Hebrew Home of Greater Washington and its affiliated housing communities — Ring House, Revitz House, Landow House and Cohen-Rosen House — didn't change their individual names but decided to adopt an "umbrella" name for their campus of growing communities. Since 2006, the group has been called the Charles E. Smith Life Communities, named after a prominent Jewish philanthropist.
As with Seabury Resources, the title is creative because it doesn't sound religiously affiliated, but it retains a connection to its roots and pays respect to one of its biggest financial contributors. The new title also conveys the many types of services offered and is more open to prospective residents.
The original facility opened in 1910 as the Hebrew Home of the Aged. In 1969, when it moved to its current location in Rockville, Md., the name was changed to the Hebrew Home of Greater Washington. Charles E. Smith, a developer, was instrumental in the funding and planning for the Rockville location and was eventually named president.
Some communities and organizations are still thinking about changing their names, while others feel strongly that it's important to maintain their religious ties publicly. Adventist Community Services, for example, has several housing communities in the Washington, D.C. area and has held firm to its Adventist connection in their names.
Those that have changed their name see this as a contemporary trend that will grow. "I'm very aware of what the tides have shown as many facilities are changing their name," said Douglas.
"We felt as though it was time to better present and represent the population that we have living here, the population that we have working here, and that are visiting the community. We decided to proactively change the name to reflect the population that we're serving."