Travel
What's new in Newport News – a spirited tour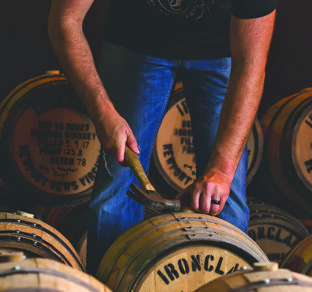 Charred cedar barrels are used to age Ironclad Distillery's small batch bourbon. A new tasting room is slated to open this winter in a 1913 former dry goods store and paper-supply warehouse. Ironclad's bourbon is available at several ABC stores.
Photo courtesy of Ironclad Distillery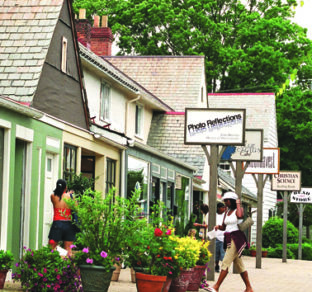 Century-old Hilton Village's 500 homes were constructed in Newport News as housing for the rush of new workers who came to build ships for WWI. Today, some of the homes have been transformed into shops.
Photo courtesy of Newport News Public Library
The combination of a new craft brewery, a soon-to-open distillery, and the centennial celebration of the city's World War I significance makes 2018 a big year for Newport News.
The city has always been rich in American heritage, dating to 1607 when Capt. Christopher Newport was commander of the Susan Constant, the flagship of the English fleet that landed at Jamestown. Capt. Newport visited the area now named for him many times to bring wide-ranging supplies, including letters and news from England — hence, the "News" (according to one historian) added after his name.
Fast-forward 310 years to April 1917, when Newport News, like every part of Hampton Roads, saw very dramatic change due to WWI. The new Port of Embarkation there drew hundreds of thousands of soldiers, sailors, airmen and construction workers from across the U.S. for the war in Europe.
With a huge increase at the shipbuilders (from 7,600 to 12,512 employees), and the city's population nearly doubling, it makes sense that the first ever federal housing project would be the planned community of Hilton Village.
Though its 500 modest homes were built in less than a year, the quality of life they represented — all with indoor plumbing and electricity — showed the value placed on attracting and retaining good workers. It became a benchmark for other cities across the U.S.
In 2018, the Hilton Village Centennial is sponsoring a calendar of events, ranging from a winter speaker series at Mariners' Museum & Park, to an April architectural walking tour, to art shows, theater productions, museum exhibitions and festivals.
The biggest event will be the all-day July 7th Grand Celebration, recreating the Hilton Village Opening Day in 1918. I can say from having visited the historic village that it's something to add to your 2018 calendar.
Craft beer and whiskey history
All that sightseeing generates a hearty thirst and appetite. With so much news on craft beers and a new distillery to open any day now in Newport News, my husband and I decided to check out the "after 4 p.m." scene.
Craft 60 Ale House, 13361 Warwick Blvd. (Rt. 60), offers an outstanding number of craft-beer taps and bottles, with changes in the tap list every three nights. Food and service are as good as the beer, with a house-made hard-cider coleslaw and a house-made Caesar salad dressing that make great complements to any menu choice. (Ours were the large, breaded, fried shrimp and crab cakes.)
The alehouse is, in typically British style, family-friendly: parents with elementary-age children were dining next to us.
The staff is well informed for guiding a customer's choice of ales. Our waitress said the trend now is for higher alcohol content in the popular IPAs (India pale ales) and lower alcohol content for lighter stouts, which the public usually perceives as heavy.
Happy hour specials run until 9 p.m. weekdays, 6 p.m. Friday and Saturday. Wednesdays offer live music for open-mike nights. Check Craft60.com for weekend music lineups.
Onsite brewing
Tradition Brewing, which opened in 2016 at 700 Thimble Shoals Blvd., is the only Newport News brewery presently brewing onsite. Their beers on tap include the Hull 488 India Pale Ale, Red Willie Irish Red, and the lightest and most popular choice: Mothership Cream Ale ("mothership" being the nickname of the nearby Hampton Coliseum).
Seasonal brews are constantly revolving ("to keep your taste buds hoppy," their website says). Coming up in February: cherry-chocolate stout, and dry Irish stout for March.
Speaking of hops: A lot of the hops used come from Virginia, "though if we're brewing a German beer, we get German hops," said Andy Beale, general manager and one of the brewery's founders.
Hops, dried flowers from the hop plant, were originally added to East Indian beer to preserve it for its journey across the ocean, according to Beale. India Pale Ales, which were made in England but modeled after the Indians ones, kept the hops, since it turned out to influence taste as well as to stabilize the beer.
As a brewery (rather than a brew pub), Tradition doesn't sell food on the premises. But there's a regular rotation of food trucks at the site. Beale said they can always suggest beer-food pairings.
The brewery, which accommodates 375 patrons at once, has seating downstairs, upstairs and outdoors when the weather is good. Its beers can be purchased on site and bought in six-packs at select outlets in Hampton Roads. (They're hoping to extend to Richmond later this year.)
Hilton Tavern Brewing, which opened in October at 10184 Warwick Blvd., was the latest news in Newport News' beer spots at press time. It's not brewing onsite, but makes up for that with its 22 beers on tap. They serve primarily local and Virginia beers, but also serve mainstays such as Bud Light and Yuengling.
We weren't able to stop in, but the owners said they're promoting a family-friendly brewpub restaurant concept, and hope to be brewing on-site in the near future.
Virginia bourbon
Ironclad Distillery, whose name pays tribute to Hampton Roads' 1862 Battle of the Ironclads (the Monitor and the Merrimac), was our last stop. Their website is fun: "Mighty ships inspired our name. That's why we're sticking to our guns. We make authentic bourbon. Nothing else. It's our ironclad rule."
The King family has owned and operated the business for two years, with its small-batch bourbon available at select ABC stores, including one at N. Thompson and Hermitage Road in Richmond.
The Newport News distillery is located in a former dry-goods store and paper-supply warehouse dating from 1913 (and worth a visit for its own sake). It's located directly across the street from the Newport News City Hall.
Ironclad Bourbon is made from Virginia corn, wheat and rye, along with malted barley. It's aged in new, American oak, charred barrels, which qualifies it as real bourbon.
Later this month or early in February, the distillery plans to open a new tasting room and retail store. We tried the smooth bourbon in the uncompleted tasting room.
We'll be tempted to buy a 375 ml. bottle of bourbon on our next visit ($38.69), not only for the sweet taste on the front and slight spice at the end, but also because each bottle carries a barrel tag showing the barrel from which it came.
While there, we purchased New Hampshire maple syrup that had aged in the distillery's bourbon barrels. (Hint: it's much too good to just slather on pancakes. Try it when making grilled salmon.)
Parking is limited out front on weekdays, but free for visitors to the distillery on weekends in the lot past the building on 23rd Street and West Avenue.
Many destinations offer a taste of history, but this city of 182,000 offers many literal tastes in ale, beer and bourbon. For a wider Hampton Roads sampling of adult beverages, check out the "Toast the Coast Beer, Wine and Shine Trail" at toastthecoastva.com. Download the pocket guide to breweries, distilleries, wineries, pubs and tastings.
For complete information on Newport News attractions, accommodations, restaurants, events and activities, visit www.newport-news.org, call 1-888-493-7386, or email tourism-promotions@nngov.com.