Travel
Where and how to enjoy fall foliage's peak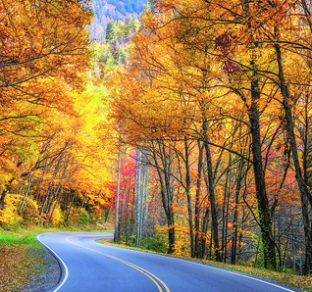 Explore fall foliage's peak by car or train across the mid-Atlantic and New England.
It's time to plan and reserve fall foliage trip accommodations and tours. And not just to New England — you can find good fall foliage viewing throughout much of the U.S. and Canada. Peak viewing dates move gradually from North to South between mid-September and mid-November. And you can view foliage displays in your car, on a bus tour, or on a train.
Where to go. Start by checking TripSavvy's annual "Top spots in the USA for fall foliage" page, which rounds up the usual suspects, from New England to Yosemite to Alaska, with links to local sources throughout the country. See the page at www.tripsavvy.com/top-spots-for-fall-foliage-united-states-3301223.
Also check the National Park Service at www.nps.gov, which touts foliage opportunities at dozens of parks. Log on for details, including best times to visit each park.
When to go. Several sources post fall foliage calendars or maps to help you decide when to hit each area. Start with the Foliage Network (www.foliagenetwork.com), with separate regional reports for the Northeast, Midwest and Southeast.
Also good: Stormfax, (www.stormfax.com/ foliagemap.htm), with both a national map and links to state and regional fall foliage websites and hotlines. The online weather channels also typically post fall foliage calendars.
How to see it. Most people think of fall foliage as a road trip. Fall foliage websites typically include driving directions, many with links to local visitor activities. Lock in your accommodations as early as you can, and be sure to avoid football weekends at any prominent university towns.
For several years, Amtrak has added its only full-length dome car to one trainset used for the daily New York-Montreal Adirondack day train, which passes through good leaf scenery, but, as usual, Amtrak announces its plans quite late. Last year, the dome car was on the route from Sept. 29 to Nov. 1.
Other Amtrak options passing through good foliage areas during daylight hours include the daily daytime Vermonter between St Alban's, Vermont and New York; and the daily Ethan Allen Express, between Rutland and New York. In both cases, southbound trips offer the best viewing.
Other possible foliage opportunities include the Pennsylvanian between Philadelphia and Pittsburgh, and the California Zephyr daytime segment from Denver to Green River.
In 2015, SmarterTravel.com listed "Best Fall Foliage Train Rides in North America." Among them: The Mount Washington Cog Railway, New Hampshire (www.thecog.com); the Durango & Silverton, Colorado (vdurangotrain.com); the Essex Steam Train, Connecticut (www.essexsteamtrain.com); Adirondack Scenic Railroad, New York (www.adirondackrr.com/); Blue Ridge Scenic Railway, Georgia (www.brscenic.com); Cuyahoga Valley Scenic Railroad, Ohio (www.cvsr.com); and the Great Smoky Mountains Railroad (www.gsmr.com).
But dozens of other tourist railways around the country also feature fall foliage packages. In most cases, these are short one-day, out-and-back excursions. The Collis P. Huntington Railroad Historical Society is running a series of all-day "New River" foliage excursions (www.newrivertrain.com/nrt.shtml) using vintage mainline railcars in West Virginia on two October weekends. While dome cars are sold out, coach seats are still available on the Oct. 29 excursion as of press time.
Vacations by Rail (www.vacationsbyrail.com) run several foliage excursions with at least some travel by rail, and Rail Travel Tours (www.railtraveltours.com) runs several tours with rail travel on VIA Rail Canada. Uncommon Journeys (www.uncommonjourneys.com/) features several rail and cruise combos. The agency FallFoliageCruise (www.fallfoliagecruise.com), a division of Vacations to Go, lists a diverse set of foliage cruises in New England and Canada.
Dozens of local and national operators run bus tours, many including accommodations. Just Google "fall foliage tours" or see a travel agent.
Where to stay. You know how to locate whatever accommodations you prefer: hotel, motel, resort, B&B, campground. The prime locations fill quickly, so book sooner rather than later. Often, an inclusive tour package is the best way to make sure you'll get accommodations where you want them.
© 2017 Tribune Content Agency, LLC.