Arts
Why save a segregated school?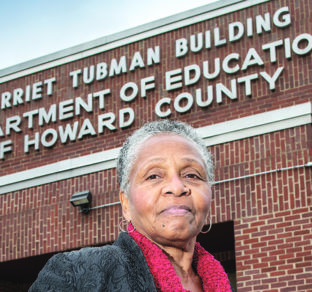 Bessie Bordenave stands in front of the former Harriet Tubman High School in Columbia, a segregated school she attended in the 1960s. She is spearheading an effort to renovate the school and turn it into a center for not just the school's history, but also for the history and culture of Howard County African Americans and other ethnic groups.
Photo by Christopher Myers
Jessup native Bessie Bordenave attended the last segregated school in the Howard County Public School System — all the students, teachers and staff were African-American. She graduated in 1962, three years before the school was shut down.
Today, the 74-year-old Bordenave still carries "beautiful memories" in her head — and in her heart — of Columbia's Harriet Tubman High School, named for the Maryland-born slave who escaped to free-state Pennsylvania, then repeatedly returned to Maryland to help nearly 70 other slaves reach freedom via the Underground Railroad.
So great are Bordenave's memories of the Tubman school that, after 51 years working for the federal government (she retired in January), she is dedicating herself to bringing to fruition what has been a decades-long effort to get the former school completely renovated and reopened "as a cultural, educational and historical center."
"I'm forever thankful for that school," said Bordenave, a former telecommunication analyst for the Federal Communications Commission. "The teachers really cared, even when the day was over. I and many other students got opportunities we never would have had if we hadn't gone to Harriet Tubman," she said.
Bordenave's early career included a stint in the White House when she was 23 years old, answering letters for First Lady "Lady Bird" Johnson ("a wonderful person"), and serving as administrative assistant to NAACP chairman Benjamin Hooks, after he took over as head of the organization in 1977.
Proud of its legacy
Today, Bordenave is chairman of the 20-member advisory council recently appointed by County Executive Allen Kittleman to work on the renovation project. She also leads the Harriet Tubman Foundation, which since 2002 has been trying to get Maryland and Howard County leaders behind the work to restore and reopen the school as a county legacy.
The red-brick building on what is now Harriet Tubman Lane opened as a high school in 1949, when Columbia was known as Simpsonville. While the U.S. Supreme Court struck down segregated schools in 1954, the now liberal Howard County was not zealous at the time to integrate its schools.
So, ironically, the Tubman school remained all-black for another 11 years as its students — despite torn text books, rickety desks discarded by all-white schools, and other shoddy material — received tender care and education from their teachers.
Since closing as a school, the building has served as a maintenance and storage area for the county's Board of Education.
The structure was turned over last year to the county government, and before November's election, Kittleman, who pushed for the transfer, had gotten behind the renovation efforts.
He has noted that Howard County "unfortunately has a history of segregation. I want the building to be used as a place for people to come together as a community," Kittleman said.
$1.6 million raised so far
Bordenave praised those efforts by Kittleman, who has so far arranged to dedicate $800,000 of the county budget to the renovation, which includes all-important asbestos removal. Another $800,000 has been approved from the Maryland state legislature through the efforts of State Del. Frank Turner, 71, who Bordenave also lauded for promoting the project.
Turner is Howard County's first elected black state delegate, and will retire in January. He said he wanted to see the building finished in two years so that, among other things, still-living residents who were students at the school would see the finished project. "I want it done yesterday," Turner said.
He told the Beacon that the restoration was "moving along. Several of the classrooms and the cafeteria have already been restored. What remains is the gymnasium," Turner said.
While $1.6 million has so far been approved for the project, the entire cost could run to $2.4 million. Turner said the remaining funds could come again from matching money from the state legislature and the county, or the county could budget the remaining $800,000 itself.
"The project could and should be completed by 2020," Turner said. "The county executive should make sure that it happens."
The Kittleman-appointed advisory council is looking into a way to raise the remaining funds for the renovation, Bordenave said.
Not only about black history
Bordenave acknowledged that there was no official target date for the reopening. She said that besides serving as an historic site for black culture, she would also like other ethnic groups to be represented at the center.
"There's so much history that should be shared about African-American culture in Howard County that people don't know anything about," Bordenave said. Nevertheless, she added, "We don't want the center to be just about the African-American experience."
The center could host a variety of cultural activities, from lectures to classes to contests to theatrical performances, as well as serving as a museum, she said.
Since 1990, Bordenave has collected hundreds of pieces of memorabilia from the school's alumni and staff, including every yearbook (except 1954), code of conduct booklets given to teachers, and notices of graduation sent to students' homes. The material will be included in the center's historical section.
As far as local history is concerned, Bordenave noted that the school building is situated near a cave where runaway slaves hid as they awaited Tubman to lead them via the Underground Railroad to their freedom.
Howard County's black children did not attend school past the seventh grade until 1937, when they were allowed to go to a four-room school house in Cooksville. The schoolhouse expanded to the 11th grade by 1939, and it was the county's only school to offer African-American students high school classes until 1949, when the Harriet Tubman school opened.
A debt of gratitude
Bordenave, who described herself as "a poor country girl who got opportunities I would never have gotten" if she hadn't gone to the high school, went on after graduation to Atlantic Business College in Washington.
There she learned shorthand and typing, which led to her career as a stenographer, secretary and assistant to the head of the NAACP. She also worked for the Social Security Administration in Los Angeles before starting her decades-long career at the FCC.
Even being a federal employee didn't assure completely equal treatment back in the 1960s. But Bordenave wasn't one to let slights pass.
"When I started at the FCC, I was the only black in the office," she said. "I put up a picture of Martin Luther King on the wall above my desk. My supervisor told me to take down the picture. But l went to his supervisor, and he said that I could keep it up there on the wall."
Now a great-grandmother, Bordenave noted that her education at Harriet Tubman brought her from "my little town of Jessup to the White House."
Going to the school "helped me appreciate what I had, in spite of what I didn't have."