Travel
Why so many keep coming back to 'PV'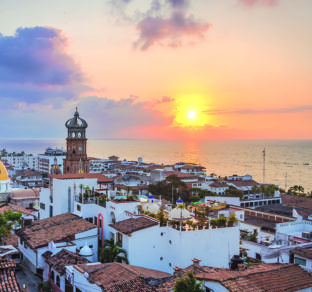 Puerto Vallarta is located on Mexico's Pacific coast, bordering Banderas Bay. Its growth from a small fishing village to a bustling city and tourist destination followed the filming there of the 1963 movie Night of the Iguana, starring Richard Burton.
Photo by Diego Grandi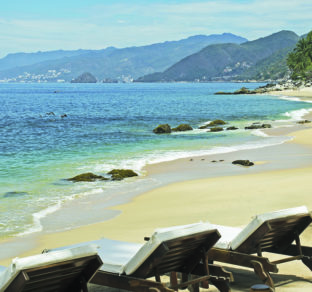 Puerto Vallarta, or PV for short, offers sandy beaches along curving coves framed by mountains and lush jungle foliage. Many tourists like to return there year after year.
Photo by Victor Block
The destination that my wife Fyllis and I were visiting isn't for everyone. Some beaches consist of more pebbles than sand, and the ocean in places lacks the clarity and multi-hued colors of the Caribbean.
Despite those drawbacks, in recent years Puerto Vallarta, Mexico has grown from a sleepy village into a magnet for people who favor it for a variety of reasons.
When I asked fellow vacationers with whom we crossed paths what attractions the place holds for them, I received a variety of responses. For Mary and William North, the warm weather and friendly people persuade them to travel there each year from Nebraska. Portland, Ore., native Beth Taylor explained that she enjoys the culture scene and casual lifestyle.
The mystique of the place was best summed up by Colorado residents Jim and Arlene Warner. They praised the city's location between the rugged Sierra Madre Mountains and the Pacific Ocean, and the fact that "it's a walking town." Then they added, "PV just gets under your skin."
That seems to be the case because PV, as those in the know call it, teems with repeat visitors.
The area offers the usual variety of activities expected at oceanfront resorts. In addition, it throws in a few surprises — like a graffiti tour, hunting excursions, climbing a mountain on mule back, and rappelling down waterfalls.
An unexpected treat for many first-time visitors is a gathering of art galleries in the Zona Romantica (Romantic Zone) neighborhood, and the proliferation of eclectic sculptures that line the Malecon — a walkway along the seashore. It teems with street entertainers, food vendors and others seeking to pry a few pesos out of a visitor's wallet or purse. [See "A day spent amidst the Malecon mayhem".]
Made famous by Hollywood
Given the almost around-the-clock activity in the town today, it can be hard to imagine that Puerto Vallarta (pronounced pwer'-toe vuh-yar'-tuh) was a tiny fishing village with only a handful of small hotels until the early 1960s. Then came fame, in the persons of Elizabeth Taylor and Richard Burton.
In 1963, the well-known director John Huston selected a site just outside of PV to film The Night of the Iguana, a movie based on the play by Tennessee Williams. He was attracted by the location's then-tranquil setting between forest-clad mountains and the Bahia de Banderas (Bay of Flags), one of the largest ocean inlets in the world.
Richard Burton starred in the movie and Elizabeth Taylor, with whom he was having an extramarital affair, accompanied him to the area. Their tempestuous relationship attracted an influx of Hollywood paparazzi who reported on every detail of the liaison, and PV suddenly became world famous.
Based on that publicity, the town blossomed into a popular vacation destination that offers different vibes from other resort developments in Mexico that were created specifically to cater to tourists.
The feeling of a "real" town beneath the veneer of a resort community is welcomed by many visitors. That is true even though, in places, "real" translates to somewhat threadbare. But that only adds to the city's charm for those who love it.
Bountiful beaches
While locations associated with the Burton-Taylor love affair are high on the must-see list of many first-time visitors, they soon discover other attractions worth visiting. Not surprisingly, appealing beaches, which contrast with some rock-strewn stretches of shoreline, are a major draw, and there's plenty of variety there to suit every preference.
Mismaloya Beach is inviting enough for its setting, following a gently curving cove with a verdant backdrop of dense jungle foliage. Adding to its allure is the fact that it's where much of The Night of the Iguana was filmed.
Other beaches also have their own attractions. Playa Gemelas (Twins Beach) fronts some of the clearest water in the bay. Las Animas, Quimixto and Yelapa are isolated stretches of sand accessible only by boat. Playa Conchas Chinas offers shallow pools favored by families with young children or grandchildren, while the offshore reef is popular with snorkelers.
There's more than one theory about how Playa de los Muertos (Beach of the Dead) got its name. Some stories suggest that either Indians or pirates killed the crew of a ship passing by that was transporting gold and silver. Another, more likely, version is that the beach once served as a burial place for the Huichol natives.
The Huichol people were living in the Sierra Madre mountain range when the Spanish arrived, and they continue to be a presence in the region.
Among touches of native Huichol culture to explore are ancient petroglyphs etched into even more ancient stones, lovely beadwork made and offered for sale by Huichol women, and performances of a ceremonial Pole Dance along the Malecon.
Indian lore also is one focus of a small museum in the heart of Puerto Vallarta. That archaeological showcase shares the Isla Cuale (Cuale Island) with a smattering of restaurants, souvenir shops and cultural sites.
Among its exhibits are artifacts found during archaeological digs near the government-planned tourist resort of Ixtapa. Those excavations also uncovered the ruins of a pyramid, remains of a ceremonial ball court, and a collection of pottery, jewelry and other relics.
Experiencing village life
Visitors seeking to immerse themselves in the present-day life of locals and the area's inviting natural setting, may find it at several tiny villages not far from the hustle and bustle of Puerto Vallarta.
The hamlet of Boca de Tomatlan is set amidst a tropical jungle environment teeming with birds and butterflies.
Sayulita in ways resembles a hipster-surfer setting with rideable waves, an eclectic mix of restaurants, and a variety of stores.
But my (and my wife's) personal favorite was Las Palmas — a village of about 1,000 people perched in the Sierra Madre foothills that has hardly been touched by the 21st century, nor in ways even by the 20th. This is horse country, and we spotted a number of steeds walking slowly down the dusty, nearly deserted main (and almost only) street, ridden by Mexican cowboys fitted out in full regalia.
Looking for a place to have lunch, we used very broken Spanish and hand signs to ask several people if there was a restaurant in town. Finally a man uttered the word "casa" and pointed to the doorway of a humble house nearby.
As we gingerly entered the open door, a woman inside greeted us with a smile and led us into a cramped kitchen where earthenware bowls on the stove were brimming with a variety of local fare.
After we pointed to several choices, our hostess directed us to the back porch where we took seats on somewhat rickety chairs beside an equally rickety table. She served us a bountiful meal of refried beans, rice, string bean casserole, tortillas and potato tostados. The food was good, the beers we sipped were cold, and the total bill came to about $10.
The meals that we ate at restaurants in Puerto Vallarta, while reasonably priced, cost more — and were less memorable — than that simple lunch. In fact, that experience continues to stand out for us, in contrast to the lively city of Puerto Vallarta, time spent basking in the sun, and taking part in some of the long list of things to do and see there.
It's that something-for-everyone variety that tempts people to make their first visit to PV and, for many, convinces them to return again and again.
If you go
Guests at the Costa Sur Resort and Spa, perched on a hillside overlooking a beach, enjoy a mini-theme-park choice of both land and water activities and amenities. One inviting attraction is a protected lagoon where dozens of kinds of colorful fish make their home, providing a perfect opportunity for beginning snorkelers. Room rates begin at $85 a night. For more information, visit www.costasurpuertovallarta.com.
A very different experience greets those who check into the Hotel Rosita. Built in 1948 and located along the Malecon, it's the most traditional hotel in town. With rates that start at $55, it appeals to both international travelers and Mexican residents on vacation. For more information, see hotelrosita.com.
Dining venues range from posh to plain, and good food at equally good bargain prices is plentiful. Case in point: At the Agave Restaurant in the Hotel Rosita, seafood quesadillas cost $6, and filet of fish in shrimp sauce was $9.
Locals often outnumber visitors at Mariscos Cuetos (469 Brasilia), which more than makes up in dining what it lacks in décor. Among entrees value-priced at $9 are sea bass and bacon skewers, seafood burritos, and grilled red snapper with rice, veggies and salad. More information is available at www.mariscoscuetospv.com.
American Airlines offers the least expensive tickets from the Washington area in late March, from Dulles International Airport for $355 roundtrip.
For information about PV, log onto www.visitpuertovallarta.com.