Cover Stories
Why some Richmonders are going solar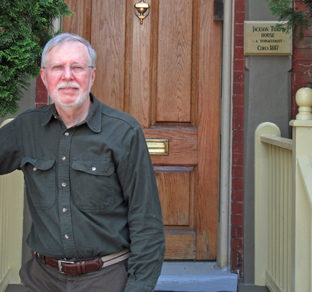 Church Hill resident Michael Testerman installed solar panels on his 1887 house, erasing his electricity bills in spring and fall. He did it "to save energy and to save the world."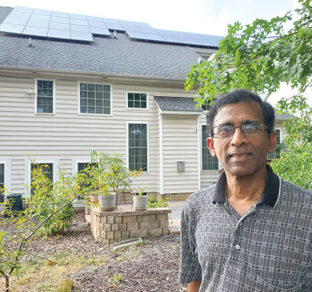 Glen Allen resident Sekar Veerappan, a community partner for the Richmond Solar Co-op, helped Solar United Neighbors start the first co-op in Richmond. Solar panels can be installed on many houses, trapping energy from the sun to power one's home and earning credits by sharing excess power with others on the grid.
Photo courtesy of Sekar Veerappan
Studying a computer screen on a warm, sunny day with temperatures in the low 70s, Richmond resident Michael Testerman announced, "I have a nice bell curve."
At the 6 a.m. sunrise, his home's solar-powered system started generating electricity, according to the monitor. Around noon, production was highest, and then in the afternoon, the line started declining: a perfect bell curve.
"That's a good day," he said. Had it been a cloudy day, he indicated the line would likely have zigzagged up and down.
In 2018, Testerman put solar panels on the roof of his Church Hill home, which he has owned since 1981. "I want to save energy and save the world," he said.
The two-story house, built in 1887 by Jackson Turpin, a tobacconist, is an Italianate Victorian home with arched windows, decorative iron roof cresting and scrolled corbels.
The glassy solar panels are not visible from the street. In fact, they cannot be because of zoning regulations designed to preserve the historic character of Church Hill — Richmond's first neighborhood and home to St. John's Church, where Patrick Henry gave his famous "Give Me Liberty or Give Me Death" speech.
Testerman has 12 panels on the gently sloping, front part of his roof facing southeast, covering a 12-by-18-foot space. He also has a separate solar system for generating hot water, hydronic baseboard heating, and an on-demand gas water heater.
Internet-connected monitors report the systems' daily production and any malfunctions. He has no battery storage, so he uses the local electricity grid and natural gas supplier as backups.
"In the spring and fall, totaling about five months of the year, my two solar panel systems cover 100 percent of my energy needs," he said. "The rest of the year, my purchased energy is very small."
A retired sociologist who worked for the city, Testerman is now a citizen activist advocating for policies to curb climate change and promote smart growth.
He supports more rail transportation and less reliance on polluting fuels like coal in order to reduce the greenhouse gases that are warming the planet.
"If I want to lower the consumption of energy that's based on fossil fuels, I have to practice what I preach in my own house."
Panels pay for themselves
Sekar Veerappan, a mechanical engineer who now works as a consultant, lives in a two-story, four-bedroom home in Glen Allen. In 2016, he installed 900 square feet of solar panels that cover 80% of his rear roof.
His system produces electricity every day, even on cloudy days. Virginia has enough sunny days for solar to work, he contends.
The panels have a 25-year lifespan and will pay for themselves in 8 to 10 years, so he is halfway there. A 26% federal tax credit significantly subsidized his up-front cost of the equipment. [Ed. Note: That tax credit falls to 22% in 2022 and is scheduled to disappear Jan. 1, 2023. To reap the benefit of the credit, you must have a tax liability at least of that amount.]
Veerappan sees residential solar as a sound, low-risk investment with a great return. What he saves on electricity effectively brings a 7-8% return on his investment, he figures.
He compares that to today's typical 0.5% interest on a savings account or 0.7% on a five-year, bank certificate of deposit. He also believes that the solar energy system increases his house's value.
Most of all, though, Veerappan is "passionate about green living," he said, so he's trying to live sustainably and curtail global warming.
"This is a way to cut greenhouse gas emissions, to reduce my carbon footprint," he said. "It makes me feel good about it."
He believes that the carbon dioxide emissions he has avoided so far are equal to planting more than 700 trees.
Best roofs face south, east
Solar does not work on every house. Trees can block the sun, or roofs may not have the appropriate size, shape or slope. The most efficient roof orientation ideally is facing south, maybe east.
Leaving the traditional electricity grid and converting to solar is daunting to many people because of a general lack of awareness and understandable fear of the unknown, Testerman believes.
To become informed and get help, Testerman and Veerappan recommend joining a solar co-op with other homeowners, who can provide guidance, troubleshoot and answer questions.
Solar United Neighbors, a Virginia nonprofit, typically organizes 50 to 100 neighbors into a group or co-op. The organization can also help homeowners who want to install solar energy individually, including providing a remote roof review.
Once a co-op is large enough, it solicits competitive bids from a number of solar installation companies, and members select the best deal. Members can purchase panels based on the group rate and save up to 20% on purchase and installation rates.
The Richmond Community Co-op has 139 participants, and 16 installations totaling 139 kilowatts in capacity to date. The Greater Richmond Solar Co-op has 53 participants with 17 installations and a capacity of 105 kilowatts.
Another approach is called "community solar." Multiple customers benefit from energy generated by solar panels at an off-site array — a collection of panels that work together to generate electricity.
Customers buy or lease a portion of the panels in the array. This may be a good option for people who can't put solar panels on their own roofs, don't own their homes, or have unsuitable roof conditions.
A 2020 Virginia law requires that all electricity sold by major utilities come from renewable sources by 2045. (Renewable energy is generated from natural processes, like the sun and wind, as opposed to fossil energy sources, like coal and natural gas that are formed over millions of years and are not renewable.)
This legal requirement combined with declining prices, improving technology and more and more customers demanding "greener choices" means the future for solar energy is looking sunny.
For more information, read the Homeowners Guide to Going Solar at bit.ly/guidetogoingsolar. For an overview, visit bit.ly/solarradiationbasics. To search for Virginia co-ops, see solarunitedneighbors.org/virginia.