Arts
Women named to Hall of Fame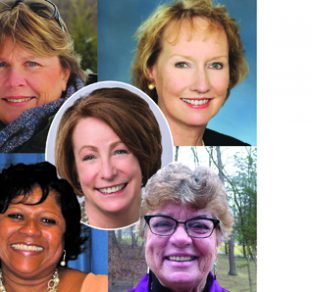 Five women will be honored for their community service when they are inducted into the Howard County Women's Hall of Fame on March 9. Clockwise from top left, they are: Mary Catherine Cochran, Sandra Harriman, Margaret Schultz, Abbie Diane Martin, and Stacie Hunt in the center.
Without exception, the five women who will be inducted into Howard County's Women's Hall of Fame in March credit others for the support and encouragement that led to their success.The county's Commission on Women has inducted its honorees each year as part of Women's History Month since 1996. The women are heralded for their community service.
"Once again, I am so impressed by the talent and achievements of these women who will be inducted into the Women's Hall of Fame," said County Executive Allan H. Kittleman.
"From preserving historic sites and our agricultural heritage, to leadership of local nonprofits and youth programs, to philanthropy and support of worthy causes, these women have truly made a difference, and have made Howard County a better place to live," he said.
Here's why each has earned a place in the Hall of Fame.
Serving since childhood
Community service has been part of Mary Catherine Cochran's life since childhood.
"My parents modeled it themselves, serving as advocates for education, human rights and accessible government," Cochran said. She and her five siblings were brought up "to look out for each other, our classmates, our neighbors, our community, and to firmly believe that we could make a difference."
In 2000, she founded the county's first historic preservation program, updated the county's historic sites inventory, and pushed for the addition of historic preservation in the county's General Plan. Her work to preserve structures such as schools for African American children, bridges, barns and industrial architecture have helped tell the story of Howard County.
In 2015, Cochran started to manage the Patapsco Heritage Area and the Patapsco Heritage Greenway that now sponsors free history and natural history programs.
When Ellicott City was flooded last summer, Greenway teams helped property and business owners with cleanup, historic district processes, historic tax credits questions, and preservation programs. She gathered building material donations and raised funds for mold remediation services for woman-owned and operated businesses.
In addition, Cochran served as director of the Claudia Mayer/Tina Broccolino Cancer Resource Center. Under her leadership, the center grew from serving 614 patients a year to more than 5,000.
She credits those she has worked with. "I think of this induction as a pack award. In everything I've done, I've worked shoulder to shoulder with so many others," she said. "Every accomplishment has been a swarm effect."
Her models? "Those who have taken the time to each me about implementing change. There are so many — but they were similar in that they were truth tellers and they were kind and took the time to teach me."
Cochran likes to pass on her parents' philosophy. "My children and I encourage each other by reminding ourselves to 'live large, with an open heart.'
Raising funds
One of Sandra Harriman's longest terms of community service honors her mother, who became deaf at age 5 due to spinal meningitis.
"She was from a poor family in Atlanta, Ga., and had few opportunities," said Harriman, vice president of development of the Howard Hospital Foundation.
"She encouraged me to get an education to make sure I had a better life. I was the first person in my family to get a college degree, and it was because of her faith in me. I served on the Maryland School of the Deaf board of trustees for 12 years to carry on her belief in education and to help others."
That is far from her only boost for others. Since 1990, Harriman has raised philanthropic funds to support priorities for educational and medical institutions, first at Howard Community College and now at Howard County General Hospital. She secured a $5 million gift for the hospital, believed to be the largest individual charitable gift to a nonprofit in Howard County.
"I believe in giving back, to make sure our community is even better for our children and grandchildren," she said.
Harriman's community roles, including local politics, have been recognized numerous times. She was a Community Hero Torchbearer for the 1996 U.S. Olympic Torch Relay, was selected in 1997, 2005 and 2008 as one of Maryland's Top 100 Women, and was named to the Circle of Excellence, an honor that notes her professional and community service leadership.
How does she stay focused and grounded? "Always be honest and trustworthy," she said. "I have been an active member of the Rotary Club of Columbia Patuxent, and I share the motto of Rotary International — 'Service Above Self.' Serving others through Rotary has brought me great satisfaction, wonderful comradery and lifelong friendships."
With a note of pride, Harriman said she enjoys genealogy research. "I discovered two of my ancestors were patriots in the Revolutionary War."
Shaping community leaders
Stacie Hunt follows the principles of Greenleaf "servant leadership," which advocate roles that focus on the growth and well-being of people and the communities to which they belong. "You encourage people to step up and step in. I live and breathe that," said Hunt, the president and CEO of Leadership Howard County (LHC) since 2002.
LHC recruits a cross section of applicants from nonprofits, small businesses and government agencies for its 10-month long program, which averages 45 students a year. "They can expect a class full of people not necessarily like themselves," she said. "We look for students to bring different experiences."
The goal of the program is to launch graduates "on their own leadership journey and uncover their ability to transform their communities to be more positive, inclusive and dynamic."
Current and former Howard County leaders have noted the impact of the LHC program. County Executive Allan Kittleman said, "Leadership Howard County helps make our great county even stronger more dynamic and vibrant by identifying emerging leaders from various backgrounds and empowering them to make a difference and have a significant impact on the community."
Hunt also guides two other leadership programs: Leadership Essentials, managed in collaboration with Loyola University Maryland, and Leadership U for high school students.
Hunt attributes leaders she's met around the country for her ability to move forward with confidence. "I've met community leaders whose capacity to do and grow I admire," she said. "They have supported and encouraged me to step forward and to ask, 'Will this work here?'"
Hunt admits she knew nothing of community leadership in high school or college. "Now I know every day this is what I want to do."
Educational achievement
Dr. Diane Martin comes by her strong sense of learning and teaching naturally.
"I was reared among a family of educators who expressed the need for family and community to be actively engaged, not just as the first teachers of their children, but to continue as a 'village' that supports all children to excel in school," said Martin, director of the Office of Community Outreach and Engagement for Howard County Public School System.
She certainly followed her family's trend: first as a teacher for 15 years, then a vice principal, followed by a post as a principal prior to her county job. Martin not only worked with students, but was one herself — earning a master's degree in reading (literacy instruction) from Johns Hopkins University and a doctorate in education from Howard University.
Martin's volunteer community service has concentrated on advancing the lives and social standing of women and children. She developed programs for afterschool services for middle and high school girls, as well as mentoring programs in schools.
She serves on the Howard County Self Sufficiency Board and the African American Community Roundtable that connect students and their families with resources and information to enhance their learning and their lives.
For more than 12 years, Martin has worked with the Maryland Math, Engineering and Science Achievement Program that pairs community organizations and schools.
In relating her education role to her community projects, Martin said "All students can learn, and we must meet students where they are academically. And we must have high expectations for all students, while nurturing and supporting them along the way to success."
It's not always easy, she admits. "The best advice I give myself is work hard and play hard. Finding a balance is tough for me, but we have to rejuvenate ourselves to stay on the course of supporting others."
Her work has been awarded by numerous organizations, including the Maryland State Department of Education, the Howard County NAACP, and several educational sororities.
A half century of helping youth
It's really not correct to call retired educator Margaret (Peggy) Schultz "retired." With horses to feed every day, a county fair to help run and maintain, and raising money for a food bank, she's far from idle.
Schultz worked in the Howard County Public School System as a teacher for three years, and in a post that addressed the educational, social-emotional and medical needs of at-risk youth for 49 years. She also coordinated home and hospital instruction for the system, and designed a program of services for pregnant and parenting young women.
Beyond the classroom, Schultz chaired a committee of county agencies to improve cross-agency programs for at-risk youth. Her work to preserve and promote the agricultural heritage of Howard County continues as a member of the county fair board, where she is an advocate for the equestrian community. Since 1952 she has been an officer of the Maryland Western Horse Association that promotes horse care and showing western horses.
She gives kudos to her mother for her interest in community service. "It's sort of inborn," she said, explaining that her mother set the example.
As a young woman, the world of education beckoned. "I liked school and was good at it," she said. "I followed my passion. Lots of people helped me.
"I give a lot of credit to my first supervisor. He was always there for me and helped me develop self-esteem and the ability to move forward. He and the board of education helped me broaden my attitude and see a bigger world."
Education is key, Schultz said. "We can't control the way our life goes, but a way to head off some of the downs in life is education."
Shultz suggests community activity involvement was easier in the 1960s. "The timing was right," she said. "It was a smaller group of people. It might be harder now."
Although she's busy with horses and committee work, she's found time to appreciate "the wonderful programs at the senior center just down the road."
"Who knew?" she said. "I took a little painting class, and went to a great workshop on coinage. It's finally time for me to hone in on some of the things I always wanted to do."
The induction ceremony for the 21st Annual Women's Hall of Fame will be at 7:30 p.m. Thursday, March 9 in the Banneker Room of the Howard Building, 3430 Court House Dr., Ellicott City. To learn more, call (410) 313-6400 or email women@howardcountymd.gov.