Travel
Yosemite's wonders of nature and light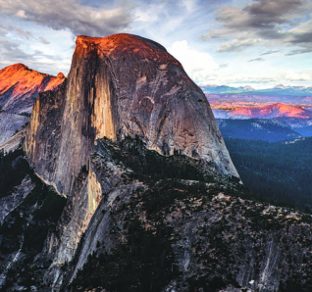 Visitors can view (and sometimes even walk through) ancient giant sequoia trees in three groves at Yosemite National Park. Some trees are more than 2,500 years old and more than 40 feet in diameter.
Photo by Yongyut Kumsri
The sunlight creeps across Half Dome's mammoth granite face, easing from steel gray to grayish-white to dull yellow-orange to a luminescent blaze orange. Sunrises, sunsets, moonrises and moonlight provide an ever-changing light show on Half Dome and across the landscape.
The noon sun spotlights the purplish "throat" of the Sierra penstemon's tube-like flower. Rainbows sparkle across misty waterfalls. Lakes glisten. Stars twinkle in the black firmament. This is Yosemite National Park.
Yosemite has long been a photographer's mecca because of its stunning beauty, clear days, changing colors, and interplay of light on the granite boulders and crystal blue lakes. It inspired famed photographer Ansel Adams, and drew five million visitors in 2016. There is no "off-season."
Majestic nature
Located in central California's Sierra Nevada Mountain range, about 200 miles east of San Francisco and 110 miles north of Fresno, Yosemite's glacier-carved formations, soaring cliffs, thundering waterfalls, vibrant meadows, alpine lakes and giant sequoias have wowed people for generations.
Glaciation, erosion and the uplifting of the earth's crust formed the landscape. It is 1,170 square miles of spell-binding nature, at elevations ranging from 2,000 feet to over 13,000 feet, threaded with 800 miles of hiking trails. A UNESCO World Heritage site, 94 percent of the park is designated as wilderness.
The park's varied elevations and their microclimates yield a rich diversity of flora and fauna, including 90 mammal species, 262 birds, 22 reptiles, 13 amphibians and over 1,000 plants. Lucky visitors might see mule deer, coyotes, mountain lions, black bears and golden eagles soaring above.
Giant sequoias, Douglas firs, incense cedars and lodgepole, sugar and Jeffrey pines stretch to the sky. Meadows are sprinkled with 1,450 species of wildflowers like monkeyflowers, shooting stars, Alpine columbines, spider lupines and pussy paws.
In 1864, President Abraham Lincoln signed the bill to protect the Yosemite Valley and Mariposa Grove from development, and deeded the property to California — an act representing the first time the federal government set aside land for the public. It officially became a national park in 1890.
Glaciers sculpted imposing dome-shaped rocks, towering cliffs and bold landscapes. The massive, sheer, rounded cliff called Half Dome, with its stark granite face, is the park's symbol and most photographed feature, captured by Adams's famous black and white photograph, "Moon and Half Dome."
High-energy adventurers hike 16.4 miles to the dome's summit, 8,842 feet from the valley floor. The more agile scale up the rocks. Half Dome's ever-shifting reflection in the still waters of Mirror Lake is magical.
El Capitan is a single piece of granite soaring 3,245 feet, equal to 350 stories above the valley. It's a favorite site for elite rock climbers from all over the world. With binoculars, you may see human "specks" clinging and climbing.
"Here, the best of the Sierra Nevada range is a blanket of solid granite. Here is where you meet Mother Earth stark and undressed," said David von Seggern, a hiker and Nevada Sierra Club activist.
Waterfalls tumble to the valley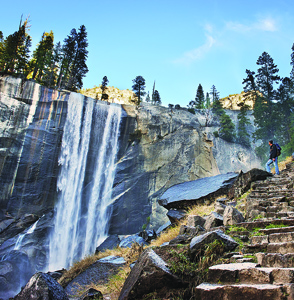 Yosemite has one of the largest concentrations of cascading waterfalls on Earth. Some display rainbows when light bounces off them, including a rare lunar rainbow at times.
Photo by Shaferaphot
Native Americans called Yosemite Valley "Ahwahnee," which is believed to mean "mouth" because they thought it resembled a bear's gaping mouth. It is a tapestry of meadows brightened by wildflowers and flowering shrubs, oak woodlands, mixed conifer forests and wildlife. A focal point for services and a jumping-off place for other sites, the valley constitutes less than five percent of the total park.
Yosemite has many seasonal waterfalls that tumble into the valley, one of the best concentrations of cascades in the world. In years of heavy snowpack or rain, dozens of waterfalls can plunge over the cliffs, many of which are unnamed.
Yosemite Falls thunders down 2,425 feet in three sections, the highest free-falling waterfall in North America. Bridal Veil Fall drops 620 feet. Native Americans called this area Pohono, "Spirit of the Puffing Wind," probably because the wind swirls about and jerks the water side to side. The Nevada Fall plummets 594 feet. Vernal Fall, a watery, white curtain, descends 317 feet; viewing often requires a poncho in the spring.
Rainbows can emerge in the torrents in late afternoon. A lunar rainbow appears at times, one of three locations in the world where this occurs. John Muir described these "moonbows" as "one of the most impressive and most cheering of all the blessed mountain evangels."
Yosemite has three groves of Sequoiadendron giganteum, giant sequoias — Mariposa, Tuolumne and Merced. These cinnamon-colored behemoths, some with a 40-foot diameter, grow from an oatmeal-flake-sized seed. The Mariposa Grove has around 500 giant sequoias spread over 250 acres, including the Grizzly Giant — 2,700 years old and perhaps Yosemite's oldest living sequoia.
Yosemite's High Country has fewer visitors than other parts and is less disturbed. It is home to alpine lakes, meadows and jagged peaks. In some more barren areas, small plants peek out of rock crevices and seem to struggle to survive under gnarled, wind-beaten trees.
Tuolumne Meadows, the park's largest subalpine meadow, at 8,600 feet, is popular for hiking — it's flat. The Tioga Pass, at 9,945 feet, is the highest pass in the Sierra Nevada range accessible by vehicle.
Yosemite indoors
Over 60 park properties are on the National Register of Historic Places, and some say the National Park Service's rustic architectural style was born here.
Completed in 1927, designers wanted the Ahwahnee Hotel (now the Majestic Yosemite Hotel) to blend in with nature. The Great Lounge has original oak tables and wrought-iron chandeliers.
The hotel's famous dining room recalls an earlier era that hosted luminaries like Eleanor Roosevelt, John F. Kennedy, Steve Jobs and the United Kingdom's Queen Elizabeth and Prince Philip, who booked every room in the hotel. The Big Trees Lodge, of Victorian-era resort design, is also a historic landmark and has served guests since the 1870s.
The Yosemite Museum showcases the history of the Miwok and Paiute people through clothing, projectile points, baskets and beadwork. The Ansel Adams Gallery features the famous photographer's and other artists' works, plus handcrafts and gifts. The Pioneer Yosemite History Center presents the park's history.
Sixty to 70 tour buses and up to 8,000 cars can roll into the park on a summer day. Visitors left 15,000 tons of garbage in 2015, perhaps a signal that people are loving the park to death. As humans alter the landscape, park officials are working hard to preserve and restore native habitats and bring back critters like the Sierra Nevada big horn sheep, Yosemite toad and the western pond turtle.
But the crowds also signify the allure of Yosemite and its natural wonders. Light — bright or soft, dim or lustrous — creeping across granite cliffs, illuminating a wildflower's delicate pistil, glistening through waterfalls or electrifying the night, Yosemite is a constant interplay of land and light.
If you go
Yosemite is open 24 hours a day, 365 days a year, but some roads are closed at times, largely because of snow. Check ahead.
Summer provides a palette of wildflowers, active wildlife and open roads and facilities. But summer is also fire season, and as we went to press in late July, a wildfire that started about 10 miles outside the park had destroyed about 100 structures and threatened 1,500 more. The fire has not affected the park, and it is still currently open.
In the fall, big-leaf maples, black oaks, Pacific dogwoods and other deciduous trees become showy amid the evergreens' backdrop. Crowds are smaller.
Winters can be cold, but a pristine blanket of white, crystallized foliage, frozen waterfalls and mesmerizing silence await. Some parts of the park are not accessible.
Spring's highlights are rushing creeks and tumbling waterfalls, blooming redbuds and dogwoods. Frogs and toads croak. Some snow patches linger.
Yosemite has four entrances and four visitor centers. Buses (VIA bus lines; 800-369-PARK) are available year-round from Merced and Fresno. Amtrak trains connect in Merced with buses to the park.
The nearest major airport is in Fresno, 90 miles from Big Trees Lodge. American Airlines has the cheapest roundtrip flights from BWI to Fresno for $366 in mid-September.
Most visitors tour the park by driving or taking free shuttles or fee-based tours. Staffers offer many programs, guided walks and hikes, horseback riding and winter sports.
Spring and fall are the least crowded. Veteran visitors recommend staying several days and arriving in the early morning or late afternoon.
For accommodations, there are lodges, cabins, canvas tents on platforms and campgrounds. Make reservations well in advance at www.travelyosemite.com or by calling (888) 413-8869. For more information from the National Park Service, call (209) 372-0200 or see www.nps.gov/yose.