Health
A simple, more velvety sauce for pasta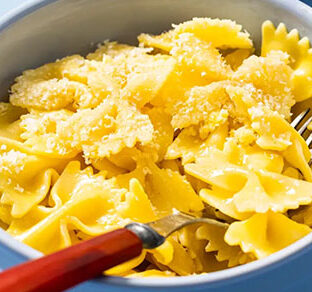 Tempering the eggs keeps the sauce smooth.
Photo by America's Test Kitchen
The egg yolks in this dish create a velvety sauce that coats each and every piece of pasta. Heat from the pasta cooks the yolks so that they're safe to eat, but you need to warm them up slowly or else they'll curdle and turn into scrambled eggs.
How to do it? Add hot pasta cooking water to the egg yolks, a little bit at a time. This slowly raises the yolks' temperature, gently cooking them.
This technique is called "tempering," and it also keeps the sauce smooth — save scrambled eggs for breakfast!
Creamy Egg-Sauce Pasta
Serves 2
Note: You can substitute 6 ounces of any short pasta shape for the farfalle; however, the cup measurements will vary. Use 2 cups of ziti, 2 cups of penne, or 2 1/3 cups of medium shells.
Ingredients:
1 quart water
2 large egg yolks
¼ cup grated Parmesan cheese (half an ounce), plus extra for serving
½ teaspoon garlic powder
¼ teaspoon mustard powder
2½ cups (6 ounces) farfalle pasta
¾ teaspoon table salt
Directions:
In a large saucepan, bring water to boil over high heat.
While water heats, in a medium bowl, whisk egg yolks, Parmesan, garlic powder and mustard powder until well combined.
Add pasta and salt to boiling water. Cook, stirring frequently, until pasta is al dente, 10 to 12 minutes. Turn off heat.
Use a ladle to carefully transfer 1/4 cup pasta cooking water to a liquid measuring cup. Drain pasta in a colander. Return drained pasta to the now-empty saucepan.
Add 1 tablespoon reserved cooking water to egg yolk mixture and whisk until well combined. Repeat 2 more times with 2 more tablespoons of reserved cooking water, whisking thoroughly after each addition.
Pour warm egg yolk mixture into a saucepan with pasta. Use a wooden spoon to stir constantly for 30 seconds. Cover saucepan with lid and let pasta sit for 1 minute.
Remove lid and stir pasta constantly again until sauce thoroughly coats pasta and is thickened, about 30 seconds. If needed, add from the remaining cooking water until sauce is loosened slightly and coats pasta well.
Serve immediately with extra Parmesan.
For 25 years, home cooks have relied on America's Test Kitchen for rigorously tested recipes developed by professional test cooks and vetted by 60,000 at-home recipe testers. The family of brands — which includes Cook's Illustrated, Cook's Country, and America's Test Kitchen Kids — offers reliable recipes for cooks of all ages and skill levels. See more online at www.americastestkitchen.com/TCA.
© 2022 America's Test Kitchen. Distributed by Tribune Content Agency, LLC.