Health
Avoiding kidney stones, digestive issues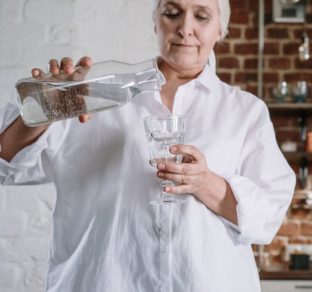 Q: I recently passed a kidney stone. I never want to go through that pain again! What's the best diet to avoid another kidney stone?
A: First and foremost, be sure you drink plenty of fluids every day and avoid dehydration. Kidney stones form when certain minerals concentrate in the urine and form hard crystals. By drinking plenty of fluid, you can decrease the concentration of these minerals. Drink 8 to 12 cups (64 to 96 ounces) a day.
The most common type of kidney stone is the calcium oxalate stone. About 80% of all kidney stones are made of calcium oxalate. The name might make you think you should eat a low calcium diet to avoid getting them, but you should do the opposite.
The problem is oxalate. Most people who develop calcium oxalate absorb too much oxalate. The extra oxalate is absorbed by the intestines and passed into the blood stream.
The body uses what it needs, and the extra oxalate is excreted in the urine. In the urine, the higher concentration of oxalate can combine with calcium to cause kidney stones.
Many of the foods we eat, including some very healthy foods, contain oxalate. Examples include beets, chocolate, spinach, rhubarb, tea and most nuts. But it's quite difficult to stay on an oxalate-restricted diet.
Instead, concentrate on eating plenty of calcium-rich fools. Inside your intestines, the dietary calcium binds the oxalate before it has a chance to get absorbed into your blood stream, so less oxalate will need to pass into your urine.
Eating too much animal protein, such as meat, eggs and seafood, increases the likelihood of both calcium oxalate and the less common uric acid kidney stones. High-protein diets boost blood and urine levels of uric acid and reduce the amount of natural stone inhibitors in the urine.
A high-sodium diet also can trigger kidney stones because it increases the amount of calcium in your urine. A low-sodium diet is therefore recommended for the stone prone. Federal guidelines suggest limiting total daily sodium intake to 2,300 mg., and this is a good target to help prevent a recurrence.
While coffee and most teas contain small amounts of oxalate, some studies suggest that drinking tea and coffee decreases the risk of kidney stones. However, you should avoid too much black tea, as it has four times the concentration of oxalate compared to green tea.
Q: I consider myself a healthy eater, but my bowel movements are irregular and I often feel bloated during the day. Would a digestive enzyme supplement help?
A: Digestive enzyme supplements are promoted to fix all sorts of abdominal symptoms, including bloating, gas, bowel irregularity and overall gut health. However, for most people there's little evidence that they do any good.
Naturally occurring digestive enzymes help break down food, so we can soak up nutrients. Your mouth, stomach and small intestine make some digestive enzymes.
However, the majority come from your pancreas, which floods the small intestine with enzymes when food arrives there. The main pancreatic enzymes are lipase, which breaks down fats; amylase, which breaks down carbohydrates; and proteases and peptidases, which break down proteins.
Once nutrients are broken into small enough molecules, they are absorbed through the wall of the small intestine into the blood and delivered throughout the body.
Sometimes the body doesn't make enough digestive enzymes. This can slow the digestion process and lead to uncomfortable symptoms.
For example, if your small intestines don't make enough of the enzyme lactase, you'll have a hard time digesting lactose — the sugar in milk and milk-based products. This can lead to bloating, flatulence and loose stools.
For people who can't make enough digestive enzymes because of a health condition such as chronic pancreatitis or cystic fibrosis, doctors prescribe special enzyme pills to substitute for the lack of natural enzyme production. People with known deficiencies clearly get a benefit from the drugs.
On the other hand, over-the-counter digestive enzyme supplements — available in health food stores and drugstores and on the Internet — are not medications. The FDA does not regulate them. Therefore, you can't be sure what the pills are really made of or the exact amounts of enzymes they contain.
Taking a nonprescription lactase supplement (such as Lactaid or Lactrase) can help people manage lactose intolerance, and taking an alpha-galactosidase supplement (such as Beano or Bean Relief) may reduce gas and bloating if you have a hard time digesting the sugars in beans.
But for other common gut problems there is little evidence that digestive enzymes are helpful. Since your symptoms may be due to irritable bowel syndrome, I recommend making an appointment with your primary care clinician. Some dietary changes may be all you need.
Howard LeWine, M.D. is an internist at Brigham and Women's Hospital in Boston and assistant professor at Harvard Medical School. For additional consumer health information, please visit health.harvard.edu.
© 2020 President and Fellows of Harvard College. All rights reserved. Distributed by Tribune Content Agency, LLC.