Health
Back pain? Acupuncture study may help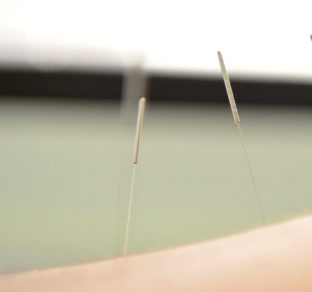 Photo by Tristin English
If you wake up every day with an achy back, you're not alone. About a third of people over 65 have chronic lower back pain.
To manage the pain, some people get cortisone injections, which wear off in several months, or go on opioid medication, which can be dangerously addictive.
Now, the Johns Hopkins University School of Nursing is studying the effects of acupressure — a non-invasive process similar to acupuncture, but without needles — to see if it can help with such pain.
Acupuncture, or traditional Chinese medicine, dates back 3,000 years. In auricular point acupressure (APA), tiny seeds — yes, real plant seeds — are taped to particular places on the outside of the ear believed to correspond to nerves in the lower back.
The seeds remain affixed to the outer ear with small, square stickers. Participants can bathe, shower or swim as usual.
When in pain, participants can press on the small seeds. As part of the study, they'll be asked to squeeze the pressure points for three minutes, three times a day, wherever they are.
A form of self-care
"Opioid use has taken an incredible toll on not just patients, but entire health systems," one of the study's principal investigators, Dr. Chao Hsing Yeh, told Johnson & Johnson's Notes on Nursing magazine.
"APA could be more widely disseminated than acupuncture, allowing patients to focus on self-care by engaging the therapy daily, anywhere and anytime as a practical tool for pain control," she said.
The study, which is open to people age 60 and older, lasts one year. Patients who are currently on pain pills may continue to take their medication.
During the first month, participants will make weekly visits to the John Hopkins East Baltimore campus at the Wald Community Nursing Center (901 N. Broadway, Baltimore). For the remainder of the year, they will visit about once every three months.
Parking costs will be reimbursed. For Baltimore City residents, the study provides free round-trip rides to the campus via Lyft or Uber.
In addition, since the study will track the effects with an online survey, participants without smartphones will be provided with one.
The study is funded by the National Institute on Aging, which, in response to the opioid epidemic, is seeking to identify alternative methods of treatment for pain management.
Yeh recently won a $50,000 grant from the Johnson & Johnson Nurses Innovate QuickFire Challenge in Perioperative Care. Her copyrighted idea, Wireless Auricular Point Stimulation, was selected from more than 100 proposals.
Volunteers completing the study will receive $150. For more information about the study or to volunteer, call (667) 208-7653.