Health
Care for hip fracture patients with dementia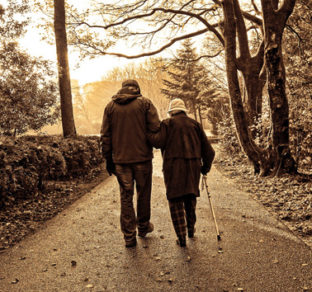 Since 1983, researchers in the Division of Gerontology at the University of Maryland, Baltimore, have been gathering data on more than 2,000 hip fracture patients with the goal of identifying promising ways to improve their recovery.
The University of Maryland and the National Institute on Aging are currently recruiting participants for a pilot study that will evaluate a home-based program designed to coach and mentor caregivers as they assist individuals who have Alzheimer's disease or a related dementia and who have fractured a hip. The aim is to help the patient perform everyday activities and engage in more physical activity.
Educating caregivers
Prior research conducted by Baltimore Hip Studies of long-term care residents with dementia has shown that it is possible to improve their function, increase physical activity, and improve behavioral symptoms.
In these previous studies, researchers effectively coached and mentored caregivers using a care practice called Function Focused Care for the Cognitively Impaired. This method focuses on having caregivers teach, cue, model and assist cognitively impaired individuals to perform functional tasks and engage in physical activity, while minimizing behavioral symptoms.
The current study will assess whether a version of this function focused care, called Hip Care at Home, can help patients with dementia who are recovering at home with an informal or family caregiver. All participants in the study will get the same help at home.
The Hip Care at Home study includes an initial evaluation of the patient, caregiver and home setting by an interdisciplinary care team that includes a physical therapist, occupational therapist, and a coach (nurse or nurse's aide) trained in the function focused care approach.
The coach will then make weekly visits to work with the primary informal, unpaid caregiver (friend or family member) to integrate the recommended environmental, behavioral and physical therapies into the home setting.
Coaching for better outcomes
Caregivers will be encouraged to have the patient participate in his or her own activities of daily living, and incorporate functional activities into daily routines.
An intervention coach will discuss care-related challenges with the caregiver to identify dependency problems, motivate the caregiver to help foster independence in the care recipient, and provide guidance in addressing behavioral symptoms associated with cognitive limitation that may occur during caregiving.
A coach will visit each caregiver and hip fracture participant in their home for a one- to two-hour session once a week for eight weeks.
Prospective participants should be 65 or older at the time of the hip fracture; have had a pre-fracture diagnosis of Alzheimer's disease or related dementia; had surgical repair for the hip fracture; completed usual rehabilitation; and have an unpaid, informal caregiver who provides at least weekly assistance with daily living activities.
For more information, or to see if you qualify for the study, call Lynn M. Lewis at (410) 706-5144 or email llewis@som.umaryland.edu.