Health
Communicating across the generations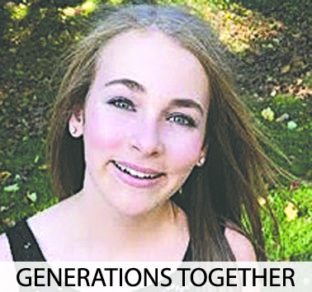 Alexis Bentz is a high school student who writes for the Beacon about ways older adults and students can learn from each other and develop better communication.
All humans have an innate need for connection. We crave social interaction and thrive when we are surrounded by friends and loved ones.
At the same time, we also have a natural fear of putting ourselves out there to make new friends. We risk rejection.
These issues affect both younger and older generations in very similar ways. For example, we must gather our courage before going up the new kid at school (or to the new resident at the retirement community) to introduce ourselves and say hello.
Members of both generations also might have similar feelings when called on to create a profile of themselves on an online dating site. Dating can be stressful at any age!
On the other hand, studies show that a lack of social stimulation can lead to an excessive release of stress hormones, intense sadness, heightened blood pressure, and hindered learning and memory capabilities. That affects youth when they feel out of place in a new community, and older adults when suffering losses of loved ones and friends.
Communicating differently
The best way to acquire new and meaningful relationships is through communication. But older and younger generations often have different ways of communicating.
Generation Y (those born between 1980 and 1995, also known as millennials) are known as the first "digital generation." They are used to sharing information via texts and social media posts.
Meanwhile, baby boomers who grew up in a different technological era are often known for the value they place on face-to-face communication and phone calls.
But this isn't the first time generations find themselves communicating using different means and with different preferences. It wasn't that long ago that we could only communicate face-to-face or via written letters. Think how much the invention of the telegraph and telephone changed things for our ancestors.
While the generations often clash over their chosen methods of communication, there are pros and cons to each.
One huge positive of social media is how it allows your message to reach a broad audience with ease. Users are able to connect with others throughout the world instantaneously.
Additionally, users can instantly retrieve their own and others' messages and profiles, and compare reactions and responses without delay. At the same time, should you let your passions run away with you, you can always modify and expand on your response after having time to reflect.
Meanwhile, serious negatives include a potential lack of privacy, inability to truly remove information that has already been posted, and the opportunity for anonymous cyberbullying.
Face-to-face communication also possesses pros and cons. We can have a more dynamic conversation and better understanding when we can see each others' facial expressions and hear the tone and octave of another's voice. Then there is a smaller chance of misunderstanding, and it can inspire closer and stronger relationships, compared to two-dimensional communication via text or email.
Yet reliance on face-to-face communication makes it impossible to connect frequently with those far away, and severely limits the extent to which a message can be spread. This can be a major problem in a dire situation where information is needed instantaneously.
So, which is better, and who is right? The answer: both.
Regardless of your chosen method, communication itself is what's essential.
If you're an older adult, I encourage you to befriend some teens, whether they're your grandchildren, those of your friends, or you meet them through intergenerational activities.
You can then discuss the ways in which communication has changed over the years, and debate which method is more effective or preferable to you.
Afterward, you can talk about the impact of human connection and test out your theory by going out to do something fun together.
The most important thing is to interact with others, no matter how you do it.
Alexis Bentz is a 10th grade student at Thomas Wootton High School in Rockville, Md.