Health
COVID got you down? A study needs you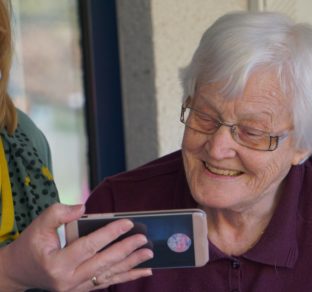 Photo by Georg Arthur Pflueger on Unsplash
As Shakespeare put it in Richard III, now is the winter of our discontent. Although a vaccine is on the way, in the meantime, most of us must stay home and continue to avoid friends and family.
If you're feeling stressed or have symptoms of depression (fatigue, sadness, lack of interest in activities) during the pandemic, Johns Hopkins would appreciate your help with a new study.
"A lot of older adults with depression don't get any help, so we are trying to find a different way of engaging them," said Dr. Jin Hui Joo, a Johns Hopkins Community Physician and assistant professor of psychiatry and behavioral sciences at Johns Hopkins University School of Medicine.
The study, nicknamed the PEERS study, aims to "improve emotional health of older adults," she said.
After all, 15% to 20% of older adults suffer from depression, but fewer than half of them receive any mental health services.
Matched with a peer
Anyone over age 50 who is feeling stressed or down can enroll. Researchers will evaluate them by telephone and match them with a peer who is also over age 50 — and who has also experienced depression.
"There can be a lot of comfort in speaking to someone relatively your same age," Joo said.
There are two arms of the randomized study: One group will be matched with a peer, and the other group will be matched with a study staff member. (Peer counselors are trained and supervised by mental health professionals throughout the year-long study.)
Joo, the principal investigator for the PEERS study, said her team is seeking about 160 participants.
Once matched, the pair will have eight phone conversations over the course of a year. Each call will last about 45 minutes to an hour.
During the phone calls, both peers and staff will check in and suggest ways to alleviate depression. For instance, keeping a journal or calling friends can help.
"What the peers are trying to do is provide social support and share self-care skills," Joo said. "It's a difficult time for everyone, so [they will discuss] how to cope, how to improve your emotional well-being."
It may be easier to accept advice from someone who has "been there," too. After all, the peers who make the phone calls have experienced depression first-hand.
"They themselves know what it's like to be stressed and emotionally struggling, so they can understand and coach them through how to manage this," she said.
Feedback has been positive
It may be harder for older adults to admit they're feeling low.
"A lot of seniors are used to pulling themselves up by their bootstraps; they're used to going it alone," Joo said. "Sometimes you have to just reach out and get some help."
Joo's previous research found that participants in similar peer-to-peer programs gave positive feedback about the program.
"When a senior is struggling, a peer can provide a different perspective or help them think of it in a different way so it's not as distressing," she said.
The National Institute of Mental Health is also a collaborator in the PEERS study.
To find out more about the study, or to volunteer to participate, call (410) 995-8360 and leave a message. All calls will be returned in a day or two.