Health
Exercise may fight residual Covid effects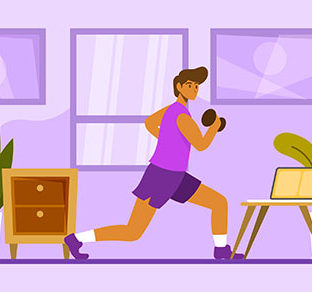 If you've had a bout of Covid and are still feeling tired or out of breath, you're not alone. As many as 20% of people who have recovered from an initial Covid infection have residual symptoms that affect their daily lives.
That's why the National Institutes of Health (NIH) Clinical Center launched a study to determine whether exercise can help people recover faster.
"The purpose of this study is to see if an exercise program can help with residual symptoms," said Dr. Lisa Chin, lead associate investigator of the COVID-19 Chronic Adaptation and Response to Exercise study, or COVID-CARE for short.
The study is recruiting 90 people ages 18 to 80 who have a lab-confirmed case of the virus and are still experiencing symptoms such as fatigue.
In the randomized, controlled trial, one group will be assigned to exercise class three times a week for 10 weeks and weekly education sessions. The other group, or arm, will participate in health-related lectures once a week for 10 weeks and then do the exercises in the following 10 weeks.
"Regardless of which arm you're in, you're always going to get exercise," Chin said.
Before starting the exercise program, each participant will get a thorough physical examination and a cardiology consultation to make sure they're able to do the activities.
"Right off the bat, we do an assessment of their current fitness levels. We get a good idea of where they're starting out," Chin said. "We want to ensure that we're being safe with our patients," Chin said.
What the study entails
First, study participants will make several in-person visits to the NIH Clinical Center in Bethesda, Maryland. (Valet parking is free for participants).
There they will have a physical exam, be tested to evaluate their heart and lung function and their ability to perform physical activity, and have various other tests of neurologic and blood vessel function.
They'll also complete some surveys and provide their medical history. Researchers will send them home with a loaned wrist monitor to keep track of their activity.
The 30-minute exercise classes take place three times a week at the NIH Clinical Center. Specialists in exercise science oversee the classes, Chin said.
The exercises "are individually tailored, so our team can help determine how to encourage exercise and make tweaks if they need to," Chin said.
After the in-person classes end, researchers will follow up with participants every three months for a year.
One of the benefits of participating in this study is a thorough medical workup. "These [test] results are theirs," Chin said. "These are results that they can share with their general practitioner."
Another benefit is to help others with residual symptoms after a Covid infection. Signing up for the study "would help [NIH] gain a better understanding of whether exercise programs could benefit those who are still recovering from COVID-19," Chin said.
To find out more about the COVID-CARE study or to see if you qualify to enroll, call 1-800-411-1112 or email ccopr@nih.gov.