Health
Frozen corn makes a delicious cornbread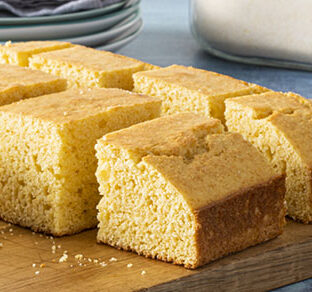 Adding whole corn kernels takes this cornbread to the next level of flavor!
Kevin White/TNS
Adding whole corn kernels to the usual cornmeal in a cornbread recipe makes the cornbread extra good.
In this recipe, we puree the corn in a blender (along with buttermilk and enough light brown sugar to make the bread pleasantly but not overly sweet), which makes it easy to incorporate while eliminating tough, chewy kernels.
This cornbread is great served with chili and is also delicious on its own. Using frozen corn in the recipe allows you to enjoy this tasty morsel year-round.
Corny Cornbread
Serves 9
Ingredients:
Vegetable oil spray
1½ cups all-purpose flour
1 cup cornmeal
2 teaspoons baking powder
¼ teaspoon baking soda
¾ teaspoon salt
1 cup buttermilk
¾ cup frozen corn
¼ cup packed light brown sugar
2 large eggs
8 tablespoons unsalted butter, melted and cooled
Directions:
Adjust oven rack to middle position and heat oven to 400 degrees. Spray an 8-inch square baking pan with vegetable oil spray.
In a medium bowl, whisk flour, cornmeal, baking powder, baking soda and salt until combined.
Put buttermilk, corn and sugar in a blender. Place lid on top of blender and hold lid firmly in place with a folded dish towel. Process until combined, about 5 seconds.
Add eggs to blender, replace lid, and process until well combined, about 5 seconds. Corn lumps will remain.
Pour the buttermilk mixture into the bowl with the flour mixture. Use a rubber spatula to stir until mostly combined (leave some streaks of flour). Add melted butter and stir until just combined and there are no streaks of flour. Pour batter into the greased baking pan and smooth surface with spatula.
Place baking pan in oven and bake until cornbread is deep golden brown and a toothpick inserted in the center comes out clean, 25 to 30 minutes.
Remove baking pan from oven and place on a cooling rack. Let cornbread cool for 10 minutes.
To remove cornbread, use oven mitts to flip the baking pan over onto the cooling rack. Carefully turn cornbread right side up and let cool on rack for 10 more minutes.
Transfer cornbread to a cutting board and cut into squares. Serve warm or at room temperature.
For 25 years, home cooks have relied on America's Test Kitchen for rigorously tested recipes developed by professional test cooks and vetted by 60,000 at-home recipe testers. The family of brands — which includes Cook's Illustrated, Cook's Country, and America's Test Kitchen Kids — offers reliable recipes for cooks of all ages and skill levels. See more online at www.americastestkitchen.com/TCA.
© 2022 America's Test Kitchen. Distributed by Tribune Content Agency, LLC.