Health
Health Shorts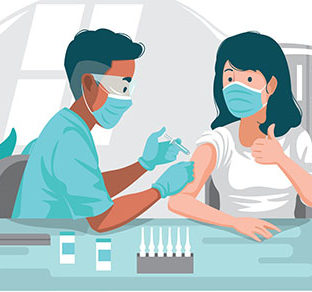 Image byJustCallMeAcar on Vecteezy
Not too late to get COVID-19 boosters
With new omicron variants again driving COVID-19 hospital admissions and deaths higher in recent weeks, states and cities are rethinking their responses, and the White House is stepping up efforts to alert the public.
The highly transmissible BA.5 variant now accounts for 65% of cases, with its cousin BA.4 contributing another 16%. The variants have shown a remarkable ability to get around the protection offered by infection and vaccination.
Global trends for the two mutants have been apparent for weeks, experts said — they quickly out-compete older variants and push cases higher wherever they appear.
Yet Americans have tossed off their masks and jumped back into travel and social gatherings. And they have largely ignored booster shots, which protect against COVID-19's worst outcomes.
Last month, the White House response team called on all adults 50 and older to urgently get a booster if they haven't yet this year — and dissuaded people from waiting for the next generation of shots expected in the fall when they can roll up their sleeves and get some protection now.
Vaccinations, including booster shots for those eligible, lower the risk of hospitalization and death — even against the latest variants.
But fewer than half of all eligible U.S. adults have gotten a single booster shot, and only about 1 in 4 Americans age 50 and older who are eligible for a second booster have received one.
—Carla K. Johnson, AP
988 hotline is 911 for mental health emergencies
Quick help for suicidal thoughts and other mental health emergencies is now as easy as 9-8-8.
The United States' first nationwide three-digit mental health crisis hotline went live on July 16. It's designed to be as easy to remember and use as 911. But instead of a dispatcher sending police, firefighters or paramedics, 988 will connect callers with trained mental health counselors.
Dispatching paramedics for heart attacks and police for crimes makes sense — but not for psychiatric emergencies, mental health advocates say. Calls to 911 for those crises often lead to violent law enforcement encounters and trips to jail or crowded emergency rooms where suicidal people can wait days for treatment.
The 988 system will build on the National Suicide Prevention Lifeline, an existing network of over 200 crisis centers nationwide staffed by counselors who answer millions of calls each year — about 2.4 million in 2020. Calls to the old lifeline, 1-800-273-8255, will still go through even with 988 in place.
The federal government has provided over $280 million to help states create systems that will do much more, including mobile mental health crisis teams that can be sent to people's homes, and emergency mental health centers, similar to urgent care clinics that treat physical aches and pains.
Some states already have comprehensive mental health crisis systems, but others have a long way to go. And widespread shortages of mental health specialists are expected to slow their ability to expand services.
—Lindsey Tanner, AP
CDC panel recommends stronger flu vaccines for those 65+
Americans 65 and older should get newer, souped-up flu vaccines because regular shots don't provide them enough protection, a federal advisory panel said in June.
The panel unanimously recommended certain flu vaccines that might offer more or longer protection for seniors, whose weakened immune systems don't respond as well to traditional shots.
Options include: Fluzone High-Dose, Fluad with an immune booster, or Flublok which is made with insect cells instead of chicken eggs.
The panel's recommendations were adopted by the Centers for Disease Control and Prevention, and became the government's guidance for U.S. doctors and their patients. This is the first time the government has stated a flu vaccine preference for older adults.
Flu shots tend to be less effective than other common vaccinations, but they have often been particularly disappointing in seniors.
Health officials say there is persuasive research indicating some of the new shots work better in older adults, especially at preventing flu-related hospitalizations. Studies are limited, though, and there's little research comparing the three new versions.
The new shots have caught on. About 80% of Medicare beneficiaries get the souped-up vaccines each year, mostly the high-dose one, officials said. The new versions can cost roughly three times more than standard flu shots, but they are covered by insurance programs.
CDC officials reported in June that the flu vaccine didn't work all that well this past winter, when most illness were caused by a flu strain that vaccines traditionally do a relatively poor job protecting against.
—Mike Stobbe, AP