Health
Injectable drug helps heal broken bones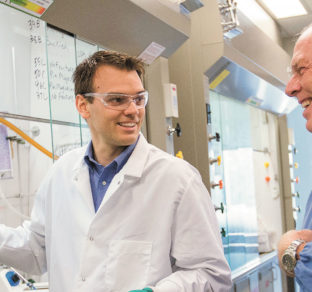 Father and son scientists Philip Low and Stewart Low, co-founders of Novosteo Inc., are developing and commercializing injectable drugs that speed the healing of broken bones
Photo by Purdue Research Foundation
A Purdue University-affiliated startup known for its novel injectable drug to heal broken bones is growing and adding additional scientists to its team. One of those scientists is using his experience recovering from being hit by a truck to help other patients.
Novosteo Inc. was co-founded by father-son team Philip S. Low, the Presidential Scholar for Drug Discovery and the Ralph C. Corley Distinguished Professor of Chemistry, and Stewart A. Low, the company's chief scientific officer and visiting scholar in Purdue's Department of Chemistry.
Based on discoveries of agents that accelerate bone regeneration, Novosteo has designed a series of fracture-targeted drugs that concentrate a drug's healing power specifically at the fracture site, thereby greatly accelerating and improving the healing process.
One of the startup's injectable drugs is unique in that it concentrates at the fracture site while reducing exposure to the rest of the body. As the team prepares to move the drug into clinical trials, more scientists are joining Novosteo at its Indiana headquarters in Purdue Research Park West Lafayette.
"The stories we have heard from so many people about their devastating experiences with broken bones really pushes us forward," Stewart Low said.
"It may be an elderly patient, a loved one or someone suffering from a rare disease who is dealing with bone fractures. We want to provide non-invasive options to improve the quality of life and, in some cases, save a life."
One new addition to the Novosteo team is Jeffery Nielsen, a Purdue alumnus who serves as director of research and development. As a child, Nielsen was hit by a moving truck. The impact crushed his skull and broke dozens of bones.
"Recovery from bone fractures was tough as a child, but we know it is significantly more difficult for older adults," Nielsen said. "I am driven to use my personal and professional experiences to help improve lives."
Nielsen previously worked with targeted bone therapies, technology startups and organ growth procedures.
The injectable treatment was developed in the Purdue laboratory of Philip Low in the Purdue Institute of Drug Discovery.
Novosteo is already looking at the future use of the injectable-targeted drug for other applications, including dental implants, head and facial fractures, and hip and knee replacements. Novosteo also has a pipeline of drugs for treating an array of musculoskeletal maladies.
Novosteo's technology is licensed through the Purdue Research Foundation Office of Technology Commercialization. The company also received entrepreneurial support from Purdue Foundry, an entrepreneurship and commercialization hub in Discovery Park District's Convergence Center for Innovation and Collaboration.