Health
Mexican rice made with homemade salsa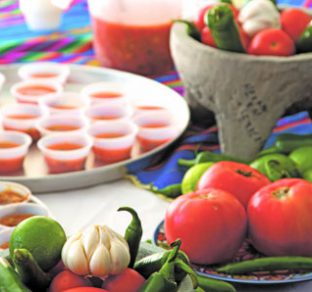 These recipes are reprinted with permission from Recipes from the President's Ranch: Food People Like to Eat, by Matthew Wendel, White House chef to President George W. Bush and family, recently published by the White House Historical Association (WHHA).
Mexican rice with a twist
My twist on Mexican rice is very simple. For a base, I use my Prairie Chapel Ranch roasted ancho chili salsa (see below), which contains all the flavors I want in the rice dish.
Ingredients:
Serves 6
• ½ cup long grain uncooked white rice
• ¼ cup vegetable or canola oil
• 3 cups chicken broth
• ½ cup carrots, diced (fresh or frozen)
• ½ cup Prairie Chapel Ranch salsa (see below)
• ½ cup peas (fresh or frozen)
Preparation:
Rinse and drain rice in a fine mesh strainer.
Place a large cast-iron skillet or heavy bottomed saucepan over medium–high heat. Add oil and let it heat up for 2 to 3 minutes.
Add rice and stir.
Reduce to medium heat, stirring frequently, until rice is lightly golden brown, about 10 minutes.
Stir in broth, fresh carrots and salsa. If using frozen carrots, add them at step 7.
Bring to a boil. Reduce heat to low and cover. Cook for about 20 minutes, until water is completely absorbed.
Add peas during the last 5 minutes of cooking.
Remove from heat and fluff rice with a fork before serving.
Prairie Chapel Ranch Roasted Ancho Chili Salsa
The Bushes loved chips and salsa. I developed this easy salsa recipe as a go-to dish for the family. Because of its rich, earthy flavor, this salsa is perfect on grilled chicken or fish, or as a base for soup.
Ingredients:
Makes 4 cups
• 2–3 dried ancho peppers
• Water
• 1 small white onion, roughly chopped
• 4–5  medium tomatoes, quartered
• 2–3  garlic cloves
• 1 small bunch (slightly less than ½ cup) of cilantro
• 1–2  jalapeño peppers, seeded and chopped
• Salt
Preparation:
In a hot skillet, dry-roast the ancho peppers for about 2 minutes on each side. The peppers should start to puff up and release their flavor.
Place the peppers in a medium bowl and cover with hot water until the peppers are soft, probably about 5 minutes.
Once the peppers are soft, remove the stems and seeds.
Place peppers and all the rest of the ingredients in a food processor and blend together until mixed well. Salt to taste.
The salsa will be a beautiful deep red. For added flavor, dry roast or char the onion, tomatoes, garlic, onion and jalapeños before adding to the food processor.
For a great variation, make a dip by combining 2 cups of cooked black beans and ½ cup salsa to food processor. Blend until well mixed.
Go to whitehousehistory.org to listen to WHHA's podcast "Recipes from the President's Ranch" and learn more about the stories behind the recipes. To order a copy of the cookbook ($45), visit http://bit.ly/whitehousechef.