Health
New connections can counter loneliness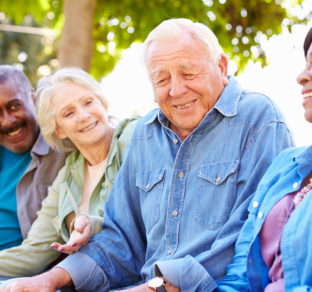 Loneliness is complicated. You can feel lonely when you lack friends and miss companionship or when you're surrounded by people — even friends and family.
Either way, loneliness can have devastating health effects. It boosts the risk of coronary artery disease, stroke, depression, high blood pressure, declining thinking skills, inability to perform daily living tasks, and even an early death.
The remedy?
Not all loneliness can be solved by seeking out people. The loneliness that occurs despite having plenty of relationships may require talk therapy and a journey that looks inward.
But reducing loneliness caused by a lack of relationships is more of an outward journey to make new friends. Below we offer three ways to ease loneliness and add happiness by helping you expand your social network.
"That's a challenge as we get older because people are often established in their social groups and aren't as available as they might have been in a different phase of life. So, you have to be more entrepreneurial and work harder to make friends than you once did," said Dr. Jacqueline Olds, a psychiatrist at Harvard-affiliated McLean Hospital and the co-author of two books on loneliness.
Trying these strategies can help:
Seek like-minded souls. Being around people who share your interests gives you a head start on making friends: you already have something in common.
Start by considering your interests. Are you a voracious reader, a history lover, a movie aficionado, a gardener, a foodie, a puppy parent or an athlete?
Are you passionate about a cause, your community or your heritage? Do you collect things? Do you love classic cars? Do you enjoy sprucing up old furniture?
Maybe you want to learn something new, like how to cook Chinese food or speak another language. Search for online groups, in-person clubs, volunteer opportunities or classes that match your interests.
Once you join a group, you'll need to participate regularly to build bonds. If you can gather in person, it's even better.
"The part of our brain involved in social connection is stimulated by all five senses. When you're with someone in the same room, you get a much stronger set of stimuli than you do by watching them on a screen," Dr. Olds said.
Create opportunities. If joining someone else's group is unappealing, start your own. Host gatherings at your place or elsewhere.
"All it takes is three people. You can say, 'Let's read books or talk about a TV show or have a dinner group on a regular basis,'" Dr. Olds said.
Other ideas for gatherings — either weekly or monthly — include game nights, trivia nights, hikes, birdwatching expeditions, running or cycling, meditation, museum visits, cooking, knitting, sewing, crafting, shopping, day trips to nearby towns, and even a collector show-and-tell (comic books, antique dolls, baseball cards).
The people you invite don't have to be dear friends; they can just be people you'd like to get to know better — perhaps neighbors or work acquaintances.
If they're interested in a regular gathering, pin down dates and times. Otherwise, the idea might stay stuck in the talking stages.
"Don't be timid. Say, 'Let's get our calendars out and get this scheduled,'" Dr. Olds said.
Brush up on your social skills. Sometimes we're rusty in surface social graces that help build deeper connections. "It makes a huge difference when you can be enthusiastic rather than just sitting there and hoping someone will realize how interesting you are," Dr. Olds said.
Here are some tips to practice:
Smile more. Smiling is welcoming, inviting and hospitable to others.
Be engaging. Prepare a few topics to talk about or questions to ask — perhaps about the news or the reason you've gathered. (If it's a seminar, for example, ask how long someone has been interested in the subject.)
Or look for a conversation starter. "Maybe the person is wearing a pretty brooch. Ask if there's a story behind it," Dr. Olds suggested.
Be a good listener. "Listen in a way that someone realizes you're paying attention. Hold their gaze, nod your head or say 'Mm hmm' as they're talking so you give feedback. Assume everyone in the world is just yearning for your feedback," Dr. Olds said.
Ask follow-up questions. Don't ignore signals that someone has interesting stories to tell. "If they allude to something, your job is to look fascinated and ask if they can tell you more. They're dropping crumbs on a path to a deeper exchange," Dr. Olds noted.
Even chats that don't lead to friendships can be enriching. A 2022 study found that people who had the most diverse portfolios of social interactions — exchanges with strangers, acquaintances, friends, or family members — were much happier than those with the least diverse social portfolios.
Ultimately, a wide variety of interactions contributes to well-being, whether you're talking to the cashier at the supermarket, a neighbor, an old friend, or a new one.
And all of these connections combined may go a long way toward helping you feel less lonely.
© 2023 by Harvard University