Health
Quick and easy North African lentil soup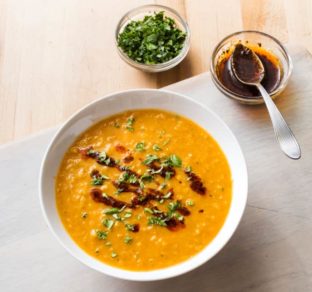 Photo courtesy of America's Test Kitchen
Red lentils are an ideal legume. For one thing, they're quick to prepare, cooking up in less than 20 minutes, with no presoaking or brining required.
But the best thing about cooking red lentils is that, unlike other beans and legumes, you don't need to worry about getting the interiors of the beans to soften before the skins rupture. With no skins to contain them, red lentils disintegrate as they cook.
In countries like Egypt and Morocco, cooks embrace this inevitability by turning their red lentils into soup. They add them to sauteed aromatics, stir in some warm spices, and then simmer the mix in broth or water. Less than half an hour later, they have a satisfying soup.
To develop our own recipe, we started by sauteing onions in butter and then used the warm mixture to bloom fragrant spices, like coriander, cumin, ginger and a pinch of cayenne, found in North African versions of this soup.
We used tomato paste and garlic to complete the base before adding the lentils, which we cooked in a mix of chicken broth and water to give the soup a full, rounded character.
After only 15 minutes of cooking, the lentils were soft enough to be pureed, but hauling out the blender or food processor seemed like overkill for such a simple soup.
Instead, we swapped the wooden spoon we'd been using for a whisk. Thirty seconds of whisking did the trick: We had a coarse puree that was homogenous from top to bottom.
Following the lead of North African cooks, we added 2 tablespoons of lemon juice to the pureed soup. The effect was like adjusting the focus on a manual camera: All the flavors were instantly more vibrant and defined.
A drizzle of spice-infused butter and a sprinkling of cilantro were all we needed to complete the transformation of commonplace ingredients into an exciting yet comforting soup.
Red Lentil Soup with North African Spices
Serves 6
Ingredients:
4 tablespoons unsalted butter
1 large onion, chopped fine
Salt
Pepper
¾ teaspoon ground coriander
½ teaspoon ground cumin
¼ teaspoon ground ginger
Pinch ground cinnamon
Pinch cayenne
1 tablespoon tomato paste
1 garlic clove, minced
4 cups chicken broth
2 cups water
10½ ounces (1½ cups) red lentils, picked over and rinsed
2 tablespoons lemon juice, plus extra for seasoning
1½ teaspoons dried mint, crumbled
1 teaspoon paprika
¼ cup chopped fresh cilantro
Directions:
Melt 2 tablespoons of butter in a large saucepan over medium heat. Add onion and 1 teaspoon salt and cook, stirring occasionally, until softened but not browned, about 5 minutes.
Add coriander, cumin, ginger, cinnamon, cayenne and 1/4 teaspoon pepper and cook until fragrant, about 2 minutes.
Stir in tomato paste and garlic and cook for 1 minute. Stir in broth, water and lentils and bring to a simmer.
Simmer vigorously, stirring occasionally, until lentils are soft and about half are broken down, about 15 minutes.
Whisk the soup vigorously until it is coarsely pureed, about 30 seconds. Stir in lemon juice and season with salt and extra lemon juice to taste. Cover and keep warm.
Note: Soup can be refrigerated for up to three days. Thin the soup with water, if desired, when reheating.
Before serving, melt the remaining 2 tablespoons butter in a small skillet. Remove from heat and stir in mint and paprika. Ladle soup into individual bowls, drizzle each portion with 1 teaspoon spiced butter, sprinkle with cilantro and serve.
Pair this soup with a salad and bread for lunch or a light supper.
For 25 years, confident cooks in the know have relied on America's Test Kitchen for rigorously tested recipes developed by professional test cooks and vetted by 60,000 at-home recipe testers. See more at americastestkitchen.com/TCA.
© 2020 America's Test Kitchen. Distributed by Tribune Content Agency, LLC.