Health
Six simple steps to a satisfying salad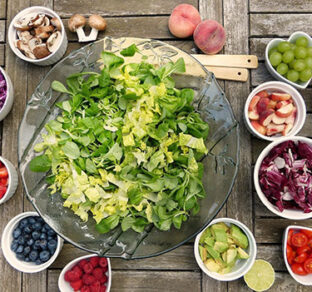 To make a salad into a meal, add protein and/or a grain. Use a variety of ingredients with different textures and flavors for interest.
Salads may get a poor reputation for being simply "rabbit food" or not satisfying enough to be more than a side dish. But you can learn how to make a salad that is more than just a side if you know what components to include.
Our general six-step formula is helpful to have on hand for creating healthy, hearty, meal-sized salads. Then you can take it in endless directions by using whatever ingredients you have in the fridge.
Using seasonal produce keeps salads enjoyable and varied throughout the year. Of course, you can always add to the basics listed here. Shredded cheese, chopped scallion ns and roasted vegetables make excellent salad toppers.
Here's our guide with simple steps for creating a salad that's perfectly satisfying every time.
Start with greens.
Greens are the starting point for a crisp, bright and balanced salad. Don't limit yourself to iceberg or romaine — there are various greens to choose from, including spicy arugula, tender baby spinach, creamy butter lettuce and many more.
If you're preparing a salad in advance (like for lunch the next day), choose a sturdy green, like kale, that won't wilt in the fridge.
Include enough greens to create a solid base, but don't overload the bowl so much that the other components get lost in a sea of green. A good guideline is roughly two cups of greens per person for a meal-sized salad.
Add protein.
Including a protein source is the key to transforming your salad from a measly side to a hearty meal. Grilled chicken, steak or fish are all fantastic options, especially if you have leftovers from a weekend cookout.
For vegetarians, tofu, tempeh, eggs and beans are the way to go. Aim for at least 15 grams of protein per eater, and say goodbye to the stereotype of the skimpy salad.
Incorporate grains.
Grains are often overlooked when thinking of salad ingredients, but they add heft and substance to a bowl of veggie goodness that ups the satisfaction factor by multitudes. Chewy farro is a favorite salad addition, but quinoa and brown rice are also good options.
Introduce a little sweetness.
Sweet and salty combos are a fave for many folks, and salads are no exception. A touch of sweetness in an otherwise savory salad adds a complexity of flavors, making it more crave-able.
Dried fruit (like cranberries, cherries or raisins), fresh fruit (like crispy apple chunks or sliced strawberries) or glazed nuts all work. Even a handful of corn kernels will get the job done if you want something slightly more subtle.
Bring in some crunch.
Texture plays a huge role in creating a balanced and memorable salad. Toasted nuts or seeds, carrots or radishes, or homemade croutons all add that satisfying bite.
Wait to add any crunchy bits until after tossing the salad in dressing to prevent sogginess from ruining the mouthfeel.
Finish with dressing.
A good rule of thumb for a basic dressing recipe is one part acid to three parts oil, plus a little salt and pepper to help bring out the rest of the flavors.
Olive or avocado oils are excellent choices for dressing, combined with lemon juice or vinegar. Try balsamic vinegar for a subtle sweetness or red wine vinegar for a tangier dressing.
Real Simple magazine provides smart, realistic solutions to everyday challenges. Online at realsimple.com.
© 2023 Dotdash Meredith. All rights reserved. Used with permission. Distributed by Tribune Content Agency, LLC.