Health
Some unique appetizers for the holidays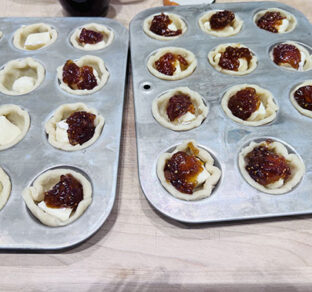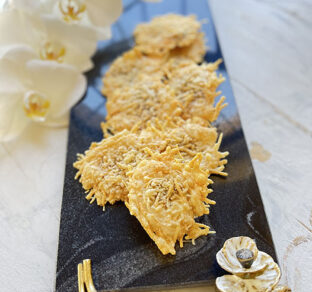 As the holidays approach, add these appetizers to your entertaining repertoire.
Parmesan Crisps, below, are available in grocery stores, but they are easy to make and can be prepared a week in advance. Homemade ones taste so much better, and leftovers are great on salads, soups, or with slices of pear for a little snack.
In addition, Baby Brie and Fig Pies are an easy, fast appetizer using store-bought, pre-made pie crust. These pies are filled with the delicious combo of melted Brie cheese and fig jam. These cuties disappear very fast!
Baby Brie and Fig Pies
Serves 6
Ingredients:
1 frozen pre-made pie crust, defrosted
8-10 ounces soft Brie cheese (not triple cream, which will be too runny in this recipe)
8 ounces fig jam
1 egg and 1 tablespoon of water
Butter or non-stick spray for preparing the baking pan
Round cookie cutters
Directions:
Preheat the oven to 375 degrees.
Prepare mini cupcake tins or mini tart tins by spraying non-stick spray or rubbing butter inside. Silicon baking pans work great for non-stick purposes.
Roll out the pie crust so it is flat, even, and about ¼-inch thick.
Using a 2 or 2 ½-inch round cookie cutter, cut the bottom part of the baby pies.
Press the cut pie crust into the baking tins and repeat until you have used about half of the crust.
Trim Brie by cutting out most of the wax and cut it into 1-inch cubes, inserting them into prepared pie bottoms.
Spoon a teaspoon-full of fig jam and add to top the Brie pieces. Spread gently to fill the pie cups.
Using a 1- to 1 ½-inch round cookie cutter, cut out small rounds of pie crust until you have used all the pie crust. You can re-shape and use the scraps as well.
Place a small round-cut crust on top of the pie and seal the rounds by pressing with a fork all around the diameter. Also, poke holes in the center top of the pie with a fork.
Beat 1 egg and a tablespoon of water until well combined and brush the egg wash on top of the pies.
Bake for 15-18 minutes or until golden brown.
Let cool for about 5 minutes before taking them out of the pans. Serve warm.
Parmesan Crisps
Serves 6
These can be made a week in advance.
Ingredients:
1 cup grated parmesan cheese
½ tablespoon all-purpose flour
1 teaspoon coarsely ground black pepper
Optional topping ideas:
1 tablespoon "Everything Bagel" seasoning
Fresh minced herbs such as thyme leaves, rosemary, chives or parsley
Directions:
Preheat oven to 375 degrees.
Combine cheese, flour, pepper and any optional toppings.
Place a generous tablespoon of mixture on a parchment paper-lined cookie sheet (make sure you leave at least an inch and a half of space between them as they will spread out in the oven).
Bake for 8 minutes.
Let cool and store in airtight container until you're ready to use.
You can toast them quickly in the oven right before serving for a warm and softer texture.
Excerpted from Entertaining Is My Love Language, a new home entertainment cookbook from party planner Dawna Pitts.
© 2023 by Dawna Pitts