Health
Study will try to teach old ears new tricks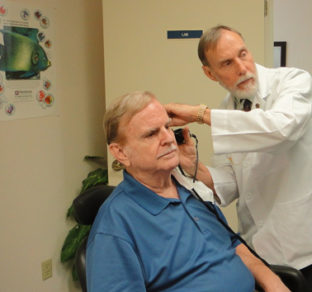 You meet an old friend for dinner, and she chooses a lively but loud new restaurant. Although you have a lot to catch up on, you can't hear a word over the din of your neighbors.
Or maybe you're a BBC fan but can't always decipher the actors' accents.
Hearing aids aren't much help in those challenging situations, but a new study that involves training has the potential to help millions of older people cope with hearing issues.
The Neuroplasticity and Auditory Aging study, funded by the National Institute on Aging of the National Institutes of Health and conducted at the University of Maryland, seeks to create an effective training program to improve older people's hearing and processing of speech in difficult listening situations.
Participants must be native English speakers and must be able to attend multiple test and training sessions in College Park, Md. You may be eligible whether you have normal hearing or mild to moderate hearing loss.
The research team hopes to help develop a targeted therapy for each type of hearing loss associated with aging.
"The end goal is individually-designed auditory and cognitive training for older people to help them better understand speech in different situations," said Sandra Gordon-Salant, principal investigator of the project and professor and director of the Doctoral Program in Clinical Audiology at the University of Maryland.
"We're very excited about the investigation. We think this can really help us determine which training paradigms are most beneficial."
What's involved
Potential participants will take several tests of their hearing and cognitive abilities to see if they qualify for the randomized, controlled clinical study.
Then they'll go through some pre-tests; in some cases, an EEG, MRI or other imaging technique. And, of course, some participants will be trained.
"It's not the standard aural rehab-related training for age-related hearing loss; it's very focused training," Gordon-Salant said.
For example, participants might be asked to listen to non-speech sounds and make judgments about what they hear. Or they may listen to rapidly spoken sentences and try to repeat them. After training, researchers will repeat the tests and compare results.
"We're using different kinds of techniques — imaging, electrophysiological, behavioral — to see if the brain is really changing as a result of the training paradigms," Gordon-Salant said.
Follow-up will be crucial, she added. "Not only are we comparing pre-test and post-test scores, but we also look at retention. We [may be] seeing that people benefit from the training, but do they retain that benefit after a month or after six months?"
The Neuroplasticity and Auditory Aging study is currently recruiting adults ages 18 to 85 with normal or impaired hearing. Compensation may be available. The study is scheduled to be completed in 2022.
For more information or to volunteer, contact Carol Gorham at cgorham@umd.edu or (301) 405-4236.