Health
Studying sleep and memory problems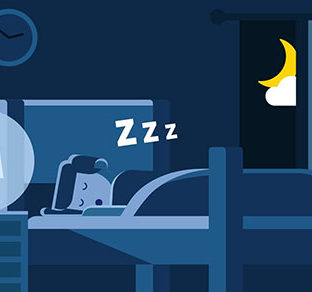 Sleep and memory loss have a chicken-and-egg relationship. People with early Alzheimer's disease tend to have trouble sleeping, and lack of sleep may contribute to memory loss.
If you have memory lapses and also have a hard time sleeping, there's a study at Johns Hopkins that could help. Known as the REST study, it involves a common, FDA-approved sleep aid called trazodone.
"We're looking at the different phases of sleep, total sleep time, and [trazodone's] effects on memory," explained Dr. Barry Greenberg, the study's principal investigator. Greenberg is also associate professor at Johns Hopkins School of Medicine's Department of Neurology and the director of the Alzheimer's Disease Translational Center.
Sponsored by the National Institute of Aging, the REST study seeks to recruit 100 participants over the next few years.
How the study works
Once screened over the phone, patients and their caregivers will visit the Johns Hopkins Bayview Medical Center for one of five in-person appointments. (Parking is free.)
After the first visit, participants will take home a monitor to diagnose sleep apnea. If that condition is ruled out, they can proceed with the study, which lasts about four months.
In the randomized trial, participants will first be given a pill to take for a month. The pill is either a safe placebo or the study drug, trazodone, a common sleep medication. The study is blind, so they won't know which one they're taking.
After a month off, they'll switch and take the other pill for a month.
Participants also will have three blood draws, three MRIs and several memory tests. An MRI, or magnetic resonance imaging test, is a painless, no-radiation screening that takes less than an hour. The MRIs will be administered at the Kennedy Krieger Institute in downtown Baltimore.
They'll also be given a FitBit-type of wristband to monitor their sleep time and quality. Most people won't need a monitor to tell them whether or not they had a good night's sleep, though.
"If they have sleep disturbances, they'll know whether or not they're sleeping any better," Greenberg said.
Benefits of participation
There are several advantages to participating in the Rest study, he said. First, the study drug may improve sleep and memory. Second, participants will receive valuable medical information.
"They'll get information about their brain activity. They'll get information about how they're doing on cognitive tests," Greenberg said.
In addition to receiving personal health information from Johns Hopkins researchers, people who participate in the study can help future generations. Today more than six million Americans suffer from Alzheimer's disease.
"They're really going to be helping us unpack the impact of sleep on brain activity and possibly slow the impact of the disease," Greenberg said.
Adults 55 and up with sleep and memory problems are eligible for the REST study. But they don't have to have an official diagnosis of mild cognitive impairment. Hopkins researchers will give them a simple memory test over the phone to determine if they're eligible.
"They'll also find out, if they don't qualify for this [study, that] they may qualify for others," Greenberg said.
For more information or to participate, call (410) 550-7385 or email eeyob1@jhmi.edu.