Health
Test a new combo flu and Covid vaccine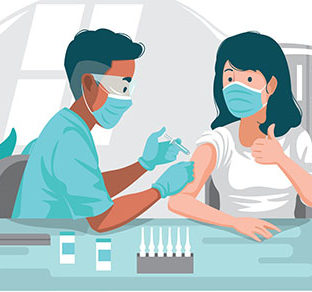 When children get immunized for measles, mumps and rubella, they get one shot, known as MMR. Same with diphtheria, tetanus and acellular pertussis, or DTaP.
So why not bundle the flu shot with a Covid vaccine?
A study of a combined flu and Covid vaccine is under way now at Velocity Clinical Research in Rockville, Maryland.
"Right now, we have a Covid vaccine and we have a flu shot. You have to get two separate shots, and they're not always available at the same place at the same time. So, there's a compliance issue and certainly getting poked twice can result in more localized side effects as well," said Dr. Shishir Khetan, principal investigator of Velocity Clinical Research.
"So, the study sponsor is combining the Covid and flu shot into one shot, just like the kids have these combination vaccines in one shot — same concept," Khetan said.
How the study works
Adults over 50 are invited to get the two-in-one shot, which is in phase three of testing. (Phase-three studies look at the efficacy of new drugs compared to a placebo, after the drug's safety has already been shown.)
In this randomized, controlled trial, everyone will get two shots, one in each arm. One arm may get the combination shot, and the other will get a placebo. Another group will receive the standard Covid vaccine in one arm and flu shot in the other. In other words, participants won't know whether the second shot is a vaccine or just a placebo.
The benefit is that everyone who participates will get both the flu and Covid vaccines, even if they're not in the same shot.
The six-month study only requires two, possibly three, in-person visits to Rockville (parking is free). After people receive the vaccines, they'll keep track of any side effects, such as a sore arm, in an e-diary.
"They're helping to get two vaccines into one that doesn't exist right now. There is no combination [available] and having the combination increases compliance or decreases side effects," Khetan said.
Velocity Clinical Research is located at 1201 Seven Locks Road, Suite 214, in Rockville, near red line bus and metro stations.
For more information, call (240) 698-2800 or email RockvilleIM@VelocityClinical.com.