Health
Veterans can lose weight with help of VA study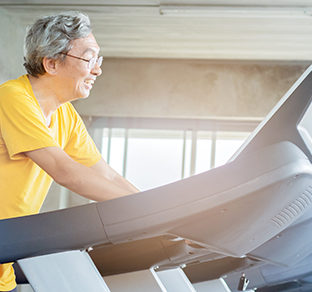 If you're a U.S. veteran and need to lose weight, the Baltimore Veterans Affairs Medical Center has a study for you — and it comes with free food.
Veterans between 50 and 75 who are overweight are eligible for the randomized study, titled Promotion of Weight Management in Overweight or Obese Veterans, or Power-Vet for short.
For the first 12 weeks of the study, they'll visit the VA Annex on West Fayette Street twice a week. There they'll take a free in-person exercise class that will consist of walking and strength exercises with large elastic bands. They'll also meet with a dietician and pick up a cooler of food for the week. Parking is free.
The VA will also give participants a free bathroom scale as well as a free FitBit — a wristband device that tracks physical activity.
"The bottom line is to see if we can create a new strategy for successful weight maintenance," said Alice Ryan, PhD, senior research career scientist at the Department of Veterans Affairs and the study's principal investigator.
Ryan and her research team have already seen veterans lose weight in the study, which is still enrolling. For instance, one man who weighed 330 pounds was able to lose more than 100 pounds. But the trick is to lose weight and keep it off.
In the second phase of the study, participants will spend six months trying to maintain their weight on their own. They'll continue exercising at home, and they'll buy their own food.
Participants will be randomly placed in one of two groups. One group will "fast" one day per week; that is, they'll just eat two small meals on a given day once a week.
"That's a nice way to start because it's minimal," Ryan said.
'A quick education'
After three months of free, healthy meals, many participants pick up a few weight-loss tricks. For instance, they know the correct portion size for everyday foods, and they tend to stop snacking, according to Ryan.
"Many of them are really learning what it means to eat healthy," Ryan said. "It's a quick education."
In fact, almost everyone in the study may be able to lose weight and keep it off, she said.
"Even individuals who are not randomized to the intermittent fasting [group] have gained a lot of knowledge, and they may be able to keep the weight off as well because they've learned about portion sizes, what to eat what not to eat, and exercise."
A little goes a long way
Losing even a little weight can benefit your health and boost your energy. For instance, a three-year Johns Hopkins study showed that people with prediabetes who lost 10% of their body weight had 85% less risk of developing diabetes.
"We really want to improve the health of our older veterans," Ryan said. "[Being] overweight and obesity contribute to so many diseases and changes in mobility, so we're hoping this strategy is effective for them."
If you're a veteran between 50 and 75 and want to participate in the Power-Vet study, call (443) 422-7234.