Health
What's behind all the talk about turmeric?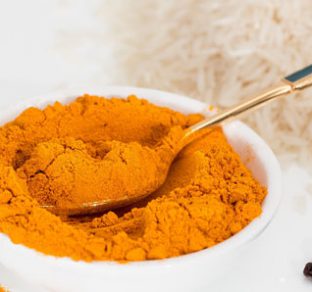 The turmeric plant (Curcuma longa or Curcuma domestica) is a relative of ginger grown in India and Indonesia. This yellow-orange spice not only gives curries their rich color, it also has been used as a medicinal herb for thousands of years.
Research on some of the chemical compounds in turmeric is finding a wealth of potential health benefits, but does turmeric itself live up to the hype?
The benefits
Cooking with turmeric can increase the healthfulness of your foods. Adding turmeric when cooking yellow, orange and green leafy vegetables, for example, may minimize the loss of beta-carotene. Beta-carotene is a precursor to vitamin A, which is good for vision and eye health, a strong immune system, and healthy skin and mucous membranes.
And using turmeric when marinating meats could help reduce cancer risk: Studies show that including turmeric in your marinade can reduce the level of potential cancer-causing compounds created when meat is cooked at high temperature, such as when grilling, broiling or deep-frying.
But most of the buzz around turmeric is centered on that fact that it's the best food source of a compound called curcumin.
"Curcumin is the compound in turmeric that gives it its bright yellow hue," said Rachael Hartley, R.D., L.D., C.D.E. It has been shown to block enzymes in the inflammatory pathways, potentially fighting inflammation at the molecular level, and it's being actively studied for relief of swelling and pain in both osteoarthritis and rheumatoid arthritis.
Curcumin is also a powerful antioxidant, and lab and animal studies have reported that curcumin inhibits cancer at multiple stages of development, although we don't yet know how that might work in the body.
The anti-inflammatory and anti-oxidant effects could help reduce heart disease risk, and this potent turmeric component also may help keep the lining of veins and arteries healthy and reduce cholesterol levels.
The limits
Most research has been done using curcumin, not turmeric itself. But turmeric is only two to six percent curcumin by weight, so the levels of curcumin in turmeric are not nearly as high as the doses tested in most studies. Plus, curcumin is poorly absorbed and metabolized.
Supplements, in the form of liquid extracts, capsules and teas, provide higher doses of curcumin, and appear to be safe. But there have been a limited number of good studies done in humans to date, so the jury is still out on how all of these potential benefits will really impact our health.
Upping intake
While we wait for more conclusive research, one thing is sure: You can't go wrong by adding turmeric to your diet.
"The spice's earthy, almost gingery flavor is not overpowering, and you'll find you can work it into a lot more than just curry," said Hartley. "I mix it into tomato sauce, creamy pasta sauces, smoothies and soups."
To maximize the curcumin you get from eating turmeric, be sure to add some black pepper: Piperine, a natural substance in black pepper, enhances the absorption of curcumin by 2000 percent.
You can find turmeric powder in the spice aisle of any market, and it's increasingly available as whole rhizomes and in teas. While it may not be the cure-all some say it is, turmeric definitely has health benefits, and it's delicious!
Turmeric supplements
Turmeric supplements are available as capsules, teas or liquid extracts. While there have not been enough human studies to prove these supplements are effective, they are considered safe for most adults.
Dosage
Dosage of turmeric extract or curcumin supplements used in studies varies widely. For those interested in trying supplements, the Arthritis Foundation suggests 400-600 milligram (mg.) capsules three times a day (or one-half to one gram of powdered root, up to 3 grams per day) for osteoarthritis, and 500 mg. twice daily for rheumatoid arthritis.
Safety
High doses or long-term use of turmeric may cause indigestion, nausea or diarrhea.
In animals, high doses of turmeric have caused liver problems. No cases of liver problems have been reported in people.
Avoid turmeric if you take blood thinners such as warfarin (Coumadin), are about to have surgery, are pregnant, or have gallbladder disease.
Reprinted with permission from Environmental Nutrition, a monthly publication of Belvoir Media Group, LLC. 800-829-5384. www.EnvironmentalNutrition.com.
© 2017 Belvoir Media Group. Distributed by Tribune Content Agency, LLC.