Arts
34th Street retains its miraculous charm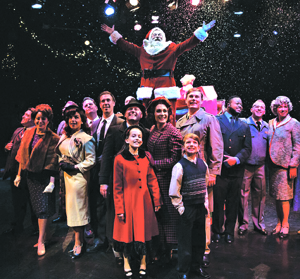 An entertaining musical version of the 1947 classic film Miracle on 34th Street is now onstage at Toby's Dinner Theatre. Toby's veteran Robert Biedermann plays jolly Kris Kringle, shown here with the full cast.
Photo by Jeri Tidwell
No doubt you're familiar with the 1947 film, Miracle on 34th Street — a classic featuring a young Natalie Wood that challenges you to suspend disbelief and embrace the idea that Santa Claus is real.
But you probably didn't know there's a musical theater version, penned by Meredith Willson, composer of The Music Man.
The show debuted to mixed reviews in 1963 and was originally billed as Here's Love. Since then, productions have changed the name, sometimes calling it It's Beginning to Look A Lot Like Christmas. Now, Toby's Dinner Theatre is presenting the musical, renaming it to match the film.
The show's plot primarily follows the movie, with a focus on embittered and pragmatic divorcee Doris Walker, who hires an old man named Kris Kringle to play Santa Claus at Macy's flagship store in NYC. The twist? He thinks he's the real deal, and manages to convince Walker's young daughter Susan (and everyone else but Doris).
Their neighbor and marine-turned-lawyer Fred Gaily also charms them, and does his best to loosen up and open their hearts. When Mr. Kringle is wrongly sent to jail on an assault charge that turns into an insanity hearing, Fred is the lawyer who does his best to free him.
Musical highs and lows
The show itself is a little disjointed, though Toby's does its best to smooth out all the lumps. The music borrows elements from other shows, especially Willson's own Music Man, and can't seem to figure out what kind of show it wants to be.
There are boisterous, fun numbers, like "Big Ca-Lown Balloons" during the Thanksgiving Parade, but then things quickly turn dark with "You Don't Know," in which Doris croons a cautionary tale to her daughter about how disappointing life is.
By the next song, the mood's back up, and so the rest of the show goes on. You will get to hear a familiar tune in act one by the ensemble, though — holiday favorite "It's Beginning to Look a Lot Like Christmas," penned by Willson before he wrote the musical.
Perhaps the most perplexing thing about the show is that it doesn't need to be a musical at all. The film's story is so solid on its own that the songs appear to be injected at odd times, conveying feelings that are sometimes better spoken — not sung (and danced).
Outstanding cast
What is always reliably excellent at Toby's is the talented cast, and Miracle's runs the gamut of age and experience.
The ensemble of child actors is especially wonderful and sweet. Hannah Dash steals a scene as an orphan from the Netherlands named Henrika, who wants to meet Santa. His response back to her in Dutch is partly why Susan believes in him.
And who can forget our show's Susan, played splendidly by Camden Lippert, the ideal balance between wide-eyed and shrewd — with a great singing voice to boot.
The adult cast is just as entertaining. Heather Beck, as Doris, is the perfect picture (and pitch) of a strong woman living in a man's world, trying to protect her daughter. When she tells Susan not to believe in anything she can't "see, taste, touch or smell," you truly believe she means well. Beck also belts out all the right notes, effectively leaning into a few of the songs' strange minor-chord endings.
Always-funny Jeffrey Shankle (Fred) plays a different kind of character as the ex-marine who's just as disillusioned with love as Doris is. He definitely has the fast-talking New York attitude down pat, and his few moments of vulnerability stand out — as in "My Wish," when he sings to little Susan while they're alone at the playground (clearly a different era, when this was acceptable).
Fred does repeatedly talk down to Doris as a "little girl," which is a bit unnerving, but Shankle does his best to make Fred roguish rather than repulsive.
The strongest performance from the main cast belongs to Toby's veteran Robert Biedermann as Kris Kringle. He brings a slightly more youthful, energetic and sweet portrayal of the classic figure, which feels fresh. He also has great chemistry with everyone, especially Susan. Though he doesn't do much singing, he's spot-on in every other aspect.
Supporting actors shine
As is the case in many of Toby's productions, the side characters are particularly memorable.
Doris' assistant Marvin Shellhammer (Tommy Malek) is fantastic in every scene he's in, especially the amusing number "Plastic Alligator," where he convinces the new clerks to use a silly jingle to push the toys he accidentally bought in surplus. His energy is infectious.
My favorite performance of the night was, to my surprise, Russell Sunday, who brought the character of Macy's CEO William H. Macy to life. He may be in and out of the show, but he commands every scene he's in. Sunday's booming deep voice and excellent vocals really help elevate the second act.
He shines particularly brightly in the show's strongest number, "My State, My Kansas," in which he tries to convince the judge on Kringle's case that sending Santa to prison would be bad for his career. He's joined on the number by Shellhammer, the hilarious David Bosley Reynolds as the judge, and a very good David James as Tammany, a local political figure.
From the creative set design for the Big Apple, to the dazzling costumes and effects like mock snowfall (spoiler alert!), Miracle is the perfect show for your grandchildren (and inner child). It may be a little saccharine for some, but it's the holidays, after all.
Seeing the show
Miracle on 34th Street continues through Sunday, Jan. 7 at Toby's Dinner Theatre, located at 5900 Symphony Woods Rd. in Columbia.
The show runs seven days a week, with evening and matinee performances. Doors open at 6 p.m., Monday through Saturday, for dinner prior to the evening performances, which begin at 8 p.m. For Sunday evening performances, which begin at 7 p.m., doors open at 5 p.m. for dinner.
On Wednesdays and Sundays, there are matinee performances, which open for brunch at 10:30 a.m., with shows beginning at 12:30 p.m.
Reservations are required. Ticket prices range from $45.50 (for children under 12) to $64, depending on the performance. Ticket prices include buffet dinner or brunch, tea and coffee. Specialty alcoholic drinks — like this show's strawberry-flavored "The Kringle," which my husband topped with optional Pinnacle whipped crème vodka — are priced separately.
While not five-star cuisine, Toby's buffet-style meals offer something for everyone. Our meal featured prime rib, roast potatoes, cocktail shrimp, a variety of vegetables and salads, and more. Cake and unlimited ice cream are also included. You can also arrange to have coffee or alcohol brought to you during intermission.
At Toby's, the show's actors also wait on tables. Their tips constitute much of their pay for their performances, so be sure to tip well.
For more information or to reserve tickets, call (410) 730-8311 or visit www.tobysdinnertheatre.com.