Arts
A top-notch Show Boat cruises at Toby's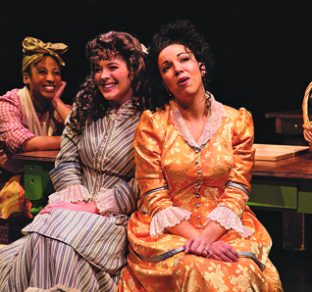 In one of Show Boat's most famous songs, "Can't Help Lovin' Dat Man," leading lady Julie La Verne, played by Julia Lancione, tells her young friend Magnolia (Abby Middleton) to be careful about love. Looking over their shoulders is standout Samantha McEwen Deininger as the boat's cook, Queenie. Show Boat, which follows the lives and struggles of the performers and workers living on a travelling show boat, is at Toby's Dinner Theatre through March 19.
Photo by Jeri Tidwell
With its the soaring score, complicated love stories and realistic portrayal of racism, Show Boat, now on stage at Toby's Dinner Theatre, treats the audience to an epic story that is both fun and dynamic, but also serious.
Show Boat tells the story of those living aboard the Cotton Blossom, a 19th century show boat travelling the Mississippi River. The musical follows the "family" of performers and staff over a 40-year period — from their show boat's height as a fixture of river-town entertainment in the 1880s, to the late 1920s, when the Roaring Twenties were in full bloom, and the rise of film rendered such crafts obsolete.
Show Boat — which features thoughtful lyrics by Oscar Hammerstein II and excellent music by Jerome Kern — is presented at Toby's with terrific acting and superb vocals, particularly by the performers portraying the black workers on the boat. Equally impressive is its social commentary on racism, which continues to feel relevant today.
A racially charged story
The 1927 premiere of Show Boat on Broadway has been called a watershed moment in the history of American musicals. Compared to the trivial and unrealistic operettas, light musical comedies and "Follies"-type musical revues that defined Broadway in the 1890s and early 20th century, Show Boat was a very different and ambitious show.
It also shattered racial boundaries by featuring black and white actors on the same stage. No show before had done this, or given such a sympathetic voice to its black characters.
The show opens with the boat's black stevedores (dockhands) singing how they "work while the white folks play… Gettin' no rest till de Judgment Day." Their song shows how difficult and unfair their lives are, and immediately inspires compassion.
But the show quickly moves onto Captain Andy — played to perfection by Robert John Biedermann — who introduces the audience to his cast of actors.
Among them are the show boat's leading man, Steve Baker (Justin Calhoun), and roughneck engineer Pete. It is revealed that Pete has been stalking Steve's wife Julie La Verne (the very likeable Julia Lancione), the show's leading lady, and a sudden fight breaks out between the two men.
A note on the use of racist terms: As years have gone by, some of Show Boat's lines have been altered to be more racially sensitive, especially changing the n-word to "colored folk" or other derivatives. Toby's mostly follows suit, except when Pete uses the original word to insult the ship's black cook, Queenie. Its use villainizes Pete as a character, and provokes an audible gasp from the audience.
Also in Act I, we meet handsome and charming gambler Gaylord Ravenal, who falls in love with Captain's Andy's sheltered daughter Magnolia, nicknamed Nola. Most of the main plot line follows their bittersweet relationship — from their romantic Romeo and Juliet-style meeting, to their later more complicated and difficult adult lives.
Russell Rinker nails Ravenal's initial gentlemanly persona, but his voice does falter a few times throughout the show. He consistently makes up for it, however, with his excellent acting.
Abby Middleton's Magnolia nicely balances Ravenal's boisterous voice with her pure and easy soprano. To her credit, Middleton is obviously well-trained classically and has one of the best vocal ranges of the cast.
Towards the end of Act I, Nola tells Julie about her new beau, and Julie warns her to be careful about giving away her heart, since it can be difficult to retrieve. Here, Lancione shines with "Can't Help Lovin' Dat Man," a bluesy melody you will hear a few more times throughout the show.
Standout performances
Thanks to the Cotton Blossom's other dynamic duo, Frank and Ellie, comic relief is always around the corner in many otherwise dramatic scenes of Act II. Jeffrey Shankle plays the boat's villain Frank, complete with over-the-top gestures and scowls, and Elizabeth Rayca is infectious as the hilarious Ellie, a rising star. Rayca's performance of "Life Upon the Wicked Stage" is particularly fun and memorable.
The show's standout performance, though, is by actor Marquise White as the black dockhand Joe. His rendition of "Ol' Man River" is stunningly beautiful and emotionally stirring. He's honestly reason enough to come see the show.
The exceptional Samantha McEwen Deininger plays Joe's wife Queenie and is the show's other standout performer. You can often hear her lovely voice in the background before, after and even between scenes. Kern and Hammerstein always intended for the black actors to serve as the show's Greek chorus, commenting on the action, and Deininger often solos this part.
It's also worth noting that Queenie and Joe's romance is the show's most authentic relationship.
Toby's may not do anything earth-shattering with this production of Show Boat, but it is nonetheless beautiful and a must-see for the songs and solos alone. It also firmly keeps the black characters in the spotlight, even as they serve in the background and as the unspoken heroes of the plot.
Seeing the show
Show Boat continues through Sunday, March 19 at Toby's Dinner Theatre, located at 5900 Symphony Woods Rd. in Columbia.
The show runs seven days a week with evening and matinee performances. Doors open at 6 p.m., Monday through Saturday, for dinner prior to the evening performances, which begin at 8 p.m. For Sunday evening performances, which begin at 7 p.m., doors open at 5 p.m. for dinner.
On Wednesdays and Sundays, there are matinee performances, which open for brunch at 10:30 a.m., with shows beginning at 12:30 p.m.
Reservations are required. Ticket prices range from $43.50 (for children under 12) to $62, depending on the performance. Ticket prices include buffet dinner or brunch, tea and coffee. Specialty drinks, like this show's Strawberry Banana Piña Colada (aptly named the "Cotton Blossom") are priced separately.
While not five-star cuisine, Toby's buffet-style meals offer something for everyone. Our meal featured prime rib, roast beef, marinated mushrooms, a variety of vegetables and salads, and more. Dessert is included (except specialty treats). You can also arrange to have coffee or tea brought to you during intermission.
At Toby's, the show's actors also wait on tables. Their tips constitute much of their pay for their performances, so be sure to tip well.
For more information or to reserve tickets, call (410) 730-8311 or visit www.tobysdinnertheatre.com.