Arts
"Aladdin" & Genie conjure a winning show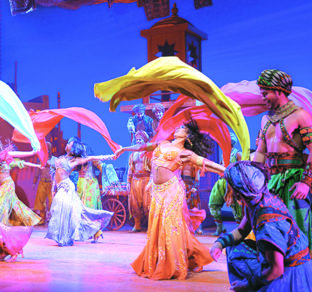 The Kennedy Center's colorful production of "Aladdin" differs from the 1992 animated film and 2019 live-action movie by including more dance numbers (and avoiding talking animals).
Photo by Deen van Meer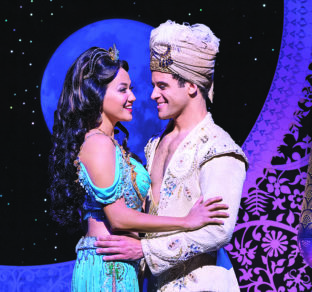 Kaenaonálani Kekoa plays the spunky Princess Jasmine and Clinton Greenspan stars as the thief-turned-prince Aladdin in Disney's "Aladdin," a musical spin on the Middle Eastern folktale, now at the Kennedy Center.
Photo by Deen van Meer
If you love your musicals full of glitz, over-the-top dance numbers and wisecracking genies, then the exuberant Aladdin from Disney, now at the Kennedy Center Opera House through September 7, is for you.
This year Aladdin is everywhere — in the movies and onstage. The musical, with music by Alan Menken and lyrics by Howard Ashman, Tim Rice and Chad Beguelin, is set in an Arabian desert kingdom that's heavy on western fairytale.
So, don't expect to learn about authentic Middle Eastern cultures. Instead, as in other Disney productions, Aladdin features smart-alecky, plucky characters with modern attitudes, catchy songs and a happy ending.
The basic storyline
Poor orphan Aladdin and his three buddies have survived life in the fictional city of Agrabah by stealing, but Aladdin is determined to change his ways and lead a good life.
He soon encounters Princess Jasmine, indulged and educated by her doting father, but now under pressure to be married off, since women can't rule kingdoms.
In the meantime, her father's advisor, the funny and scheming Jafar, and his even funnier and more scheming assistant Iago, played by Reggie De Leon from the Broadway cast, plot to take over the kingdom.
In a scene where dark forces steer them to a cave as well as a magic lamp and the hapless Aladdin, Iago keeps the scary manageable for all but the very youngest, calling out, "Thank you, scary voice!" (The performance is recommended for ages 6 and up.)
In fact, viewers might be more startled by streamers that shoot into the orchestra seats during an upbeat number later on. (Children who have only experienced the 1992 animated Disney movie may be perplexed that Iago is a person rather than a parrot, and wonder what happened to Aladdin's monkey in this animal-free version.)
Aladdin's mission is to take only the lamp, none of the myriad jewels in the cave. Fortunately for us, he's not able to resist plucking a treat for his ladylove — and thus the Genie makes his grand entrance.
One thing that the Kennedy Center production has that the movie doesn't is the amazing, charismatic Major Attaway, who created the role of the Genie on Broadway. Attaway dominates every scene he's in, perfectly embodying the larger-than-life genie, while also remaining all too human.
With the cast, he treats us to the showstopping tune "Friend Like Me" that channels one bright, fabulous era of Hollywood musicals after another in a whirlwind of choreography, costume and even fireworks. It elicited a roar from the crowd.
A deeper message
The musical is lighthearted, but as the Genie and Aladdin spar, they discover a common bond over their desire for freedom. Aladdin immediately promises to use his third wish to bestow freedom on the enslaved Genie.
Although Tony-winning Director and Choreographer Casey Nicholaw doesn't overly focus the production on what's at stake for the Genie, at the moment of the promise, the narrative gained a beating heart: The Genie seems to wield much power, but he's compelled to endlessly fulfill the wishes of others.
Also, there's tension in his relationship with Aladdin because he doesn't know if he can trust him. This is especially true after Aladdin is transformed into a prince and seems to lose all sense in the process.
Clinton Greenspan as Aladdin embodies the innocent hero, his voice yearning in his struggles to make the right decisions. He would like to be freed not only from poverty but his feeling of unworthiness.
Tour newcomer Kaenaonálani Kekoa as Jasmine would like to keep her father's love and respect while being free to be herself, whether that be married or not, and to whom she pleases. She brings a brash physicality to the character that's more Pippi Longstocking than royal princess.
Although it lasts two and a half hours, this beautifully designed production goes by quickly. Sets and costumes are a riot of colors, textures and designs that create a rich world on stage.
Jasmine's ethereal carved bedroom window frame expands, literally, to encompass a dark sky crowded with stars, where the young lovers fly on a magic carpet, singing "A Whole New World."
In contrast, the cave where Aladdin finds the Genie and the lamp is set with a spiky gold stalactite ceiling and pillars dripping with golden jewelry.
Tickets for Aladdin range from $39 to $189. Performances run Tuesday through Sunday nights at 7:30 p.m. Matinees are Saturdays and Sundays at 1:30 p.m., with one additional matinee on September 4. For more information, visit kennedy-center.org.