Arts
Alexandria's corner jewelry shop endures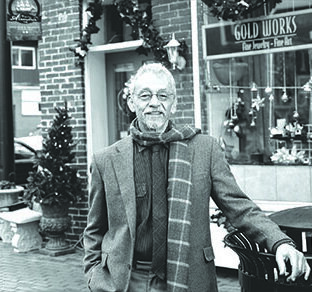 David Martin established his Alexandria jewelry shop, Gold Works, in 1990, and it's still going strong. "Everything I do, I put my heart into," he said.
Photo by Joe Bleach for Living Legends of Alexandria
It may not have the pizazz and glitter of Tiffany's, but David Martin's 800-square-foot Virginia shop and studio, Gold Works, glows nonetheless. For 33 years, Martin has designed, made, restored and sold jewelry in the modest brick building on the corner of Old Town Alexandria's King and West Streets.
"This store is my wife and my baby," Martin said.
Gold Works sparkles with gold, silver and platinum rings, earrings, cufflinks, necklaces, bracelets, pendants and gems from all over the world, from black opals from Australia and Mexico to tourmalines from Brazil.
Martin also displays his own one-of-a-kind sculpture in his shop. Behind the counter, his workspace is crammed with workbenches, an anvil, an electro-melt furnace, and multiple tools of his trade, including hammers for pounding gold.
He has displayed his work in shows all over the world with organizations like the Jewelers of America, Washington Metalsmiths and the Washington Guild of Goldsmiths. His sculpture and jewelry have been shown in Old Town, at the Corcoran Museum of Art in Washington, D.C., and at the University of Maryland.
A pre-med start
Martin grew up in Wilmington, Delaware, and after high school, began the pre-medicine track in college.
During the Vietnam War, he was stationed at Andrews Air Force Base, working with a pathologist. But receiving body bags and trying to "put them back together" steered him off the medical path, Martin said.
Then-Senator Joe Biden found him a job in the early 1980s delivering special mail for government agencies. But Martin's study of human anatomy as a pre-med student inspired him to design and sculpt human figures.
So, he attended several art schools, where he learned casting and design. He eventually landed a job with Frank Smith, a master goldsmith in Washington, D.C., who taught him how to do repairs.
In the late 1980s, Martin repaired jewelry from his home, working with another local jeweler. One day, he noticed that the local Sun Dry Cleaners' building was vacant. It had a decrepit rug and an inch of sand on the floor, but Martin began transforming it into a bright space he opened in 1990.
Meanwhile, the Metro's King Street-Old Town station was under development. When it opened, businesses on that part of King Street started booming. Today, Gold Works has a steady stream of customers ogling, perusing, chatting, shopping and admiring.
Civic-minded artisan
Over the years, Martin's store has caught the eye of local politicians. "David Martin's Gold Works is the epitome of an Alexandria small business that is truly invested in this community," City Councilman John Chapman said.
"David has been instrumental in advocating for support and resources for the small business community on King Street, ensuring that he and other businesses have the best chance to survive these interesting economic times," Chapman added.
Kirk McPike, an Alexandria City Council member, recently bought a set of custom cufflinks from Martin. "They came out even nicer than I had hoped," he said in an email. "Alexandria is fortunate to have artisans like David who have chosen to market their skills in our city."
Martin utilizes more than his jewelry skills. He designed decorative banners for Old Town streets, and convinced the city to put up festive lights every December. Both projects took some tenacious prodding, but he persisted.
For these efforts, Martin was named an Alexandria Living Legend in 2013 by a nonprofit that honors people who contribute to the city's quality of life.
Former Mayor Bill Euille calls Martin "a committed entrepreneur in our community and a civic activist. He is a caring individual and a strong advocate for small businesses."
Custom designs use technology
At one point in his career, Martin dabbled with big business. He took 100 of his pieces to Macy's, and the department store liked them so much that they wanted 1,000. But Martin, an artist at heart, opted out of that task, which seemed like mindless factory production to him.
Today, Martin uses computer software (CAD-CAM) to design one-of-a-kind pieces for his customers. With computer-generated renderings, he can consult and get the customer's approval early instead of going through a casting process that makes changes difficult.
"The computer uses me for doing a design," Martin said with a chuckle, explaining, "I don't have to make molds anymore."
Among Martin's several product lines are his popular dime-sized "orbit earrings," made of silver or gold with a pearl in the center.
Martin also designed "moonscape rings," reticulated silver bands of different textures and thicknesses, with and without gemstones. Each ring is unique.
He made a six-inch medallion for Alexandria Mayor Justin Wilson to wear in the annual St. Patrick's Day parade.
He's even designed a charm bracelet for his hometown. For his "Charming Alexandria" bracelet, Martin creates charms representing Alexandria icons — including the George Washington Masonic National Memorial, Christ Church, the Town Crier, the Alexandria Scottie Dog, Gadsby's Tavern and the city tour guides' Ghost Lantern.
"Everything I do," Martin said, "I put my heart into it."
For more information, call (703) 683-0333, visit Goldworksusa.com, or drop into the store at 1400 King St., Alexandria, Virginia.