Arts
Arthur Miller's "Crucible" feels quite timely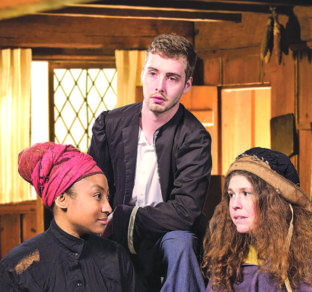 Samantha McEwen Deininger as Tituba (left) visits with Salem's marshal and a beggar woman in The Vagabond Players' production of "The Crucible" by Arthur Miller.
Photo by Bruce F. Press Photography
"Mean girl" cliques. Pompous politicians. Lawsuits and "blame game" finger-pointing. Biblical fundamentalists. Hearsay and fake news.
Just another day watching CNN or FOX in America, right?
Not exactly. Arthur Miller's play The Crucible, set in late 17th-century Salem, Massachusetts, knocks the truth on its head in The Vagabond Players production through June 30.
The Crucible, based on the infamous Salem witch trials, debuted on Broadway in 1953, when the nation was embroiled in a witch hunt of another sort as U.S. Senator Joseph McCarthy led the House Un-American Activities Committee investigation into the "Communist activities" of anyone and everyone.
Miller's play continues to resonate today in this captivating performance by a talented, 20-member ensemble cast directed by Steven Deininger.
Leading the cast is Baltimore favorite David Shoemaker in the role of John Proctor, a flawed but decent man who finds himself buffeted by forces beyond his control. Proctor is desperate to save himself and his wife Elizabeth (Ryan Gunning) from the hangman's noose, always visible throughout the play.
Set designer John Seeley sets the stage for the disaster to come with a string of nooses hanging from the ceiling. In case you failed to notice, The Crucible isn't a comic romp.
Believe it or not, though, the play has a few moments of levity. In one charming, wordless scene, Elizabeth and John take turns — unbeknownst to the other — adding spice to a pot of stew.
John appears to appreciate more flavor than his wife, and perhaps that's a metaphor, as it is John's weakness for certain "tastes" that lands him in trouble: a spice known as Abigail Williams (Emile Zelle Holmstock).
The leader of the Salem "mean girls," Holmstock plays Abigail as a woman-child possessed, whether by imaginary spirits or by a desire for Proctor that burns as bright as her red hair — a desire that turns to anger once scorned. Hell hath no fury, as the saying goes, and Hell is on the lips of many of the characters, either in its service or in objection to it.
Reverend John Hale (Christian Smith) finds himself in the ironic dual role of both evil-doer and do-gooder. First summoned to town by Reverend Samuel Parris (Stuart Kazanow), who raises simpering hand-wringing to an art form, Hale is hell-bent on uncovering the demonic forces at work.
He ultimately finds them, along with the error of his first-act ways, in the play's second half, residing in the ignorance and arrogance of Deputy Governor Danforth (Eric C. Stein) and his minions.
Back ramrod straight, nose in air, and an accusatory tone as soft and subtle as an industrial-strength bullhorn, Stein's Danforth seems intent on blasting the Devil out into the open with the power of his voice alone.
It's a voice that could drive the courage from a lion, and it works on Sami Peterson's misguided "poppet"-maker Mary Warren, who ultimately bows to whomever seems most intimidating — Proctor, Abigail Williams, Danforth — when in her presence.
Excellent supporting cast
Several actors round out the cast in smaller, but not insignificant, roles. Samantha McEwen Deininger plays the forlorn Barbados refugee Tituba, whose attempt at showing the Puritan girls a taste of wild island dance first sets the town on its road to ruin.
Peter Wilkes plays litigation-beset landowner Giles Corey, who, while he is being crushed by the townspeople's stones, says with his last breath, "More weight."
Providing a 17th-century spin on white entitlement are Thomas and Ann Putnam (David Hanauer and Lauren Riley Jackson), the latter accusing her former midwife for her stillborns.
In a play fraught with irony, one of the best turns comes in the final moments. More than 100 of the townspeople are accused of giving themselves over to "Lucifer" by "signing his black book."
At play's end, to save himself, John Proctor must sign his own false confession. Stein's Danforth takes the role of Satan, as he towers and glowers over Shoemaker's slumped form, urging him to save his soul by signing the confession, when John knows that to sign it is to lose it.
Performed with one 15-minute intermission, The Crucible moves at a spritely pace, keeping the audience riveted from curtain to curtain.
The Crucible continues its run at the Vagabond Players theater, 806 South Broadway, in Baltimore's Fells Point neighborhood, through June 30. Regular admission tickets cost $22; $19 tickets are available to patrons 65 or over, members of the military and students with identification.
For showtimes and more information, visit vagabondplayers.org or call (410) 563-9135.