Arts
Artist retires, rekindles dream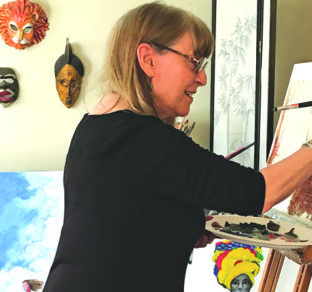 LeeNan Hayden Manzari stands tall while painting one of her newest creations, despite suffering from multiple sclerosis, which makes it difficult to even grasp her brush. A newly avid painter, she was thrilled when one of her works was selected for national publicity on the hit TV show "Project Runway."
Photo courtesy of LeeNan Hayden Manzari
This past August, LeeNan Hayden Manzari was watching "Project Runway" — the long-running fashion design reality television show — when to her amazement, her painting of a flamenco dancer flashed on the screen.
She'd submitted it online to the show's Remake It Work contest, where fans of the show submit artwork inspired by the program. But she never thought it would win.
"I'm still on cloud 9," she exclaimed.
During each episode of "Project Runway," the judges choose three online submissions as winners and show them on television. Judge (and famous designer) Zac Posen said of Manzari's work, "these are the moments I wait for."
Like many older adults, Manzari, who recently turned 69, rediscovered her love of art later in life. She's only just started painting again this past year, when she retired. "Now I can't stop," she said.
Her winning painting, which she named "Flamenco," is a vivid acrylic work featuring a powerful, dark-haired female dancer in a red Flamenco dress with a ruffled skirt. The dancer's arms reach upward on the canvas, appearing to twirl a bright blue scarf. The creases in her gown and the folds of the scarf are highly detailed.
The kinetic but graceful energy of the figure is likely what drew the judges to her submission. "If you concentrate really hard on her right arm, it almost moves," Manzari said proudly. "You can really see it on the actual painting."
MS not a barrier
For Manzari, a big part of her work's appeal is the "peace" that comes with it. Many years ago, she was diagnosed with multiple sclerosis, a disabling disease that attacks the body's central nervous system. On a regular basis , she struggles with low energy levels and has difficulty doing regular tasks. "I wake up exhausted," she said.
But despite all that, "When I'm painting, I don't think about MS. I think about those characters I'm working with. I love them. In fact, they're helping me through life," she said.
True, having MS can make the logistics of completing her work very challenging. "It is not easy to work with my hands," she said. Sometimes she also gets tired of standing, or "I'll drop the brush because my grasp loses control."
She feels the trick is to stay organized. So she doesn't have to "waste energy," she keeps all her materials, inspiration and ideas in movable cabinets that let her convert her apartment into a mini-studio. She also stays physically active, which she credits for keeping her out of a wheelchair.
Manzari also insists that anyone can take up art, even with no previous experience or training. "People always tell me, 'I can't paint,' but I say 'you've got to try it.' Anybody can do anything."
It's an attitude she highly recommends to other older adults, saying, "I'm always discovering new things about myself."
Early career in media
A long-time Washington-area resident, Manzari has always loved art. "When I was a child, I would copy romance and Archie comic books," she recalled. She loved it so much that art quickly became her favorite subject.
Manzari went on to major in art education at the University of Maryland. But she diverted from that course for some years before completing it.
Never one to miss out on adventure, she dropped out mid-degree to participate in an exchange program with a British temp agency called Miss Liberty. They sent her to live in London with other classmates.
"We — [me and] three other girlfriends — rented a flat in Chelsea, 41 Pont Street. What an amazing summer!" she reminisced. There, they were shown all around the city, watched the moon landing, went to a free Rolling Stones concert in Hyde Park, and felt privileged to live near Judy Garland before her passing.
It was almost a decade later that she returned to the University of Maryland and got her art education degree. But by then, her career goals had changed.
While in London, she'd gotten "a taste of working and not studying," and had already launched a career in media with "various jobs" in radio and TV.
Her first job back in America was as an assistant to the program director at WWDC radio in Silver Spring, Md., where she got some experience in public relations.
She then worked as a secretary at Metromedia Channel 5 (now Fox 5 DC) before moving to WTOP television (now WUSA), where she worked in the promotions department, charged with writing the daily and weekly synopsis of TV shows for TV Guide and local newspapers.
For two years, she and her then-husband moved to New York City, where she worked as assistant to the head of television syndication at MGM New York. It was there that she rubbed elbows with celebrities, such as Otto Preminger, Alan Park and Robert De Niro.
A color expert
Manzari re-whet her appetite for art when she returned to this area and began working for master printmaker Lou Stovall at the Workshop in D.C.
The intricate process of printmaking involves placing a thin translucent vellum film over the original piece, which is cut out in shapes to match, to guide the ink into the right location on the replica print. Her job was to mix the inks, which were then pulled through a screen onto the shapes.
She was talented at her job, and gradually was entrusted with cutting the film strips, which later proved useful in her work with the famous color field abstract painter Sam Gilliam. She also successfully matched the original colors of notable artists Gene Davis, Jacob Kainen, Pat Buckley Moss and Selma Hurwitz.
Manzari looks back fondly on her years working with those artists. "Working for Lou and Sam Gilliam…I learned what art truly is. I feel Lou's and Sam's influence today [even] after all these years." Two of their prints, received as gifts, now hang on her walls.
A writer and designer too
According to Manzari, she can't take all the credit for her artistic achievements — some of it goes to her family background. Art seems to flow through her family's blood.
From her nephews, who comprise the locally famous tap dance duo the Manzari brothers, to her screenwriting brother Arnie Zelkovitz, she's always been surrounded by artistic pursuits in some way.
In fact, Zelkovitz's recent successes (his script "Heatwave" was an official selection at the L.A. Neo Noir Screenplay and Novel Festival and a finalist in the Extreme Screenwriters Screenplay contest), have "inspired me to write. I have a bazillion ideas," she said.
Her most recent writing project is a screenplay called "Soles for Souls," which follows the love and success story of a young Hungarian Jewish girl who finds herself making shoes in Budapest at the end of WWII. Manzari plans to submit it to screenwriting contests, such as the BlueCat Screenplay Competition. Thankfully, "there are lots of opportunities" to get noticed, she said.
She is also taking a more proactive approach to painting, drawing inspiration from artists like Chagall, Klimt, Van Gogh and O'Keeffe. She also looks to television, movies and music, which she says "brings out personal feelings to the canvas."
Painting has become such a passion, she even has "vivid dreams" about it. "I'll wake up and start painting. Sometimes, I'll have dreams with paintings that are mine that I haven't painted yet," which she feels she has to get to work on right away.
Winning "Project Runway's" contest was an important step in her career, since she considers herself a "closet [i.e., secret] designer," and said she has "many fashion designs on paper." She's especially inspired by "kimono and ancient Asian costume."
She has recently begun selling her work, including a Chagall-influenced piece titled, "Wish I Could Dance with My Father Again."
Manzari said her next contest will be the Beacon's own Celebration of the Arts, a regional competition for artists 50 and over, which will begin accepting entries in the spring.
While it's nice to be acknowledged, Manzari said, it's not the reason she continues to create. "Art is my life," she said with passion. "All of my pieces tell a story — whether in my mind or the viewers'. I like to look at a painting and get the 'goosies' and say, 'This is really good."'
It's also an emotionally charged experience. "When I paint, I escape into the world of my subject matter, and when I finish a painting, it's like saying goodbye to a precious adventure.
"It's also true for writing. I get so involved with my characters and their journey emotionally — it's hard to say goodbye to them when I finish."
The Beacon's Celebration of the Arts contest will be open for online submissions from April through early June. For more information, or to get updates about the contest, visit www.thebeaconnewspapers.com/artcontest or call (301) 949-9766.