Arts
Books reveal untold World War II stories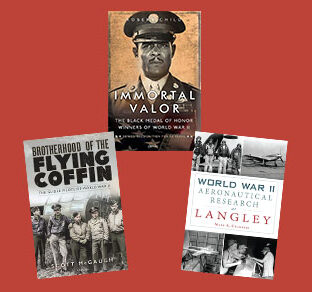 The Bibliophile
Even today, remarkable tales about the Second World War are emerging. These books shed light on lesser-known aspects of the war and of heroes from the Greatest Generation.
Immortal Valor: The Black Medal of Honor Recipients of World War II, by Robert Child, 288 pages, Osprey hardcover, 2022; paperback, June 2023
The Medal of Honor is the highest military decoration bestowed by the Armed Forces. Seven African Americans who received the Distinguished Service Cross during World War II were subsequently awarded the Medal of Honor in 1997 and 2000. Racial discrimination had precluded them from the higher accolade earlier.
First Lieutenant Vernon Baker received his Medal of Honor from President Bill Clinton in a White House ceremony. The other six awards were bestowed posthumously.
Immortal Valor tells the inspiring life stories of these seven heroes, four of whom died as a result of their heroic deeds.
Their courage to face the horrors of war and perform selflessly was extraordinary. Even more notable was the dignity of Black soldiers in the face of racism by many of their own comrades and superior officers.
Robert Child is an author, screenwriter, producer and director. The 60-year-old has amassed more than 25 writing and directing awards during his career.
Brotherhood of the Flying Coffin: The Glider Pilots of World War II, by Scott McGaugh, 288 pages, Osprey Publishing hardcover, 2023
Military gliders were deployed during the Second World War to transport heavy equipment, gasoline, supplies, troops, medics and reconnaissance troops on missions behind enemy lines. These motorless aircraft were towed by transport planes and released 600 to 3,000 feet above the landing zone. Their aim: stealth entry into enemy territory.
Glider pilots landed in predetermined fields devoid of obstructions. Sometimes they and their tow planes were the only Allied forces aloft.
At other times, they were part of an air armada that included bombers, paratroopers and land forces. That required exquisite timing and communication, often with our British allies.
Once on the ground, pilots were expected to defend themselves, find friendly forces, and hitch a ride back to base. That was the theory.
However, combat conditions, friendly fire, poor visibility, changing weather, the fragile nature of gliders, problems disconnecting from the transport plane and difficulties communicating with those planes' pilots wreaked havoc and death.
Of the 6,000 men who were trained as glider pilots during the war, nearly 400 lost their lives — about an equal number in training accidents as on combat missions. Hence the term flying coffin.
Brotherhood of the Flying Coffin tells the story of the men who volunteered and braved death in a machine that took them on a one-way mission over enemy lines. Sixteen pages of illustrations accompany the text.
Septuagenarian Steve McGaugh tells a thrilling story. This is his 11th book.
World War II Aeronautical Research at Langley, by Mark A. Chambers, 155 pages, The History Press paperback, 2022
The National Advisory Committee on Aeronautics, the predecessor agency to NASA, conducted vital research in aeronautics at the Langley Memorial Aeronautical Laboratory in Hampton, Virginia. The lab, established in 1917, is still in operation as the NASA Langley Research Center.
Military historian Mark A. Chambers has written a comprehensive review of the work undertaken there during World War II to make military aircraft faster, safer to fly and more effective in combat. At its peak, in 1945, the facility employed more than 6,000 personnel.
Prototypes, both model and full-scale, were tested in wind tunnels at the Newport News Shipyards, in tow tanks along the Back River, and in the skies above by test pilots taking off from Langley Field.
Readers will be enchanted by the 150 archival black-and-white photographs, mostly of World War II-era aircraft.
Mark Chambers lives in Newport News, Virginia, and is the author of 22 books. He is the son of a retired division chief at NASA Langley Research Center.