Travel
Books that explore the great outdoors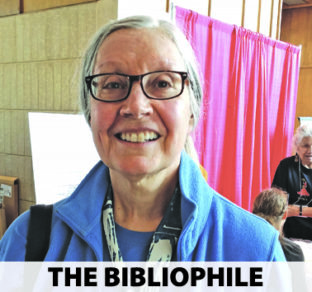 As the travel season approaches, it's wise to consider your choices carefully before embarking. Here are some books to make the planning easier.
Even an armchair traveler will be mesmerized by the many scenic destinations described in these books. Let your imagination soar, whether on a flight of fancy or a real life adventure.
Your Guide to the National Parks: The Complete Guide to All 59 National Parks, second edition, by Michael Joseph Oswald, 704 pages including 160 maps, 450 images and 50 hiking tables. Stone Road Press softcover, 2017.
Mike Oswald's Guide to the National Parks provides a wealth of information for those planning a trip to any one of our country's magnificent and wondrous natural treasures. For each of the 59 parks, you'll find intricate maps, detailed information on hiking trails rated by difficulty, data on campsites, and sports activities for all ages.
Advisories on seasonal weather conditions, lists of lodgings, and transportation logistics are included. Directions to the park and suggested itineraries within the park as well as nearby attractions are enumerated.
The graphics are easy to follow and include "places not to miss" indicated right on the map. The photographs are beautiful. Websites, addresses and contact information are provided.
Oswald provides an insider's perspective with much more information than on a typical guided tour or in a standard guidebook. The author also rates parks, and includes many less crowded sites that are worth visiting.
The first edition deservedly won the Benjamin Franklin Award of the Independent Book Publishers Association, the ForeWord Reviews Book of the Year Award and the National Outdoor Book Award. The second edition was put to press before the Senior Pass price increase was announced. Be aware the cost is now $80 lifetime or $20 annually.
Families on Foot: Urban Hikes to Backyard Treks and National Park Adventures, by Jennifer Pharr Davis and Brew Davis, 256 pages with color photographs. Falcon in partnership with the American Hiking Society, softcover, 2017.
The American Hiking Society's Families on Foot is a beautifully illustrated guide to experiencing great nature walks — whether on local trails or in national parks. It's all-encompassing, with recommendations on gear, food, packing tips, suggested hikes, and even games to play while walking.
The photography is breathtaking. Checklists are provided throughout. Interspersed are short essays describing personal stories of happy hikers.
Safety on the trail is addressed in detail. Recommendations are provided for appropriate outings tailored to diverse age groups and different levels of fitness. Included is information on finding appropriate hikes and nature walks for toddlers, teenagers, seniors, disabled youngsters and individuals with medical restrictions.
And the Davises provide websites galore and lists of apps to download to make your adventure more accessible. Families will refer often to this guide. Exercise in the outdoors heals the body and soul, helps shed calories and wards off feelings of isolation and depression.
Best Hikes on the Appalachian Trail: Mid-Atlantic, West Virginia, Maryland, New Jersey, New York, by Matt Willen, 296 pages. Menasha Ridge Press and the Appalachian Trail Conservancy, 5 x 8 inches, paperback, 2017.
This indispensable Best Hikes guide covers in a concise, well-organized format 43 day-hikes, ranging from one hour to all day in duration, on nearby portions of the Appalachian Trail. It provides timely and pertinent information to make your outing pleasurable and safe.
Detailed maps show elevations, GPS trailhead coordinates and parking spaces at the starting point of the suggested hikes. Hikes are described by their length, duration and difficulty.
Trails are also rated by author Matt Willen in terms of scenery, condition, the degree to which they are child-friendly, and how solitary they are as far as the number of fellow hikers one may encounter.
Access by car, the presence of restrooms, places of historic note and natural wonders are listed. The best hikes for birders, where to encounter the most interesting geological formations, the most inspiring views, and trails with lakes, streams and waterfalls are enumerated. Overlooks, nearby attractions and suggested side trips are cited for each hike where relevant.
Guidance as to monthly climate conditions, advice on how to dress, descriptions of essential gear, and information on trail etiquette are thoughtfully included.
Chapters are grouped by state. Black and white photos of the focal point of each of the 43 hikes begin each chapter. Appendices provide websites and phone numbers of state parks, forests and public lands authorities traversed by the Appalachian Trail, as well as contact information for local trail clubs.
Make the Most of Your Time on Earth: 1000 Ultimate Travel Experiences, fully updated third edition, Rough Guides Reference Series, 608 pages with color photographs, paperback, 2016.
This comprehensive, updated and revised compendium of 1,000 "ultimate travel experiences" by Rough Guides is a wonderful resource for ideas, both practical and exotic. It enumerates suggestions for travel destinations by region.
Each listing is accompanied by a few short descriptive paragraphs, many are illustrated with color photographs and, where pertinent, information is included on websites for more detailed information. In the back of the guide, the experiences are categorized by theme and alphabetically by country.
This book is a wish list for anyone with wanderlust. Whether you're a daredevil or a more sedate traveler, a distant or local sojourner, you're sure to find a trip idea that you may have overlooked. Included among the more imaginative destinations are down-to-earth suggestions that you may never have considered.
It's worth taking a look. If not to embark, then to dream. Bon voyage!