Arts
Books to help usher in a healthy new year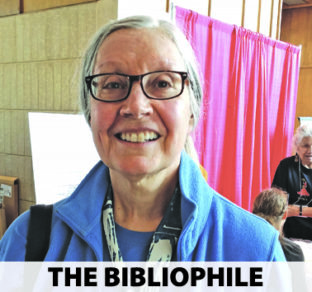 The start of the year is a great time to lose weight, improve our health, expand our minds, and take on a new hobby. Informative books by expert authors can help us keep our New Year's resolutions.
Gordon Ramsay's Healthy, Lean & Fit: Mouthwatering Recipes to Fuel You for Life, by Gordon Ramsay, 288 pages, Grand Central Life & Style hardcover, 2018
A gourmet diet cookbook may sound like an oxymoron. But cooking from scratch puts dieters and health conscious eaters in charge of what they consume. Under Chef Ramsay's direction, healthy dishes are flavorful too.
Healthy, Lean & Fit is divided into three sections: healthy — nutritious dishes; lean — for dieters; and fit — for those engaged in strenuous exercise.
Each section is further subdivided into recipes for breakfast, lunch, supper, and sides, snacks and treats. Calorie counts and nutrients per serving are provided. The large format book is visually appealing with full color photographs of almost all of the 108 dishes. The recipes are easy to follow.
Chef Ramsay uses British nutritional guidelines. Those appear to be in complete accord with standards set by the U.S. government to whose website he refers readers. There are one or two Britishisms (e.g., runny honey, meaning clear honey) which you can Google. The measurements employed are those with which we're accustomed.
Many of us know Gordon Ramsay from his reality television cooking shows, such as "Hell's Kitchen." Having been motivated to lose weight by the untimely death of his father, Ramsay took up marathon running and competing in triathlons. The Ramsays live in California six months a year. Many of the recipes reflect food trends popular there.
Doctor You: Introducing the Hard Science of Self-Healing, by Jeremy Howick, 304 pages, Quercus hardcover, 2018
Think twice before taking prescription medication, ask your doctor specific questions about treatment options, and put yourself at the center of maintaining and restoring your own physical and emotional well-being.
This is the sage advice of University of Oxford senior researcher, clinical epidemiologist and medical ethicist Jeremy Howick, Ph.D.
Learn about the widespread extent of the placebo effect. The role of relaxation, meditation and mindfulness in overcoming stress and maintaining good health is delineated. The importance of social connections and a positive attitude in recovering from illness is examined.
Find encouragement to change your bad habits, exercise and volunteer. Read about the new field of epigenetics and recent discoveries of neuroplasticity. Find out how research in the frontiers of medicine has the potential to greatly improve recovery from major illnesses.
To arm readers with the know-how to quiz their medical providers, Doctor You provides scripted scenarios of imagined conversations between patients and their doctors. Examine why palliative care may actually prolong life and be a better alternative than complex surgical intervention.
Understand the importance of being under the care of an empathetic, articulate physician. The old-fashioned idea of medicine as the art of healing is broached, as is the concept of the mind-body connection.
This book will give you an incentive to start the year with renewed purpose and provide a proven approach to replacing bad habits with healthy behavior.
Painting with Bob Ross: Learn to paint in oil step by step!, by Bob Ross Inc, 128 pages, Walter Foster Publishing paperback, 2018
For some, learning a new creative skill may be best accomplished in private rather than in a formal class setting. Painting with Bob Ross gives beginners a perfect format to gain mastery creating landscapes in oil. The medium, which can be intimidating, is made more accessible using the Bob Ross Wet-on-Wet Technique.
The late art instructor Bob Ross was the mellow host of the popular series "The Joy of Painting," which aired on PBS from 1983 to 1994. Keep in mind his famous admonition: There are no mistakes; only happy accidents.
The book includes lessons for painting sixteen landscapes of mountains, lakes, surf and trees with complete step-by-step instructions from start to finish. The size of all but one of the canvases is 18 inches by 24 inches. One is an oval measuring 14 inches by 20 inches.
Bob Ross-brand paints, brush sets, tools and materials are recommended, but the book reassures that you needn't use them to follow along. Completing the lessons will give you the experience to embark on your own creative endeavors.
The fun you'll have in the process — not to mention your utter absorption in the act of putting brush to canvas — will fill many hours of leisure time. When you've created your own work of art, the sense of accomplishment will surely enhance your life.
Jeopardy!* 2019 Day-to-Day Calendar; Sports Jeopardy!* 2019 Day-to-Day Calendar, 736 pages, Andrews McMeel Publishing, boxed edition 2018
Exercise your brain and expand your knowledge with a challenging question from either of these two desk calendars. Both Jeopardy! and Sports Jeopardy! follow the format of the TV game show, which is celebrating its 35th anniversary.
Each day of the year, you'll find an answer as well as a category and dollar amount — just like on the televised game board. The back of each page provides the correct question-response. Daily doubles are part of the mix.
On Saturdays, you can make your wager for the final Jeopardy! question on Sunday. That category is disclosed, just like it is for contestants on the show.
There is room for accumulating your winnings and entering wagers on each calendar page. The lower right hand corner shows the day of the week, the month and day in black. Holidays are entered above the dates.
Each calendar is gift boxed and measures 5 square inches. The pages are bound at the top and sit in a black plastic holder which can be placed upright or flat as you wish. It's the answer to the question: "What's great fun for trivia buffs?"