Arts
Candlelight Society celebrates 50 years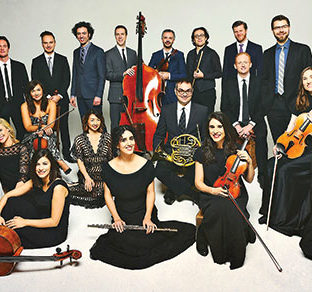 The nonprofit Candlelight Concert Society has been bringing professional musicians to Columbia since 1972. For its upcoming 50th anniversary season, concerts will feature world-class pianists and chamber music, starting with the Knights Chamber Orchestra on Sunday, Sept. 11 at Howard Community College's Smith Theatre. Ticket holders are invited to a free champagne and chocolate toast following the performance.
Photo courtesy of The Candlelight Concert Society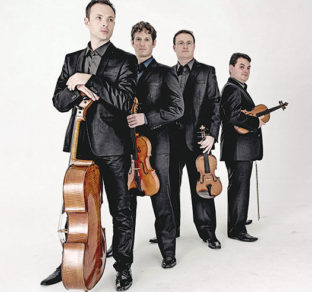 The Jerusalem Quartet is one of nine special concerts in Columbia this year.
Almost five decades ago, a music teacher living in the newly established city of Columbia spotted an ad in the local paper.
"In the fall of 1974, I saw a small notice in the Columbia Flier saying anybody who would like to see chamber music continue in Howard County, please come to an organizing meeting," said Philip Press.
"And that was the genesis of what became, a few months later, the Candlelight Concert Society of Howard County," said Press, its co-founder. Norman Winkler, who posted the notice, would become Candlelight's first president.
The organization that started in Press' dining room grew into a world-class institution that is celebrating its 50th anniversary season in 2022-23.
"The mission has been the same over all these years. Details have changed, but we are still dedicated to bringing the finest in chamber music and performing arts to Howard County," said Press, who now serves as Candlelight's director emeritus.
From small concerts to Yo-Yo Ma
Candlelight's very first season, a series of five concerts at Glenelg Country School and Wilde Lake High School, was organized by three local music teachers looking for ways to bring music to Columbia. When the teachers no longer had time to keep the concerts running, community volunteers, including Press, Winkler, and his wife, Nancy Winkler, stepped in.
After a brief stint under the umbrella of the Columbia Association, Candlelight became a 501(c)(3) nonprofit organization.
"My name is on the articles of incorporation, which I'm very proud of," said Press, original treasurer of 17 years and subsequent two-term president.
Press and the Winklers, along with several other members of the board of directors, primarily ran the organization in the beginning.
Early on, one of the hurdles they encountered was the lack of a concert-quality piano in Howard County. The two men took a personal loan with The Columbia Bank and purchased a Steinway grand piano.
"We were on the hook," Press said with a chuckle, "but we did pay it back on time," with the help of grants from the Columbia Foundation, which is now the Community Foundation of Howard County, and the Howard County Arts Council.
A few decades later, the society was hosting performances by esteemed pianists like Richard Goode and Billy Taylor, as well as other famous musicians such as Yo-Yo Ma.
Concerts start Sept. 11
Candlelight's 2022-23 season opens on Sept. 11 in the Smith Theatre at Howard Community College's Horowitz Center, a venue that Candlelight considers home.
That evening, the Knights Chamber Orchestra, formed by brothers Eric and Colin Jacobsen, will perform a new orchestral arrangement of Beethoven's "Kreutzer Sonata," originally written for violin and piano.
"It is the first time in the history of Candlelight that we're bringing a full chamber orchestra from New York," said Irina Kaplan Lande, Candlelight Concert Society's artistic director, pianist, and co-founder of The Poulenc Trio.
"What's also special about this concert — another first in the history of Candlelight — is that we've commissioned a new work to celebrate the 50th anniversary, by Vietnamese-American composer Viet Cuong," Kaplan Lande added. The varied program concludes with Mozart's Jupiter Symphony.
Two of the season's nine concerts will be performed at the UMBC's Linehan Hall, hailed by Frank Bruni in The New York Times as a "stunning music hall with sumptuous acoustics" and by Tim Smith in the Baltimore Sun as "architecturally and acoustically inviting."
The first of those will present Canadian-American pianist and composer Marc-André Hamelin, performing Beethoven's "Hammerklavier" Sonata, Op. 106, on Oct. 29. The evening's program also offers concertgoers an opportunity to hear the Maryland premiere of one of Hamelin's own compositions.
Uzbek pianist Behzod Abduraimov returns to Linehan Hall on Jan. 21, 2023 with an evening of masterpieces, including selections from Prokofiev's "Romeo and Juliet" Suite and Ravel's "Gaspard de la Nuit." Abduraimov's program for Candlelight will also include a rare American performance of "The Wall of Ancient Bukhara," a work by contemporary Uzbek composer Dilorom Saidaminova.
"The piano recitals have become very popular at our series because we have an incredible amount of young, inspiring piano students in the area," Kaplan Lande said.
"When we started bringing outstanding pianists [to Candlelight], the recitals were selling out," she said.
Candlelight's commitment to featuring diverse young musicians is evident through the society's decades-long partnership with the New York-based Young Concert Artists (YCA) Competition.
This season brings together Hanzhi Wang, the first accordionist to ever win First Prize at the YCA Competition, and saxophonist and composer Steven Banks, the first saxophonist to win YCA's First Prize, to HCC's Smith Theatre on Feb. 25, 2023.
Free concert in December
Yet another first for Candlelight this anniversary season is a free-for-all concert on Dec. 11, which will showcase the most promising young musicians from the area.
"Our area is so rich with talent," Kaplan said, "we want to give them the stage. We'll have a wonderful choir from one of the schools.
"I don't want to give all the specifics yet — it's a little bit of a surprise — but it's going to be a very exciting concert." Tickets are available at the group's website.
Tickets (except for the free concert Dec. 11) are $45 adult/$10 student, with one youth 9 to 17 admitted free with a paying adult. Groups of 10 or more are $35/person.
For a full concert schedule, and to buy tickets, visit candlelightconcerts.org or call (410) 997-2324. Both the Horowitz Center and Linehan Hall are fully accessible with free parking.