Arts
Carole King's Beautiful career on stage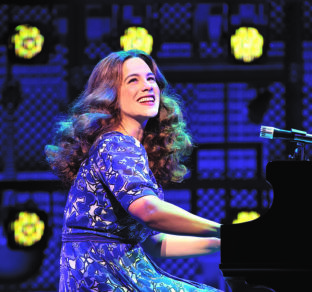 Sarah Bockel plays Carole King in the musical Beautiful, which traces the singer/songwriter's rise to fame, marriage to songwriting partner Gerry Goffin, and their subsequent breakup. The show includes such hits as "I Feel The Earth Move," "One Fine Day," "(You Make Me Feel Like) A Natural Woman," "You've Got A Friend," and the title song. The show opens on Nov. 27 at the National Theater.
Photo by Matthew Murphy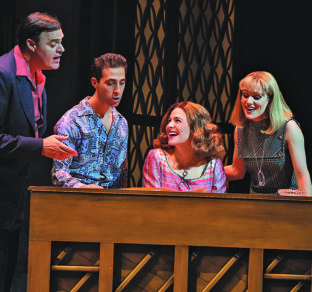 Carole King's early career and collaboration are being relived on stage.
For three weeks in a row earlier this fall, the farewell tours of three rock and folk icons — Paul Simon, Elton John and Joan Baez — came through Washington.
For those hoping seminal '60s and '70s songwriter Carole King would schedule a tour as well, the next best thing will be onstage for five weeks, starting Nov. 27 at the National Theater in downtown Washington.
Beautiful — the Carole King Musical recreates King's early life and career. This is the touring version of the Broadway show, where the actress who played King won a 2014 Tony Award for Best Actress in a Musical. It also won a 2015 Grammy for Best Musical Theater Album.
The show overflows with chart-topping King songs like "I Feel the Earth Move," "Will You Love Me Tomorrow?" and "You've Got a Friend."
The musical takes its name from her 1971 song "Beautiful," which like many others in the show were first recorded on her album Tapestry, one of the best-selling albums of all time.
You've got to get up every morning
With a smile in your face
And show the world all the love in your heart
Then people gonna treat you better
You're gonna find, yes you will
That you're beautiful as you feel
Penning early songs
The song's refrain sets the stage for the musical, in which Brooklyn girl Carol Klein fights her way into the record business while just in her teens in the late 1950s.
Along the way to stardom, she tweaks her name, marries fellow lyricist and song collaborator Gerry Goffin, and moves to Los Angeles a decade later after the breakup of their marriage.
Beautiful focuses on this early, fecund songwriting period, where King — sometimes collaborating with Goffin and another songwriting team, Cynthia Weil and Barry Mann — wrote songs that went to the top of the charts for such groups as the Shirelles and the Drifters.
Becoming Carole King
In the touring production, Sarah Bockel channels King, in the title role, where she dons several voluminous wavy wigs to achieve King's curly locks.
Now 30, having grown up in an age where Lady Gaga, Adele and Lil Wayne reign, how familiar was Bockel with King?
"I had Tapestry on vinyl; I'm a big '70s singer songwriter fan," she said in an interview with the Beacon. She also admitted, "I was definitely more of a Joni Mitchel fan. I was just a big weirdo. I had Pink Floyd albums and was a huge Janis Joplin fan."
Bockel's familiarity with the music of the '60s and '70s paid off when she became the understudy for the Carole King role on Broadway. As such, she went on stage 40 to 50 times.
Bockel's favorite song? "It's Too Late," which King wrote after the breakup of her marriage. "It was a favorite before Beautiful. It's a sad breakup song I really love," she said.
Audience members "will recognize at least half the songs in the show," Bockel promised. "And you'll get a better picture of what made her such a powerhouse songwriter."
Beautiful — The Carole King Musical will be on stage at the National Theater from Nov. 27 to Dec. 30. Tickets are $54 to $114.
National Theater is located at 1321 Pennsylvania Ave. NW, Washington, D.C. To buy tickets or for more information, see http://thenationaldc.org or call 800-514-3849.