Arts
Celebrating a visionary's success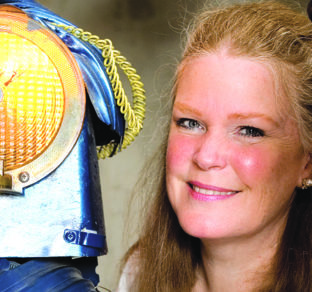 Rebecca Hoffberger established Baltimore's Visionary Arts Museum in 1995 as a museum for the work of nontraditional and self-taught artists, such as the two robots that flank her in a gallery display. "The World's First Robot Family" by DeVon Smith was created using oscillating fans for movement, and parts from old hair dryers, TV antennas, and other household electronics.
Photo by Kirsten Beckerman
Rebecca Hoffberger, founder and director of the American Visionary Art Museum (AVAM), turns 66 in late September. Most years, her birthday celebration is a cake shared with her staff as they install the upcoming year's annual exhibition.
This year, however, Hoffberger wants a different kind of celebration: She has chosen to honor a few of the individuals who inspire her through "an evening of love and learning" that is open to the public as a fundraiser.
"This year I wanted to do something that would benefit the museum and recognize some of the people who mean so much to me," Hoffberger said.
Among the honorees are former Baltimore City Council member Rikki Spector, who has turned the experience of being mugged into one of forgiveness and mentoring; 97-year-old TEDx speaker, therapist and philanthropist Lois Feinblatt, and Ted Frankel, founder and owner of Sideshow, the museum store at AVAM.
Additional honorees include Rashida Forman-Bey, co-creator of Wombwork Productions, which utilizes dance, music and theatre as sources of healing and empowerment for the community; and Roberta Baskin, Peabody and Emmy Award-winning journalist and executive director of the AIM2Flourish global learning initiative, which is steering future business leaders to meeting the United Nation's Sustainable Development Goals.
"I collect people," said the ebullient Hoffberger of her eclectic group of friends. "I seek out people who are fresh thinkers and give something to society. It is this fresh thought that has the power to transform people."
Hoffberger herself can certainly be included in that category. Founder, director and curator of the American Visionary Art Museum, considered America's national museum for "outsider" art, Hoffberger — with no art background herself — founded AVAM in 1995.
The museum's permanent and temporary exhibits comprise works by artists who are outside the realm of traditional art, and whose life stories are as compelling as their art. The museum was recently named by the New York Times as one of Baltimore's leading attractions.
Thanks to Hoffberger's nonstop promotional efforts, the museum, located at the foot of Federal Hill, has expanded to include a warehouse, a second sculpture park, and an outdoor movie theater.
From mime to museum
Hoffberger had a conventional upbringing in suburban Baltimore. But at 17, she chose an unexpected route, traveling to Paris to study with world-renowned mime Marcel Marceau. She was the first American ever to do so.
Along the way she met and married a French ballet dancer, returned to the U.S., had a daughter and moved to Colorado. She divorced and eventually moved to Mexico, where she met her second husband, a physician and parapsychologist who was studying traditional healing practices.
After returning to Baltimore, with then two daughters, Hoffberger worked as the development director for Sinai Hospital's "People Encouraging People" — a program that provided support to institutionalized psychiatric patients to facilitate their return to the community.
In a 1995 interview, she was quoted as saying of the patients, "I was so impressed with their imagination. I looked at their strengths, not their illness."
Focus on self-taught artists
That experience was the genesis of Hoffberger's dream to build what became the American Visionary Art Museum, which would specialize in the works of self-taught artists. The museum was co-founded with her then-husband, Baltimore attorney and philanthropist LeRoy Hoffberger.
Upon AVAM's opening to the public on November 24, 1995, Hoffberger stated that "The American Visionary Art Museum opens its doors of perception not in an effort to make war on academic or institutionalized learning, but to create a place where the best of self-taught, intuitive contributions of all kinds will be duly recognized, explored, and then championed in a clear strong voice."
Throughout the years, Hoffberger has been intent on staying true to the museum's Seven Educational Goals. These wide-ranging ideals range from "to expand the definition of a worthwhile life," to " to increase awareness of the wide variety of choices available in life for all, particularly students," to "to confirm the great hunger for finding out just what each of us can do best, in our voice, at any age."
As much as Hoffberger loves the museum, she is also thinking of the day when she will not be devoting 100 percent of her time and energy to it. "If I died tonight, my staff and board share my vision and can carry it on," she said.
She is seeking a $25 million endowment to solidify the museum's future, and also allow her to open another branch.
"That's always been my vision for the museum," she said, adding that she is proud of the fact that the museum is designed for everyone from "3-year-olds to visitors such as Desmond Tutu."
"This museum has been a real privilege for me," Hoffberger said. "I never thought that what I care about on the inside would reach such a large audience."
Should she secure funding for the endowment, Hoffberger would like to work on a play about the friendship between author Mark Twain and inventor Nikola Tesla, whose work focused primarily on electricity. "I love science, invention and intuitive genius," said Hoffberger, explaining what has drawn her to that subject.
That dream, however, is still in the future. At the moment, Hoffberger is wrapping up the installation of AVAM's next exhibit, "Parenting: An Art without a Manual," which runs from Oct. 6 through Sept. 1, 2019, and will examine through art, humor, text and first-hand testimony, "the good, the bad, the horrific and the sublime of parenting possibilities."
But first is the birthday bash, and the opportunity for Hoffberger to give thanks for "the good fortune and blessings" that she has tried to share with others.
"Rebecca's 66th Birthday Bash" will be held on Sunday, Sept. 23, from 6 to 10 p.m., at the American Visionary Art Museum, 800 Key Highway. Tickets are $100; $66 for AVAM members. (Membership is $50/one; $75/couple; $35/$55 for those 60+). For more information, call (410) 244-1900, ext. 238 or visit www.avam.org.